What's new on Drupal.org? - March 2018
Read our Roadmap to understand how this work falls into priorities set by the Drupal Association with direction and collaboration from the Board and community.
This month's update comes a bit later than usual, as we return from DrupalCon Nashville. Expect our April update to follow after shortly.
Representing Drupal at Google's CMS Leadership Summit
In mid-March, we attended the Google CMS Leadership Summit, as representatives of the Drupal project. The Summit was a one-day event hosted by Google to unite the 20 or so projects in the CMS space responsible for more than 50% of the content on the web.
The goal was to understand how to preserve an open web, by empowering better authoring experiences, content consumption, and performance in our CMS platforms.
This level of dialogue and engagement with an organization like Google is new and exciting for us, and we're looking forward to ongoing conversations, both with Google and with the other CMS project leaders they assembled at the event.
Drupal.org Updates
Researching the anonymous traffic to Drupal.org
One of the focuses of the Drupal Association in 2018 has been to better understand our audience. When it comes to users who register on Drupal.org, and our DrupalCon attendees, we have quite a bit of information about who our users are.
However, when it comes to the wider ecosystem of Drupal users (evaluators and end-users who do not have Drupal.org accounts) we've been largely in the dark for most of the project's history. One way we want to improve this is by working with Drupal Core to add telemetry to Drupal, but that is an effort that will take some time.
In the meantime, we've implemented several Audience Insight tools to help us learn more about our anonymous users. Privacy is always a paramount concern, so we chose only insight tools which provide aggregate, anonymized data, and we wrapped those tools in our own implementation of Do-Not-Track so that we could ensure that user privacy preferences are respected.
The table below demonstrates the job functions held by the anonymous visitors to Drupal.org. (Please note: these job functions might be held within any kind of industry, this data is about the user's role, not their target market).
| | | | |
| --- | --- | --- | --- |
| Job Function | D.O Front Page Visitors | All D.O Visitors | Diff |
| Engineering | 26.20% | 44.90% | -18.70% |
| Information Technology | 14% | 16.40% | -2% |
| Business Development | 11.60% | 9.60% | 2.00% |
| Entrepreneurship | 10.30% | 10.70% | -0.40% |
| Arts and Design | 7.70% | 5.30% | 2.40% |
| Media and Communication | 6.60% | 6% | 0.60% |
| Marketing | 6.30% | 3.70% | 2.60% |
| Education | 6.10% | 4.60% | 1.50% |
| Operations | 5.20% | 3.50% | 1.70% |
| Program and Project Management | 4.30% | 4.20% | 0.10% |
| Sales | 4.20% | 2.60% | 1.60% |
| Consulting | 2.90% | 3.30% | -0.40% |
| Research | 2.40% | 1.70% | 0.70% |
| Community and Social Services | 2.40% | 1.80% | 0.60% |
| Administrative | 2.30% | 1.30% | 1.00% |
We've used this data to inform the redesign of Drupal.org, as well as our new persona pages. Learn more about that process in our April update. The redesign work was carried out in collaboration with SixEleven, who also produced the DrupalCon brand and design for DrupalCon Nashville.
Preparing for DrupalCon Nashville
In the lead up to DrupalCon Nashville in April, the team was in high-gear preparing for the event. We participated in a panel about the future of pull requests on Drupal.org, the public board meeting, and handled the keynote livestream process.
DrupalCon is always an incredible opportunity for the team to connect with the community about upcoming initiatives, drupal.org support requests, and to plan for the future.
We were happy to see so many of you there, and we'll talk more about this in our April update.
Documentation enhancements
Our efforts to improve the quality of Drupal's documentation continued in March and April, as we added features:
New D7/D8 guides are now automatically approved, so new project contributors aren't blocked on documenting their projects.
Added Drupal version to page title for better searchability.
Follow/Unfollow links are available directly on the discuss page of any documentation.
In-context links to newer and older releases
To ensure that users are aware when there are newer releases than the one they may be looking at, we now provide newer and older release history on release nodes. In the sidebar of any release page you will see links and dates to related releases. Among other things, we hope this will prevent users from accidentally installing an older release when another new one has just come out!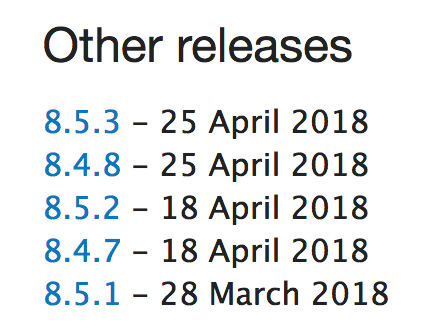 Email notifications for new maintainers
Encouraging succession planning in module maintership is an incredible challenge for any open source project. We want to encourage maintainers to invite contributors to their projects to help maintain those projects, but we recognize that we also have to make sure the appropriate tools are in place to make this a smooth process.
To make sure that new maintainers of projects are welcomed into the fold, we've added email notifications to let a user know when they've been added as a project co-maintainer. If you are invited by an existing maintainer of a project to help maintain it, you should now receive a warm welcome.

Security Release
SA-CORE-2018-002
The Drupal Association Engineering Team collaborated with the Security Working Group and Security Team to coordinate 3 significant security releases in March and April.
The primary release was SA-CORE-2018-002, a highly critical security release for Drupal 7 and 8. For more information about all Drupal security releases and PSAs, please visit our security portal.
The volunteer Security Team has always been a tremendous asset to our community, and the Drupal Association is proud to support their work.
Infrastructure Updates
DrupalCI: Support for testing themes
DrupalCI has enabled support for testing Themes, so now Theme projects on Drupal.org can include tests. This has become more and more necessary as javascript becomes critical to modern web design, and we hope this will help accelerate the build out of themes for Drupal 8 and increase their quality.
———
As always, we'd like to say thanks to all the volunteers who work with us, and to the Drupal Association Supporters, who make it possible for us to work on these projects. In particular we want to thank:
If you would like to support our work as an individual or an organization, consider becoming a member of the Drupal Association.
Follow us on Twitter for regular updates: @drupal_org, @drupal_infra
About Drupal Sun
Drupal Sun is an Evolving Web project. It allows you to:
Do full-text search on all the articles in Drupal Planet (thanks to Apache Solr)
Facet based on tags, author, or feed
Flip through articles quickly (with j/k or arrow keys) to find what you're interested in
View the entire article text inline, or in the context of the site where it was created
See the blog post at Evolving Web