What's new on Drupal.org? - April 2018
Read our Roadmap to understand how this work falls into priorities set by the Drupal Association with direction and collaboration from the Board and community.
Drupal.org Updates
Drupal.org's new front page and persona pages launched
As you've probably seen by now, just before DrupalCon Nashville we launched a makeover of the Drupal.org front page. This was a research-based redesign focused on addressing the three key personas that come to Drupal.org: Developers, Marketers/Content Editors, and Agencies.
The new redesign simplifies the number of calls to action on the front page, and directs each of these personas into a more focused funnel, to ensure they are more likely to find the information they really need. To learn more about this redesign and the Promote Drupal initiative, read our recent blog post. We want to thank SixEleven for their help with this new design initiative.
Promote Drupal Initiative
Redesigning the front page was just the start, we kicked off DrupalCon by announcing a new 'Promote Drupal' initiative, asking the community to come together to help bring Drupal to new audiences, and to convince people who've used older versions in the past to give Drupal 8 another look.
We need your support to make the Promote Drupal initiative happen!
Updated top navigation and IA
Along with the front page changes, we've updated Drupal.org's top level IA, providing a more logical structure for navigating to the major areas of the site depending on a user's persona.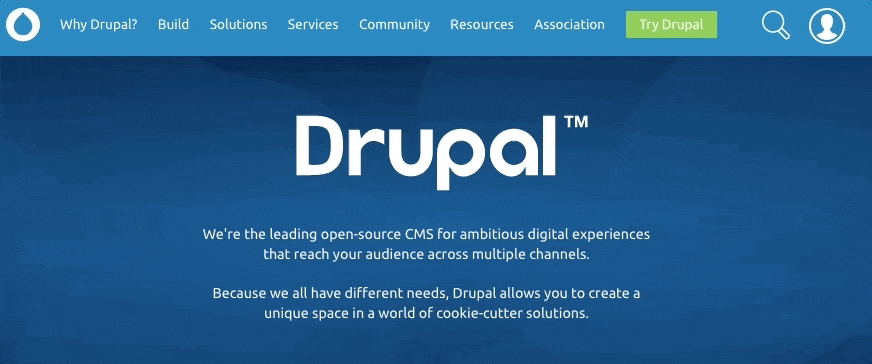 Promoting Nonprofit solutions built with Drupal
And last, but not least, in our efforts to #PromoteDrupal we've launched a new Nonprofit solution page, promoting the power of Drupal for Nonprofits and NGO's around the globe. Drupal has long been the choice for well-recognized, global nonprofit organizations to extend their reach and maximize their impact.
Simplify Drupal Initiatives
In project founder Dries Buytaert's keynote at DrupalCon Nashville he proposed a series of initiatives to simplify Drupal - lowering the barriers to adoption and improving the user experience of site administrators and content editors. Some of these initiatives are to improve features of Drupal core itself, whereas others are focused on the evaluator experience and will be managed in collaboration with the Drupal Association.
In particular, the Drupal Association will collaborate with the core initiatives teams on:
These initiatives are not going to be quick or easy. They rely on collaboration between the Drupal Association, Drupal's core committer team, and a variety of volunteers throughout the community. We'll need your help.
Drupal.org and GDPR
GDPR, the General Data Protection Regulation passed by the EU last year, begins enforcement on May 25th, 2018. We've been preparing for this new regulation for some time, and will be implementing a few changes in the coming weeks:
Updates to our:
Updates to our mailing lists
Publishing our data retention policy
Publishing our data portability policy
Updating our breach notification policy
Security Release
SA-CORE-2018-003
Drupal Core coordinated a security release with the CKEditor team to ensure that the security fix for CKEditor was immediately available in Drupal 8. As Drupal becomes further integrated into a world of third party dependencies, this kind of coordination between open source projects becomes increasingly important. We want to thank the CKEditor team and the volunteer Drupal Security team for their hard work and careful collaboration.
SA-CORE-2018-004
After the release of SA-CORE-2018-002 in March, a related vulnerability was discovered and an additional security advisory for Drupal 7 and 8 released in April. If you have not yet updated your Drupal sites to address these vulnerabilities they may already be compromised. If that is the case, we encourage you to read this PSA, which provides some steps you can take.
Security releases tend to spark quite a bit of conversation in the community about the nature of software security, proprietary vs open source, and related issues. Community member @rickmanelius provided some much-needed context to keep these security focused efforts in perspective:
The recent SA-CORE-2018-004 and SA-CORE-2018-002 security advisories have sparked a lot of conversations in the Drupal community regarding all things security. IMHO, it's important to highlight several talking points to keep things in perspective.

— Rick Manelius, PhD (@rickmanelius) April 26, 2018
DrupalCI: Support for DrupalCI.yml
DrupalCI now supports the use of Drupalci.yml files in projects to customize and override elements of testing. This makes the testing capability of DrupalCI much more powerful and flexible for project maintainers. We're still working on documenting these new features, but you can read about the new features here.
———
As always, we'd like to say thanks to all the volunteers who work with us, and to the Drupal Association Supporters, who make it possible for us to work on these projects. In particular we want to thank:
If you would like to support our work as an individual or an organization, consider becoming a member of the Drupal Association.
Follow us on Twitter for regular updates: @drupal_org, @drupal_infra
About Drupal Sun
Drupal Sun is an Evolving Web project. It allows you to:
Do full-text search on all the articles in Drupal Planet (thanks to Apache Solr)
Facet based on tags, author, or feed
Flip through articles quickly (with j/k or arrow keys) to find what you're interested in
View the entire article text inline, or in the context of the site where it was created
See the blog post at Evolving Web