2017 Q3 & Q4 Financials
The Drupal Association Board is responsible for the Drupal Association's financial health and as part of their duty, they vote to approve monthly financial statements. The board met virtually on February 27th, 2018 and voted to approve the Q3 & Q4 2017 financial statements.
Each month we compare our results against the two financial KPIs that we measure against:
Cash Reserve: have a cash balance of 15-30% of Total Revenue
Net Income Profit Margin: end 2017 with a net income profit of 10%
These two goals focus on increasing Net Income in order to build a stronger cash reserve.
Below is a summary of how we performed in the third and fourth quarters of 2017 against our KPIs. As you look at this chart, you can see that we improved on our KPI month over-month.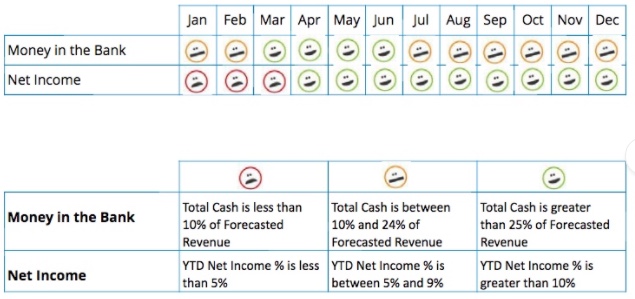 Prior to the start of the year, we stated that if we could achieve a 10% Net Income this would move us to the minimum percentage (10%-30%) of the cash reserve. As we move month-over-month, you can see the cash reserve build as our net income percentage increases. December has us land at a Net Income percentage of 16%, and our "money in the bank" was 11%, or $570K (not including restricted cash).
| | | | |
| --- | --- | --- | --- |
| Revenue | $5.1M | Cash Balance (including Restricted Cash) | $770K |
| Net Income | $785K | Cash Reserve % | 15% |
| Net Income Percent | 16% | Cash Balance (excluding Restricted Cash) | $570K |
| | | Cash Reserve % | 11% |
Monthly Highlights
The month of July saw us move closer to our cash reserve KPI. We ended the month within 80% of that goal. As we moved closer to DrupalCon Vienna, we saw cash reserves drop because we paid expenses towards the conference. The net income goal outperformed the cash forecast due to fundraising revenue being $31k higher and membership sales coming in $11k more than forecasted. The costs for July tracked to forecast, with a small amount of trailing costs (about 4k) from DrupalCon Baltimore, and bank fees being $5k lower than forecasted.
August had supporter sales and digital sponsorships down $30k from the forecast, however this was offset by an unforecasted time and materials project for $25k. Operating expenses for DrupalCon, along with overall administration costs, stayed in line with the forecast.
September's focus was DrupalCon Vienna. Overall, net income significantly exceeded expectations for September because of much lower than expected costs for Vienna, and a boost of an additional $46k in revenue. This increase in revenue was mostly due to fundraising ($20k over forecast) and other programs ($26k over forecast). We do expect a significant amount of trailing costs in October for Vienna that will impact the net income in the upcoming months.
Activity for October saw some trailing costs for DrupalCon Vienna, and a clear picture on how DrupalCon Vienna closed out. We were below the forecasted loss of $267k, however the trend towards a loss. Some revenue help was in trailing ticket sales and sponsorship sales, which did beat the forecast. The events team did a great job containing costs, and maximizing savings in catering, supplies and our print signage for approximately $71k of savings in those budgets. Additionally, we were able to reclaim $32k of VAT through deductions on tax returns. This moved the anticipated net margin loss from -31% to -22% on this event.
November saw trailing costs from DrupalCon Vienna, which increased the forecasted loss of $68k to $114k. (October's predicted loss was much less than forecasted) This was due to timing issues, as these invoices were expected to come in October.
December had some variances between actual and forecasted, ending up with a $59k loss instead of the forecasted $66k. Some of the more material events were:
Revenue was up $50k over forecast due to VAT deductions from Vienna booked to uncategorized income at month's end that totaled $57k.
Board expense came in at $4k but we had none forecast. We have updated the forecast for the recurring $4k item to be included each month.
IT expense in the admin section was $7k for December, but we forecasted $16K.
Cash ended the month (and year) at $770k, which was $119k higher than our forecasted $651k. This ends our year with our minimum cash reserve goal sitting at 10%.
With reforcasting in process, and not quite finalized, we expect cash to grow over the next four months, leading into DrupalCon Nashville in April 2018.
We will be blogging soon about our 2017 close, which includes our CPA driven financial review (a lighter "audit"), production of our 2017 990 tax return and a 2017 weather report review from our virtual CFO group Summit.
We would not be able to do our mission-driven work without the support and contributions of our community. Contributions come in many forms, through the purchase of DrupalCon tickets and event sponsorships, through our Supporters and Members, Drupal.org sponsors, recruiters who post jobs on Drupal Jobs and many other fantastic ways our community supports the Drupal eco-system. We are deeply grateful for everyone who has contributed their time, talent, and treasure to move Drupal forward.
Thank you!
About Drupal Sun
Drupal Sun is an Evolving Web project. It allows you to:
Do full-text search on all the articles in Drupal Planet (thanks to Apache Solr)
Facet based on tags, author, or feed
Flip through articles quickly (with j/k or arrow keys) to find what you're interested in
View the entire article text inline, or in the context of the site where it was created
See the blog post at Evolving Web