2018 Q1 & Q2 Financials Statement Summary
Our board of directors is responsible for the Drupal Association's financial health and as part of their duty, they review and then vote to approve monthly financial statements. The board met virtually on July 25, 2018 and voted to approve the Q1 & Q2 2018 financial statements, which can be found here.
Each month we compare our results against the financial KPIs we have set with the advice of our virtual CFO, Summit CPA. These KPIs were set to help us focus on increasing our net income so we can build a stronger cash reserve to ensure the organization's sustainability.  
Our 2018 Financial KPIs are:
Cash Reserve: have a cash balance of 15% of Total Revenue
Net Income Profit Margin: end 2018 with a net income profit of 4%
Increase our Non-Event Revenue to $1.6M
DrupalCon Profit Margin of 27%
As of our June financial statement, which was approved by the board, the organization is tracking well against these KPIs.

KPI analysis through June 30 is looking positive for money in the bank, net income, non-event revenue, and event profit margin.

You can see that April was lower than the ideal target, due to missing revenue in a couple of areas. One with DrupalCon Nashville, where ticket sales came in lower than expected, and the second was some hosting contracts coming in later. These contracts will be reflected in future months.
We will monitor all KPIs through the year to ensure we are on track. However, one KPI is now complete: Nashville profit margin. DrupalCon Nashville was forecasted to come in at a net profit of $445K at the close of the conference in April, 2018, or 22%. While training tickets under-performed, resulting in a lower than expected ticket revenue, we still exceeded our net profit goal due to a decrease in expenses and an increase in sponsorship revenue. The final net profit was $481K or 25% which is 2% under the set KPI.  

Details for the DrupalCon Nashville forecast and actual income

While we did exceed our net profit forecast, it should be noted that this event did not generate as much for the project as past DrupalCons. This is because Nashville's cost per attendee was higher than usual due to the location. However, at the time of selecting the venue, it was the best option compared to the other available cities. The Drupal Association continues to seek ways to diversify revenue so we are not so reliant on one event to fund the project.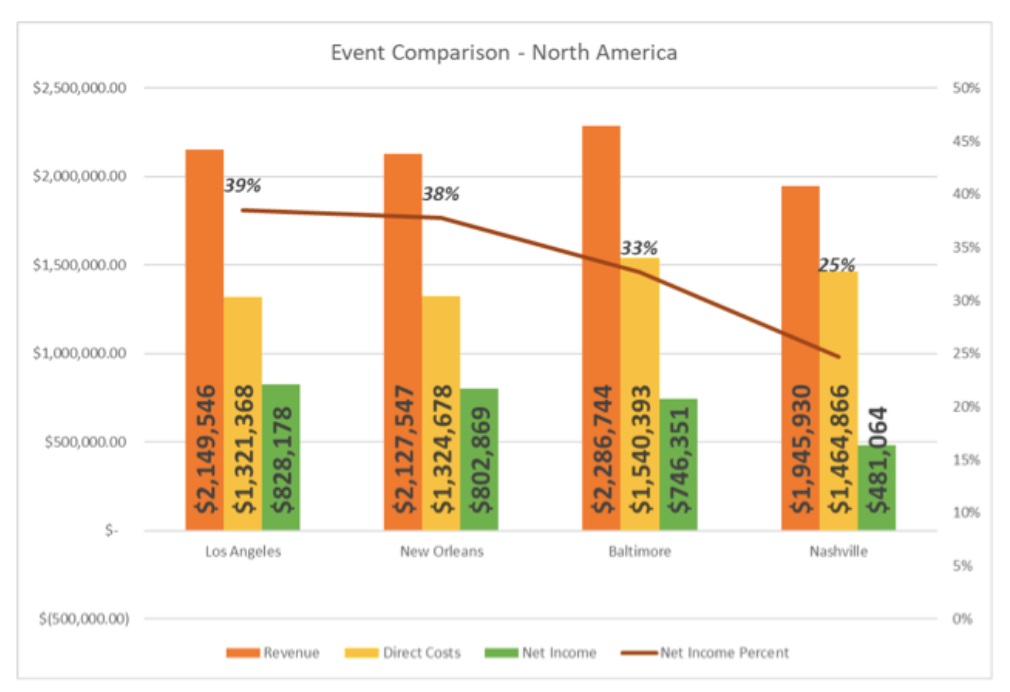 The overall trend shows Nashville coming in lower than recent DrupalCon North America net income margins

Drupalcon is evolving and we are making changes.  While the programming, speakers, sessions make up the core of DrupalCon, our event staff is retooling and creating more value to serve everyone in the Drupal ecosystem.
We would not be able to do our mission-driven work without the support and contributions of our community. Contributions come in many forms, through the purchase of DrupalCon tickets and event sponsorships, through our Supporters and Members, Drupal.org sponsors, recruiters who post jobs on Drupal Jobs and many other fantastic ways our community supports the Drupal ecosystem. We are deeply grateful for everyone who contributes time, talent, and treasure to move Drupal forward.
Thank you!
About Drupal Sun
Drupal Sun is an Evolving Web project. It allows you to:
Do full-text search on all the articles in Drupal Planet (thanks to Apache Solr)
Facet based on tags, author, or feed
Flip through articles quickly (with j/k or arrow keys) to find what you're interested in
View the entire article text inline, or in the context of the site where it was created
See the blog post at Evolving Web