We asked, you answered. DrupalCon North America Location Survey Results
Over the past few years, we've been listening to the community ask for explanation as to why we haven't had any DrupalCon North America locations outside of the United States - after all it's called DrupalCon North America, not DrupalCon U.S.A. This isn't something we've taken lightly or ignored. DrupalCon North America is a major funding source for the Drupal Association, and in that regard, a major funding source of Drupal.org and the engineering work that keeps the code accessible and available for everyone.
We've looked at many North American cities over the years - a lot in the United States, but some outside the U.S. also. For our 2019 and 2020 location search we directly asked several cities in Canada to bid on this event, so that we could do financial and accomodation comparisons against U.S. options. I will give you the spoiler up front: 2019 and 2020 will not be in Canada or Mexico, they will be in the United States. The cities that bid were competitive, but in the end did not prevail due to things like dates overlapping with Passover and simply not being the most effective bid in comparison to the winners.
But with these cities in mind, and the voices of the community in our ears, we decided to go deeper and explore what a Canadian or Mexican DrupalCon would look like, based on survey feedback from the community and hard numbers from our history and bids. Here is that deeper look.
First, let me say that Drupal Association staff does not think solely about finances in making these decisions. We spend a lot of time getting to know the city, the vibe, the culture and the openness to a community that celebrates diversity and has a plethora of unique needs. It's important to you, and it's important to us.
Let's also acknowledge that DrupalCon North America greatly underwrites the Drupal Association work and Drupal.org infrastructure to help keep the project going. So while money is not the only thing - it is very important.
So, let's talk about finances. There are a lot of things that go into making a DrupalCon financially viable, and we did a pretty thorough job of outlining them all in our blog series last fall dedicated to the finances of DrupalCon Europe. I suggest you take a look at those, specifically the one on Solving The Financial Problem to get a good understanding on what it takes to make DrupalCon happen. A truncated look shows that there are three (3) main aspects and goals to DrupalCon finances:
Expenses: everything we have to spend to make it happen

Goal: produce show on a tight budget

Revenue, attendee tickets: how many people will show up
Revenue, sponsorship commitment: how much sponsors will spend to support the event

Goal: sponsorships have value and continue to support us
Expenses
In a look at expenses there are a vast array of things that we spend money on - from facilities and catering to program guides and paying the person who watches coat check while you're sprinting on Friday. And overall, the proposals we've received from cities within the United States and outside of the United States have been fairly competitive for expenses directly related to the venue and infrastructure. That's awesome!
There are some other indirect expenses we consider too like cost of hotel rooms, which can greatly affect whether people can afford to stay in the city, and generally Canadian cities - for example - tend to be a bit more expensive than some of our U.S. options. Other considerations include: whether the city is a airport hub for enough domestic and international flights to get people there easily; ease of setting up foreign bank accounts or legal business statuses in specific countries in order for us to operate there (including increased staff time to do this); cost of import/export for our production gear (this applies to sponsors as well). There are workarounds for some of these, and that's what we explore during an RFP process. Based on estimates, a DrupalCon outside the United States tends to pen out to be at least 10% more expensive than one within the United States - that's around $100,000 - $150,000.
In general, the expenses section is a place where we can explore more work-arounds and potentially find a way to make a non-U.S. DrupalCon happen. However, because of DrupalCon team capacity during 2017 (the timeframe while we were contracting 2019 - 2020 cities) this is not something we could do for the immediately upcoming DrupalCons.
Revenue
As I mentioned above, revenue from DrupalCon North America is a driving force for the Drupal Association and Drupal.org. Ensuring attendee ticket sales and sponsorship revenue remain consistent from year to year (or grow) is extremely important to helping ensure our staff are funded and Drupal.org is kept running. In order to make certain that funding holds consistent and we're able to keep Drupal.org healthy we need to keep DrupalCon North America profit margins around roughly 30-35% per event.
Here is where things start to fall apart for non-U.S. cities in the immediate future.
To better evaluate our current and potential revenue, we created 2 surveys and put them out to the public/community to participate.
Survey targets:
Past and potential attendees
Past and existing sponsors
Revenue, Attendee Ticket Sales
DrupalCon attendees are the main audience where we hear the cry for a DrupalCon outside of the United States. Individual ticket sales make up 62% of our event revenue.
Our survey to attendees had 1258 respondents. 92% of those people have attended DrupalCon North America in the past, and 99% have attended a DrupalCon somewhere in the world. So this sample represents people who are likely to attend in the future.
Since we're talking about Revenue, it's important to know who is paying for these people to attend. 79% of these attendees are funded by their employers. That's a significant number and important to think about as we move into a business case for companies to attend DrupalCon.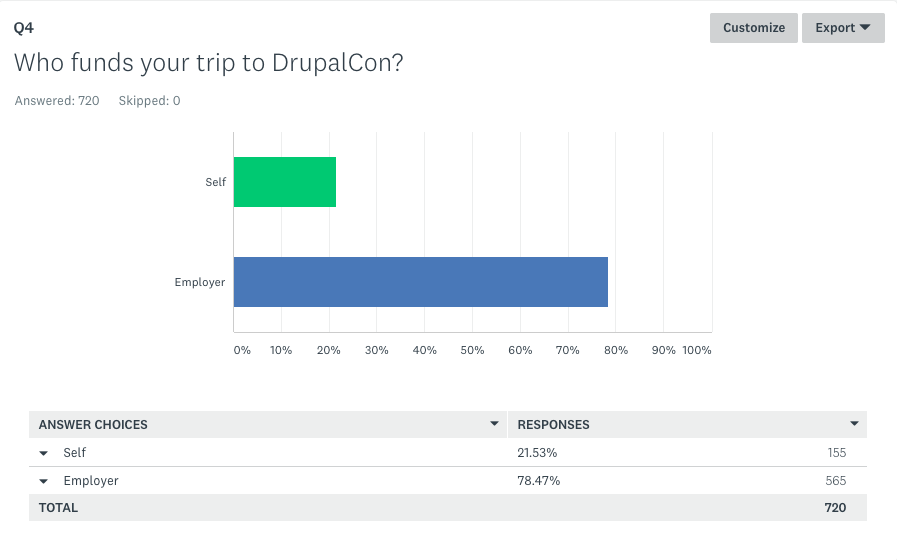 Next, we followed up on that. "If your employer funds your trip to DrupalCon, are they willing to pay for you to travel outside the U.S.?" Of our 79% - 38% answered "No" (this number is adjusted from the chart percentages below because the question was "IF your employer pays", and 120 people answered that they pay for themselves). That means, of our original sample size, now only 71% of attendees are still eligible to attend (22% self-funded + (62% of 79%) = roughly 71%).
Based on the responses, our projected revenue would decrease by roughly 29%.
Revenue, Sponsorships
Sponsors provide 38% of DrupalCon revenue, their sponsorships currently underwrite the cost of early bird tickets (that's a whole other problem), and the event would simply not happen without them. They provide the foundation for the event in financing, they are the exhibit hall, and a large portion of our attendees are sponsor company employees. If sponsors don't come, we lose money and don't achieve a key purpose of our event: connecting new business decision makers with agency owners to grow adoption.
In our survey to them, we presented a hypothetical scenario in which DrupalCon takes place in Canada.
Our leading question for sponsors was "Do you do business in Canada?" and 70% of 44 responses said "No". This doesn't eliminate possibility, but it is the trend for the questions that followed.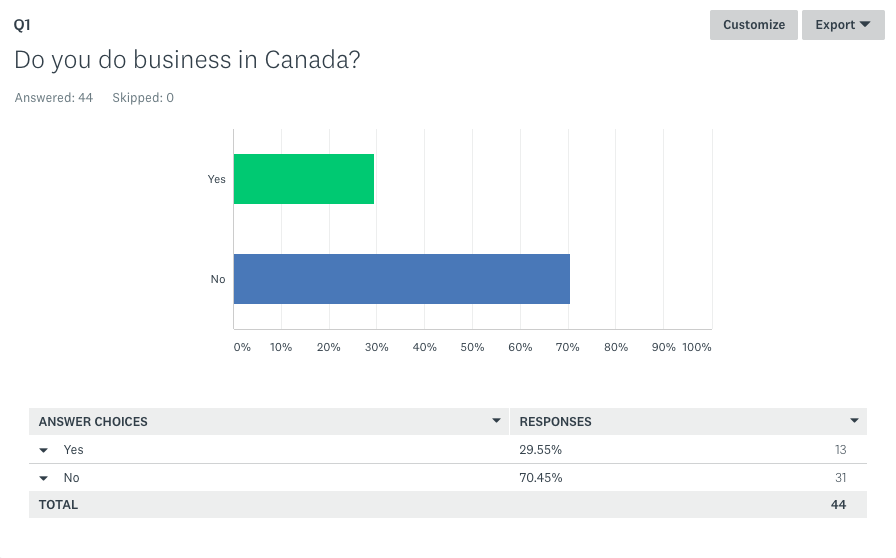 We also asked "Would you sponsor a DrupalCon in Canada at same levels as you have in the past?" and only 39% of respondents answered "Yes".
Of these sponsors, many wrote anecdotally that they simply could not support a business case for having an event in Canada.
To Sum it Up
While we've had advanced talks with Canadian cities, and two were finalists for 2019 and 2020 making it past initial RFP rounds, as of now we haven't found solutions to enough of these issues to fit a DrupalCon North America within our required profit margin.
The numbers presented by the surveys would put profit margin for a DrupalCon North America outside the U.S. at an estimated 6% profit margin and would risk actually losing money for the Drupal Association. A situation and risk we cannot allow the Association to bear.
This is disappointing for many of us - and we know it is for many of you as well. We would love to see DrupalCon North America move beyond the U.S. borders, however it will not happen until at least 2021.
In between now and our next location RFP, we will continue to look at models that might make this possible. As we explore these challenges and talk more with sponsors and cities, we will share with the community any progress or new challenges as they become relevant. We appreciate your passion on this topic and understand the concerns with hosting DrupalCon in the United States for another two (2) years, especially based in our current climate of travel restraints in to the U.S. We wish it were not difficult for our community to come together.
We appreciate everyone who took the time to participate in our surveys and were honest about their desires, motivations and realities of their travel to and participation in DrupalCon. We're excited seeing many of you in Nashville this week, and hope many of you will join us in 2019 for DrupalCon Gedfyuikemndjfkioiujhtrj - sorry, something has happened to my keyboard. ¯\_(ツ)_/¯
_________________________
We invite you to share thoughts in the comments section below on how you think DrupalCon 2019 and 2020 can help provide more opportunity for community members outside the United States to participate in the event - either through direct attendance or through virtual participation of some kind. What are your ideas?
About Drupal Sun
Drupal Sun is an Evolving Web project. It allows you to:
Do full-text search on all the articles in Drupal Planet (thanks to Apache Solr)
Facet based on tags, author, or feed
Flip through articles quickly (with j/k or arrow keys) to find what you're interested in
View the entire article text inline, or in the context of the site where it was created
See the blog post at Evolving Web