Drupal Commerce vs Magento: Comparison 2018
When you want to buy a new shirt from an emporium, you look for the best shop that can exhibit different pieces of nicest clothes for you to choose from. Not much has changed with the emergence of the online stores. You still strive to buy the best thing available on the best e-commerce site. Drupal Commerce and Magento offer an amazing e-commerce platform for the digital businesses to establish themselves as the best in the industry.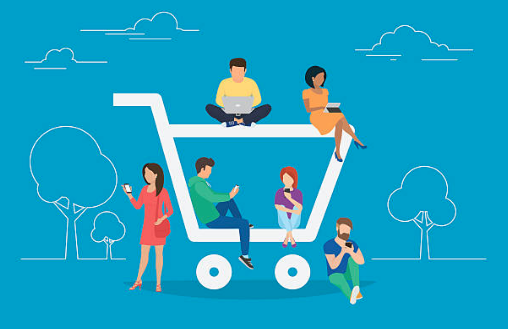 Drupal Commerce and Magento have different features and specifications. Determining which one is the most suited for your organization's needs is a matter to be pondered over. To yield the best crop, comparing both of them side-by-side can give you a better picture.
A brief look at Drupal Commerce and Magento
Drupal Commerce

With more than 60,000 sites powered by Drupal Commerce, a module, it is one of the most flexible e-commerce solutions for websites and applications of all sizes. Drupal 7 and Drupal 8 are the versions to be maintained and supported for the years to come. While building an online store in former will require Commerce 1.x, and for the latter Commerce 2.x.
Drupal Commerce is meritorious in various ways bringing e-retailers more traffic to drive more results.

Usage statistics for Drupal Commerce from Drupal.org
Easy usage: It helps in the development of administration system and customised business workflow. Hence, even a person without the technical expertise can make alterations and do the testing which makes it a marketing driven commerce.
 
Digital experience: It enhances digital experience by incorporating commerce, content and, community and brings e-retailers more traffic.
 
Business-centric: It gives you the structure that you need for your online store without setting preamble and assuming your business requirements. Simply saying, it is the king of customisation.
 
King of content: Built on top of enterprise CMS, it offers a commerce platform to intertwine content and products seamlessly, thereby driving both online and offline sales via a wonderful UX, optimised merchandised tools, and efficient SEO techniques.
 
Easy configuration: With its robustness and flexibility, it is configurable to fit right for your enterprise's needs. It is great for any sort of physical and non-physical items that demand payment models like recurring, licensing or subscription.
 
Cost-effective: Being an open source software, it is an affordable solution.
 
Adaptable: It allows third-party integrations and enhancements in the features and functionalities to adapt the changing needs of a business. Be it Authorize.net, Braintree, PayPal, Stripe, Amazon Pay and a lot of other payment gateways, it provides many integrations. Thus, it is highly extensible.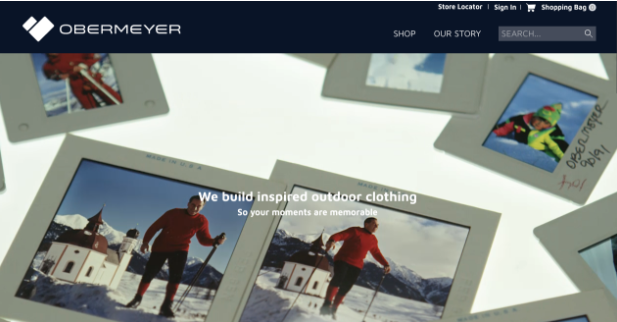 The Drupal project of Obermeyer had to encounter a lot of challenges with 3 different websites for 3 distinct audiences in addition to autonomous ERP and B2B ordering systems. Their objective was to optimise the digital processes of Obermeyer and provide an excellent digital experience through a centralised platform. By leveraging the benefits of Drupal 8 and Drupal Commerce 2.x, they built a robust enterprise ecommerce solution that could offer friction-free online shopping experience to their B2B, B2C and VIP audiences.
Magento
Providing a flexible shopping cart system, Magento is another e-commerce platform that is offering online merchants a robust solution and the control over the appearance, content and, functionalities of their e-commerce websites. It provides tools for a powerful marketing, SEO and, catalog-management. Ranging from small-scale sites to the large-scale enterprise SaaS-based systems, it has wonderful platform to accommodate the needs of business requirements.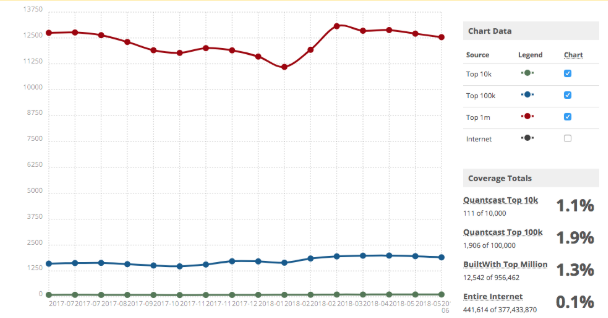 Usage statistics for Magento from BuiltWith.com
Some of the highpoints of Magento where it is advantageous is mentioned below:
Installation: It is very simple when it comes to installation and features additional layouts and plug-ins.
 
Affordable solution: It offers an efficacious and cost-effective solution being an open source software.
 
Payment gateways: Some of its worldwide available payment gateways are PayPal, Authorize.net, CyberSource etc.
Drupal Commerce vs Magento. Which one is the better e-commerce platform?
An exhaustive and side-by-side comparison of Drupal Commerce and Magento needs to be hammered out to see where they score higher.
| | | |
| --- | --- | --- |
| Metrics/Platforms | Drupal Commerce | Magento |
| Installation | Easy installation from the scratch | Easy installation from the ground up |
| Usage | Easy to learn | Steep learning curve |
| Content management | Can create complex content relationship | Has a basic content management system |
| Catalogue management | Dynamic addition or removal of products possible | Conventional way of displaying products |
| Mobile responsiveness | Fully responsive | Fully responsive |
| Features and functionalities | Great for complex online stores | Good only for simple shopping carts |
| Multilingual | Has in-built modules to create multilingual site | Multiple Store Views helps in building multilingual site |
| Administration interface | Easily customisable | Difficult to customise |
| Cost constraints | Being open source technology, it is absolutely free to use | Shown identity shift with newer modules not free to use |
| Business-driven | Can be easily integrated with multiple ventures of your business | Would require two or more independent systems to integrate with multiple ventures |
| SEO tools | Plethora of modules available for enabling SEO | Built-in SEO-friendly tools available |
| Skills required | Required minimal coding skills | Requires advanced coding skills |
| Integration scope | Third party integrations possible | Provision for third party integrations available |
| Security | Most security focussed | Relatively less secure |
Installation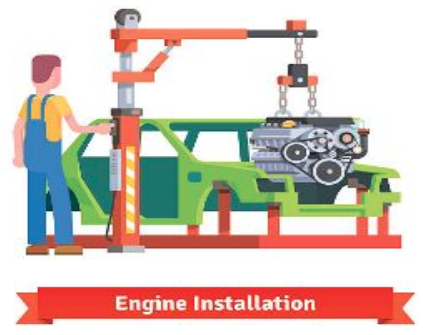 Drupal Commerce allows developers to install from the scratch. An installation package has to be downloaded and installed. It requires you to install Drupal CMS and then enable the Drupal Commerce module or use an installation profile to automatically enable it.
Magento allows developers to install from the ground up by providing installation package to be downloaded, loaded and installed.
Verdict: Match is drawn. No side wins this contest. Both of them offer a wonderful platform for the installation.
Usage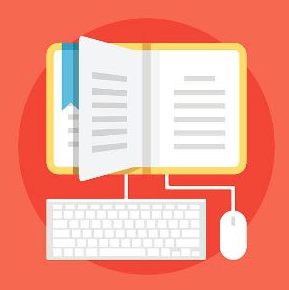 Having a site running on Drupal and familiarity with the Drupal features and functionalities would make your life easier in learning how to use Drupal Commerce.
Although Magento gives complete control to the users and comes with some amazing features, Magento professionals are required to fully extract its potential and use its functionalities to the fullest. Someone new to Magento may lead a tough learning curve initially.
Verdict: Thus, it has the advantage over Magento as you do not have to consume a lot of your time in learning its functionalities. Being adept with Drupal helps in learning Drupal Commerce in no time.
Content Management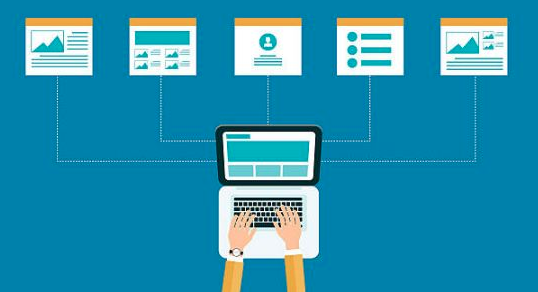 Built on top of Drupal, Drupal Commerce permits you to endlessly create content types with custom fields and attributes, and cool media tools, thereby improving the editing experience. Its provision for content relationships helps you in forming a listicle consisting of related products and blog posts. Also, you can customise your landing page with optimised product lists. It is great for businesses who consider providing content as the fulcrum of their growth.
In contrast, Magento has a very basic content management system. It only allows you to add pages, some content to different categories of pages and attributes to the products. Other than this, you will step into its custom domain. This incurs heavy costs and increases ongoing support.
Verdict: Drupal Commerce is, obviously, miles ahead and hugely beneficial in this arena.
Catalog Management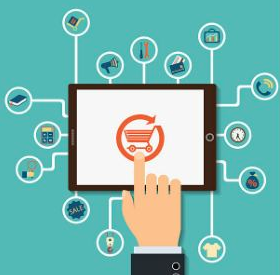 A product can be dynamically added or removed from the product list automatically in Drupal Commerce. You can develop a traditional catalog-like experience and it automatically follows the way you have organized your products and uses attributes associated with them. Be it tables, grids, or lists, products can be exhibited on your website in any pluggable style with each having their own appearance and feel. This immensely helps in building user engagement.
Magento has a very conventional way of how products are organized and added to the list. You build a set of classifications in a catalog root where the products can be included. A product can fall into multiple categories depending on their type and how the users are trying to find these products. But Magento follows a strict provision for displaying products on the site. For instance, only lists and grid views are available for product listings.
Verdict: Drupal Commerce, apparently, has the upper hand in this area.
Mobile responsiveness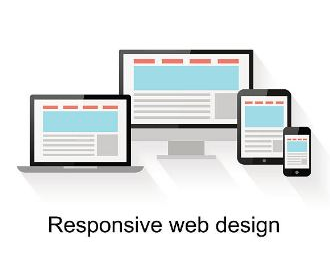 Drupal Commerce offers screen flexibility for building the most powerful and versatile business engine in today's market. Drupal themes help in lending a fully responsive design for the ecommerce website.
For instance, SShop is a bootstrap based Drupal 8 theme with out-of-the-box support for Drupal Commerce. It provides multi-level responsive header menu, slideshow on the homepage, and a custom layout.
Corolla is another stupendously stylised colorable Drupal theme that comes with 6 preset colour schemes, custom colour options, mobile responsive features, and box shadow and background texture options among others.
eStore is a fully responsive, bootstrap-based Drupal theme that comes with cool functionalities like product layouts collection to scan through and choose from, slider content types, custom field additions to the Default Product Type, content types included in the configurations etc.
Magento is not far behind. It adopts responsive web design approach to craft websites that provide an optimal viewing experience across a wide range of devices. For instance, the out-of-the-box Magento Blank and Luma themes offer a fully responsive design.
Verdict: Providing a beautiful design to the site and making the responsive across devices, both the platforms are equally beneficial in this area.
Features and functionalities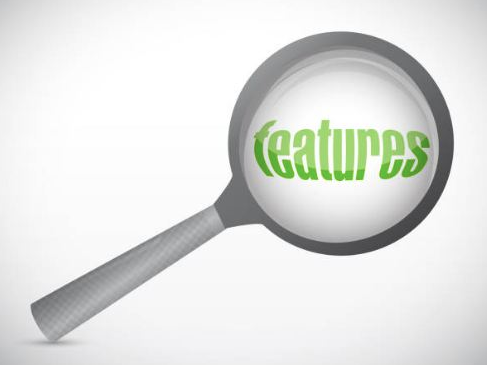 One of the foremost advantages of Drupal Commerce is that it has a huge and a growing list of modules for enabling customised features and functionalities. Building a custom application and providing a wonderful digital experience thereby incorporating features that are beyond commerce, it is adaptable to changing times and business needs. Whether you need to add web services or forums, it gives you the space for adding a functionality which is entirely new.
Magento comes with a nice set of features which is really good for your online store. If you are looking at a product on the basis of its published feature set, then Magento is good for you. So, in simple words, if you just need to develop a shopping cart, opt for it.
Verdict: Hence, unlike Magento, not only a simple shopping cart, Drupal Commerce can customise your online shopping site for a wide array of needs.
Multilingual capabilities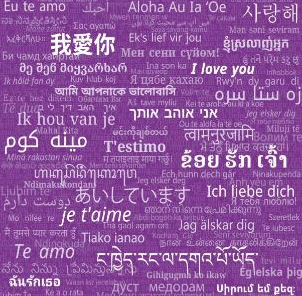 Drupal 8 comes with out-of-the-box modules for translating the content on the website. Its built-in language handling abilities help in delivering localised digital experiences by letting you choose from 94 languages.
It also offers the individuals who work on the site - site administrators, content editors, and translators - the choice of their own language. From pages to the taxonomy terms, it can translate everything. Even the configuration of the site like blocks, panels, views etc. can be translated.
With every Magento theme, you can incorporate a multilingual storefront without a lot of trials and tribulations thereby allowing the user to switch between languages with ease.
Store Views are the store instances in the Magento platform. So, if you are running a ecommerce website with a single language, single Store View is required. For multilingual sites, it allows you to have multiple Store Views.
Verdict: Both the platforms share this arena equally and lets you run a great multilingual online store.
Administration interface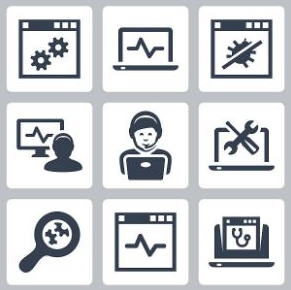 Without even making changes to the code, you can customise the admin interface as per your needs in Drupal Commerce. It lets you create screens for specific users with certain administrative actions.
Magento gives you a structured and properly defined way to govern the entire store. If you are complacent with its built-in admin interface functionalities, then it's good for you. But if the need arises for some more features, then a lot of development effort is required to make customizations.
Verdict: With provision to choose from a huge list of Drupal modules to make the admin UX better, it should be a no-brainer of a choice that points to Drupal Commerce.
Cost constraints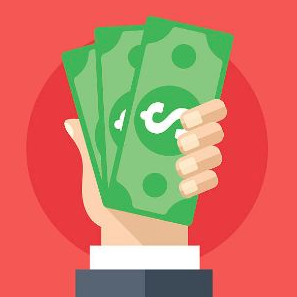 Drupal is an open source technology. So, it is absolutely free to use.
In contrast Magento is showing an identity shift according to Gartner's Magic Quadrant for Digital Commerce in 2018. It states that some newer modules in Magento are not being offered as open source. Moreover, the prospects drawn to Magento because of its strong reputation in the open source community should be careful of this tectonic shift and determine whether or not they are comfortable with this.
Verdict: Being an open source technology, Drupal Commerce clearly excels in this category. 
Business-Driven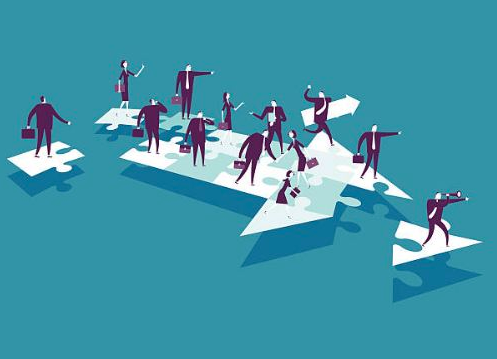 Drupal Commerce can help make a site with any of these functionalities or all at once: a multilingual site, a multisite, community forum or an online store. So, it can integrate with multiple business platforms under one umbrella.
To integrate Magento with any other part of business ventures like forums or subscriptions, you will have to confront with two independent systems working with each other. This calls for third-party solutions to keep data between several systems in sync and up-to-date.
Verdict: Drupal Commerce clearly wins this race by miles with a wide pool of benefits for your business.
SEO tools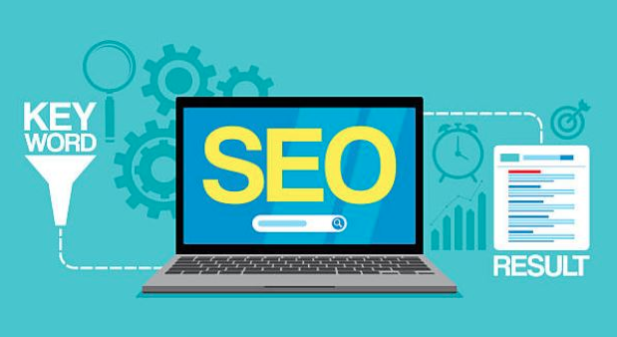 You can enable SEO through superabundance of modules in Drupal like Pathauto, XML Sitemap, Redirect etc.
With Magento's out-of-the-box SEO tools, you can easily adjust URLs, meta information, and verify search terms and ranking through Google integration.
Verdict: Both of them offer a perfect platform for making the site search friendly.
Skills required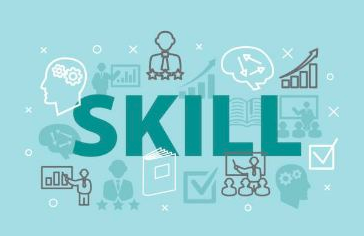 Without much coding experience, you can easily pick the basics quickly in Drupal Commerce. For someone with minimal coding knowledge, it offers modules like Views, features etc to power user interface. Even for a code genius, aforementioned modules can be really helpful.
With heavy usage of objects, inheritance, and programming concepts, someone with minimal experience of coding, may find it tough in Magento to get to the scheme of things quickly. Also, understanding and detecting Magento extension clashes can be tricky. It has an okay documentation available but active Magento community and a wide range of training and support offering can be pretty useful.
Verdict: With an active, engaging and responsive Drupal Community and a plethora of training and support services available, Drupal Commerce should be the default choice.
Integration scope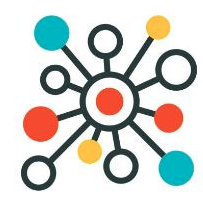 Drupal Commerce can seamlessly integrate with third-party tools. Some of the examples are: 
Magento offers support for third-party integrations too. Some of the example categories are:
Magento theme or template integration allows you to use third-party themes from Themeforest or TemplateMonster.
SMS gateway integration with third-party service providers like Kapsystem is possible in Magento
It also allows Payment Gateway integration with Paypal, Amazon Pay etc.
Magento API integrations can be done with Xero, Salesforce, Box etc.
It can also be integrated with leading CMS like Drupal.
Verdict: Both the platforms offer third-party integrations.
Security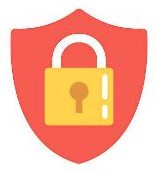 Statistically proven, Drupal is the best security focussed CMS among the major CMS platforms like Wordpress, Joomla and Magento. Both the infected websites and the infection rate of Magento were much higher than that of Drupal in the Hacked Website Report from Sucuri.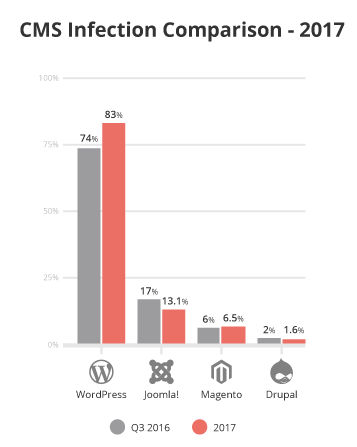 Source: Sucuri.net
Verdict: Drupal is the most secure CMS and should be prioritised over Magento.
Conclusion
For the best e-commerce site, digital firms have to thrive on the e-commerce platforms for a unique and a masterclass of a website. Drupal Commerce and Magento provide a platform for setting up an e-commerce site efficiently. To understand what suits your organisation's needs, you have to properly understand their features and functionalities to choose wisely. A side-by-side comparison delineates that Drupal Commerce has the clear edge over Magento and comes out as the winner.
We provide Drupal Commerce services to help you scale up. Contact us at [email protected] to gauge which platform would be the best for your enterprise needs.
About Drupal Sun
Drupal Sun is an Evolving Web project. It allows you to:
Do full-text search on all the articles in Drupal Planet (thanks to Apache Solr)
Facet based on tags, author, or feed
Flip through articles quickly (with j/k or arrow keys) to find what you're interested in
View the entire article text inline, or in the context of the site where it was created
See the blog post at Evolving Web