Face-off 2018: Drupal vs Sitecore Comparison
A game of soccer is not shorn of any fanfare among the soccer lovers when the so-called English Premier League brings together the greatest players in the same team. And when two legendary players of different nations play together for the same franchise, fans often find it an arduous task to pick the champion of the champions. Choosing the best CMS for your business between Drupal and Sitecore puts you in a similar junction.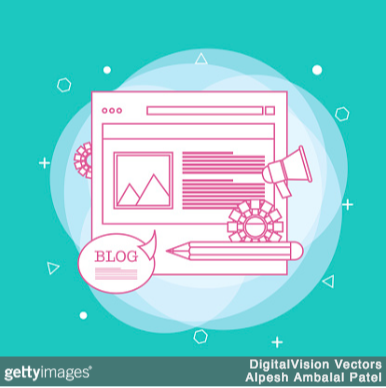 Drupal and Sitecore are the leading CMSs in the market and that reflects in the Gartner Magic Quadrant for Web Content Management 2018. Apparently, both are amazing as the content store for websites and that puts digital businesses in a dilemma to choose best of the best breed. Here, we have put several parameters in place and did a side-by-side comparison. Let's see who comes on top.
A Brief Exploration of Drupal and Sitecore
Before we dive into the comparison part, let's quickly define the two content management systems.
Drupal

An open-source CMS, Drupal is absolutely free to use which is maintained by a community of volunteers and sponsored contributors across the globe.
It comes with various modules and integrations out-of-the-box. It is powering some of the world's biggest and most intricate websites and is a praiseworthy choice for firms that need a solution offering impeccable and complex integrations.
No wonder, it is on the upward direction in the usage statistics as can be witnessed in the graphical representation below.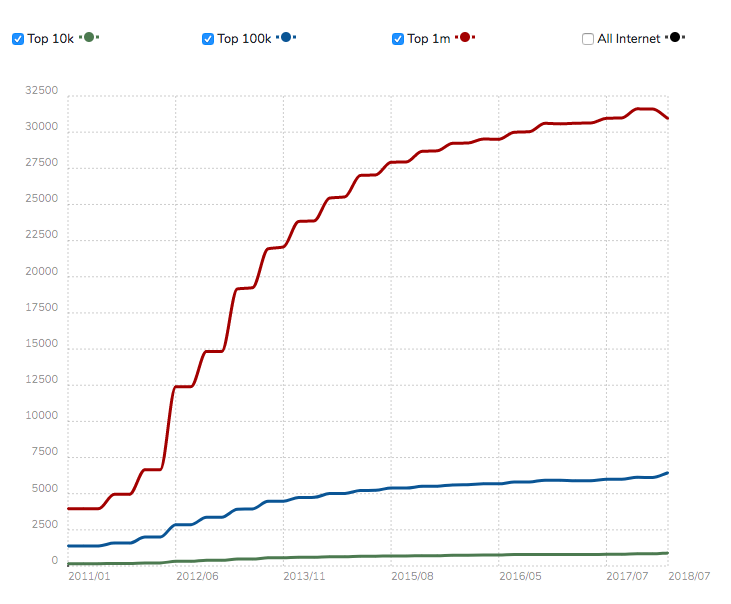 Drupal Usage Statistics from BuiltWith
Sitecore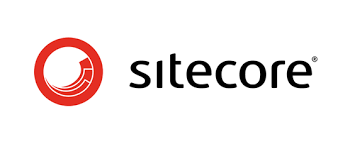 Sitecore, a closed-source or a proprietary CMS, provides some amazing marketing automation tools out-of-the-box.
It is a good contender for enterprises that are considerate about content personalisation, journey orchestration, and marketing.
Like Drupal, it is perpetually rowing upstream despite heavy competition in the CMS market and has made a mark for itself as can be seen in the graph below.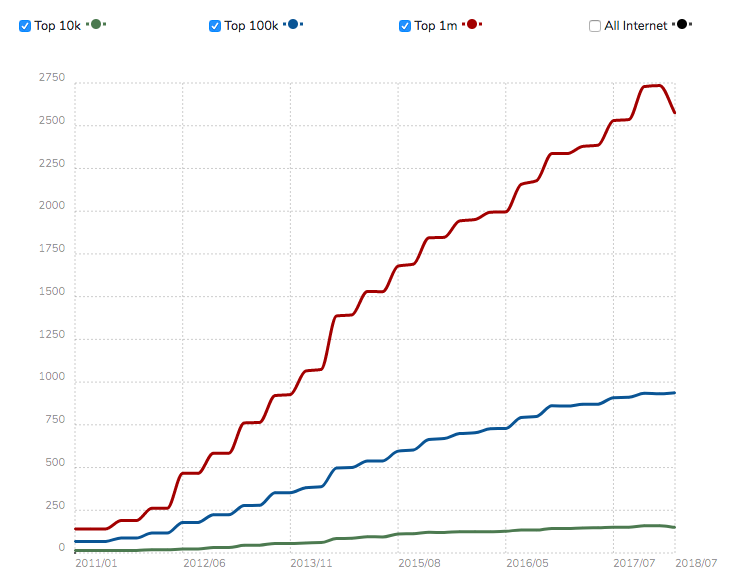 Sitecore usage statistics from BuiltWith
While both the CMSs are continuously proving to be quintessential when it comes to their respective growth and business adoption over the years, market share shows a different picture. Market share, with a bulk of the share in the pockets of Wordpress, has a strong contender in Drupal. W3Techs statistics delineates that Drupal leads the market share as compared to Sitecore.

Comparing Drupal vs Sitecore in Different Perspectives
Doing a side-by-side comparison of Drupal and Sitecore on different metrics would portray a better picture of who wins the battle when to comes to being the best of the best.
Features and Functionalities
| | | |
| --- | --- | --- |
| Metrics | Drupal | Sitecore |
| Content Management | Excellent content management | Excellent content management |
| Security | Highly secure | Highly secure |
| Decoupled and headless approach | Decoupled presentation layer available | Decoupled presentation layer available |
| Performance and Scalability | With a smaller footprint, it is more scalable and offers high performance | With larger footprint, it is relatively low on scalability and performance metrics |
| Multilingual site | Great support for multilingual sites | Great support for multilingual sites |
| Accessibility | Better features for web accessibility | Relatively less features for web accessibility |
| Multisite | Multisite functionality available | Multisite functionality available |
| Responsive web design | Fully responsive | Fully responsive |
1. Content Management
Drupal has a much more customisable backend as compared to Sitecore. The default Drupal content administration view is stupendous. It can be further customised for optimising the content editors' user experience.
Drupal allows the implementation of custom workflows for the content teams thereby ensuring that governance standards are met. It makes sure that all the content is posted and approved as per the norms of the organisations' existing content practices.
For instance, with the release of Drupal 8.6, Workspaces module, an experimental module, has been included. So, when a large package of content, let's say hundreds or thousands of items, have to be assessed and deployed at once, Workspaces module offers intuitive UI to do so.

Workspaces module in action
On the contrary, while Sitecore's current backend is tremendously functional, the user experience leaves quite a bit to be desired. Sitecore Director of User Experience, Niels Handberg, showcased the Future of Sitecore Content Management User Experience at the Sitecore Symposium 2017.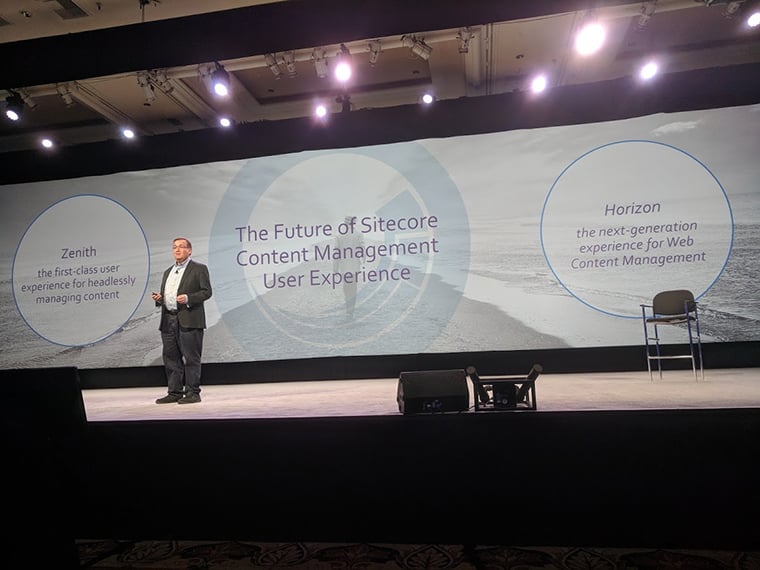 Source: Delete Agency
Upcoming editions of Sitecore such as Sitecore 9.1 will have hugely improved content authoring experiences and content management tools. It will have options for advanced workflows in specific areas or content types on the site. It will allow users to configure systems for approvals, notifications, and translations on multiple content items.
Inference: Drupal and Sitecore have been truly consistent with their approach of providing an excellent content management to the users and have been continuing to inculcate more improvements.
2. Security
An extensively researched whitepaper by the University of Washington titled "Is Open Source Software More Secure?" signifies the high-level security that open source software offer. It states that open source does not pose any significant roadblocks to security but rather reinforces best security practices by involving many people who can expose bugs swiftly.
Drupal offers fine-grained access over what content can be created, modified, updated and deleted and by whom. Although, as an open source CMS, it is a highly integrated system, it is also immensely security-focussed CMS. Drupal allows you to build securely integrated platform and has a suite of security modules to choose from.
Dedicated Security Team of Drupal is committed to address security vulnerabilities and build patches to ensure top-of-the-line safety.
Moreover, adhering to Drupal's coding standards also helps keep security risks at bay.
In the 2017 Cloud Security Report by Alert Logic, Drupal was reported for the least number of web application attacks.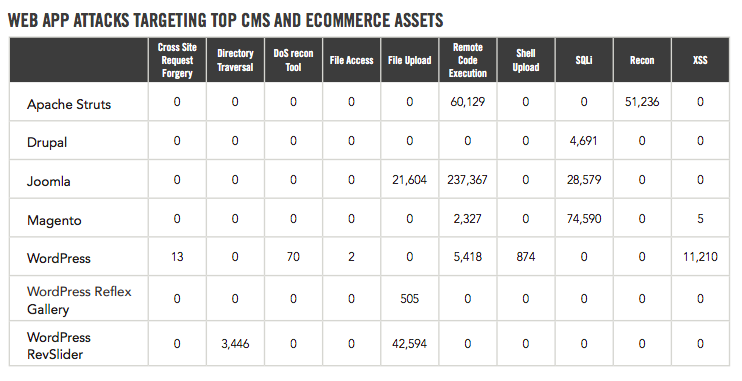 Source: Alert Logic
Sucuri's Hacked Website Report also showed that Drupal was the better performing CMS in terms of security as compared to leading CMSs like Wordpress, Joomla, and Magento.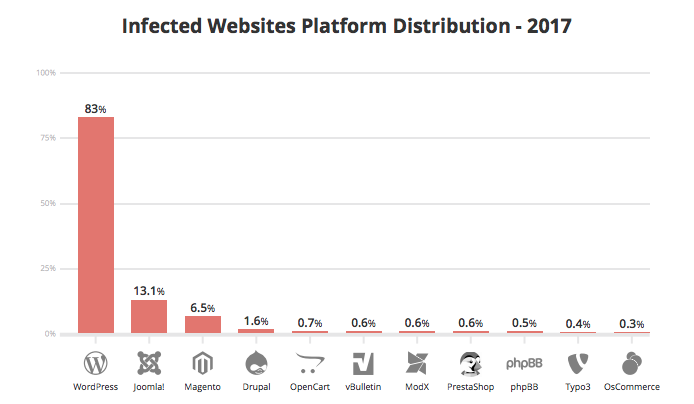 Source: Sucuri
Sitecore enables you to create users and user roles with fine-grained access to any part of the site an administrator chooses.
It is built on .Net which means that whenever a .Net patch is released, all Sitecore sites will be updated automatically without any user intervention. And since Sitecore sites are designed to minimally integrate with other systems, the risk of outside security flaw creeping into the site gets reduced.
It offers extensive documentation on safeguarding one's environment. Clients would have to coordinate with vendors in order to make sure that security patches are installed instantly.
Inference: Both Drupal and Sitecore are highly secure platforms.
3. Decoupled and Headless Approach
Decoupled Drupal offers multi-platform capabilities, awesome frontend experience, and marketing agility. So, a large enterprise with a presence of an awful lot of digital properties to govern benefits a lot with Decoupled Drupal's Create Once Publish Everywhere approach.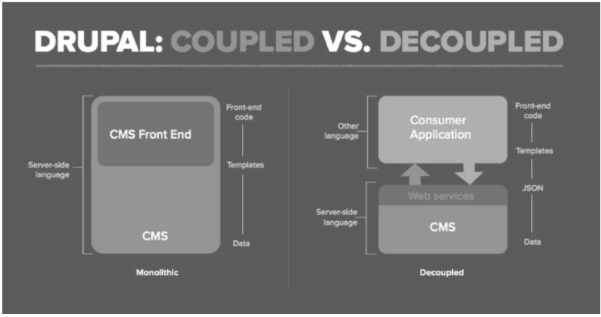 Source: Acquia
Sitecore, with its decoupled approach, can automatically serve content in the format that is best-sized and suited for a user's device. Sitecore originated as a headless CMS. But it has never marketed itself as headless as it has always separated content from the presentation and thought of headless as a commodity.
Inference: Both the CMSs can be a superb choice as the decoupled or headless CMS.
4. Performance and Scalability
The Drupal effect on high-performance websites is huge and can be very meritorious.
Drupal modules like BigPipe and Redis helps in the advanced cache optimisation.
Memcache API and Integration module help in the database optimisation.
Advanced CSS/JS Aggregation module keeps a tab on your front-end performance.
Blazy module provides the functionalities of lazy loading
Fast 404 module handles 404 errors on websites.
CDN module helps in the integration of Content Delivery Network for Drupal websites.
Also, Drupal scales with your needs to help sites cope with a colossal amount of traffic. High-traffic websites like The Grammy Awards, NBC Olympics, Time Inc., NASA and many more are efficiently handling spikes in web traffic. Drupal can manage a voluminous amount of visitors, content and Drupal users.
Sitecore encounters a challenge in order to attain high performance and scalability but its recent large-scale deployments have shown that it can be addressed. With a large footprint, it requires a large hosting infrastructure to manage it.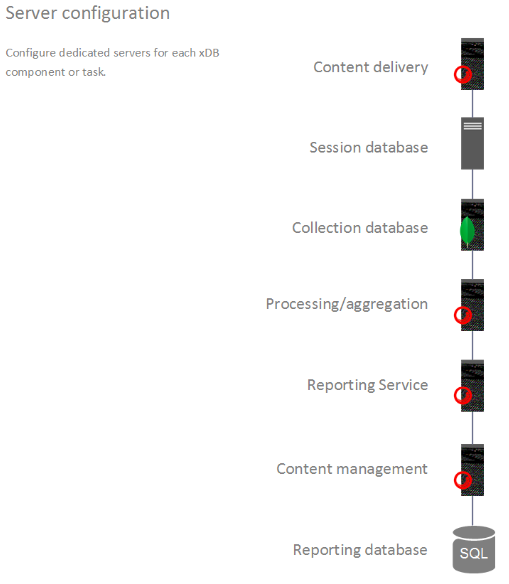 For attaining high scalability, Sitecore's documentation recommends that separate servers can be assigned for individual tasks like content delivery, reporting, processing/aggregation and more.
The Forrester Wave: Web Content Management Systems, Q1 2017 report states that while Sitecore Experience Accelerator (SXA) may ease off operational pains but large feature set add intricacy to operations.
Inference: Drupal has a clear edge over Sitecore in terms of website performance and scalability.
5. Multilingual Site
Drupal's out-of-the-box language handling abilities deliver value to the firms who need localised digital experiences thus saving time and money in the process. Building multilingual sites is faster and easier with Drupal with the support for natively installing 90+ languages.
Four core modules in Drupal for language handling, interface translation, content translation, and configuration translation allow full translation of every part of a site. You can swiftly develop a customised site in any language. Or, you can build an intricate multilingual web application with dynamic, language-based displays using various admin languages and translation workflows.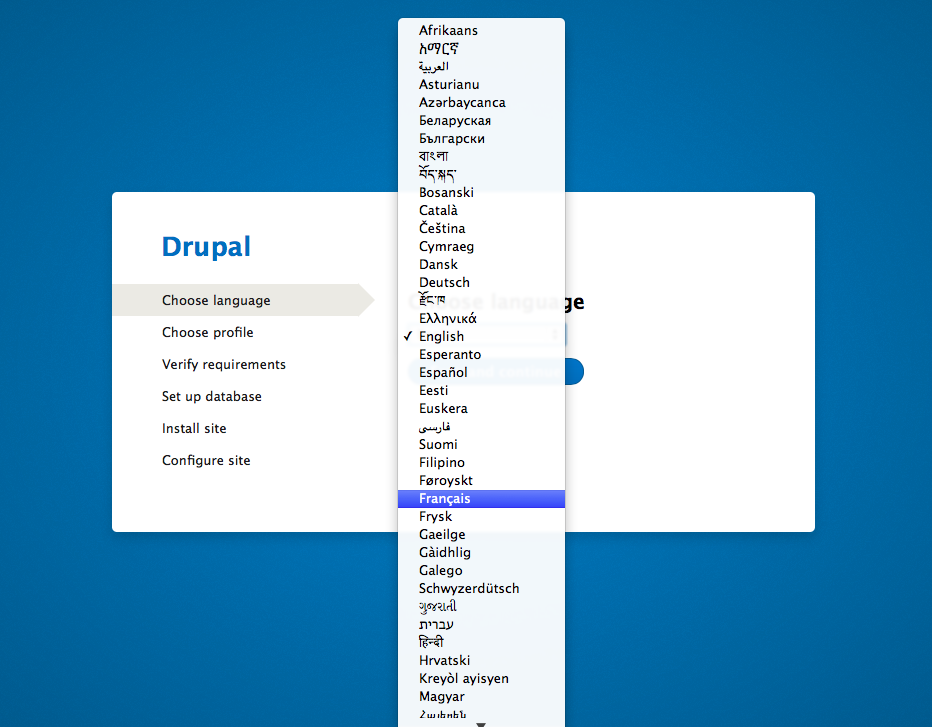 Sitecore XM natively governs the multilingual content and the translation workflow. It also integrates with translation services thereby enabling content creators to write in their native language and translate it globally.
Sitecore allows each language to have its own version history. Every field on a template can be marked as unique to a specific language. Or, they can be shared across all the languages. Items can be pushed through the workflow for incorporating the translation process. When done properly, a site won't require software alterations for supporting new languages.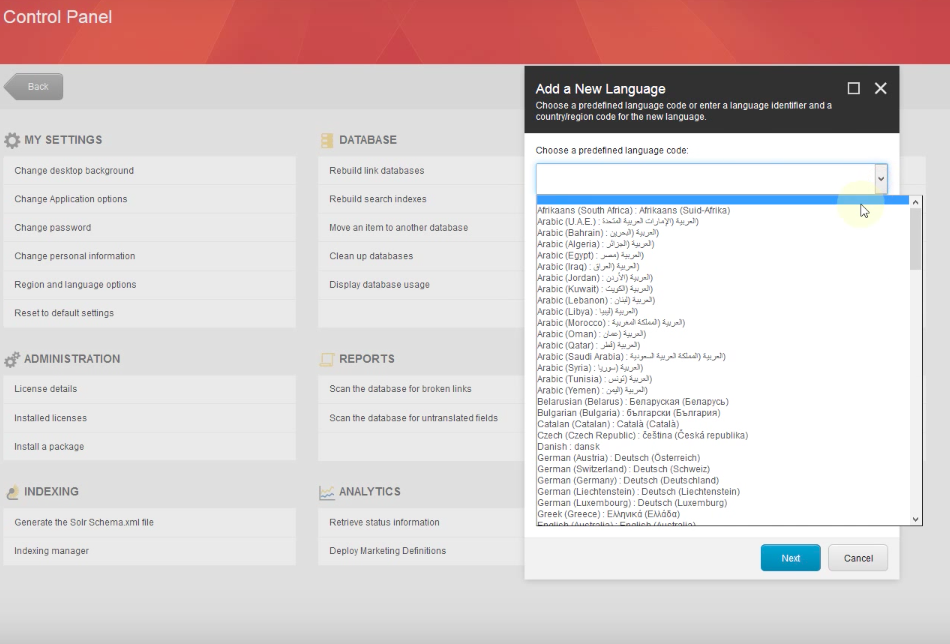 Inference:Building multilingual sites are well-supported by both the CMS.
6. Accessibility
Both Drupal and Sitecore are accessible platforms but Drupal has better features out-of-the-box like the default support for Web Accessibility Initiative – Accessible Rich Internet Applications (WAI-ARIA).
Drupal 8 comes with several accessibility tools out-of-the-box with modules like Block ARIA Landmark Roles, Siteimprove, CKEditor Abbreviation and much more available to offer better experiences.
Sitecore needs designers and frontend developers to develop an HTML prototype which is split into components, tested, and rebuilt in the Sitecore system.
Both Sitecore and Drupal can be built and tested as per the World Wide Web Consortium (W3C) standards but with Sitecore, it might be time-intensive.
Inference: Drupal has a slight edge over Sitecore when it comes to ensuring accessibility standards.
7. Multisite
The multisite feature of Drupal helps in governing multiple sites across your organisation, brands, campaigns and geographies on a single platform. It allows users to quickly and easily create and deploy multiple websites.
Drupal's multisite functionality enables you to share a single Drupal installation consisting of core code, contributed modules and themes among several sites. So, managing the code is easier as each upgrade only needs to be done once.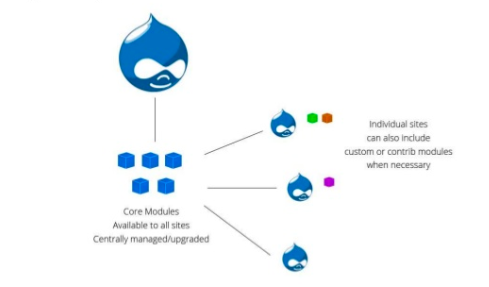 Sitecore allows you to share content across multiple sites for a consistent experience on all of them. A default Sitecore installation defines a single published website but this single Sitecore installation is capable of publishing multiple websites with each site having its own properties.
For instance, you can define a new Sitecore site to be your published public-facing website or to be used by content editors for accessing the content management system.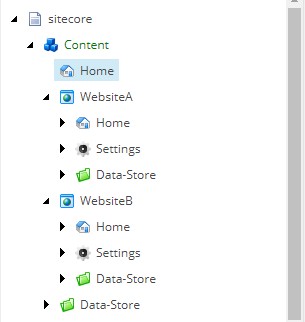 Inference: Multisite functionality is at the heart of both the CMSs.
8. Responsive Web Design
The out-of-the-box mobile-friendly features of Drupal 8 creates quite the buzz with the words like 'mobile-friendly', 'responsive' and 'squishy' associated with it. Above all, it is designed with a mobile-first approach.
Drupal 8 offers responsive administration and toolbar for the content editors and mobile-friendly core themes for the themers. It also comes with core modules like the Breakpoint module and the Responsive Image module for the site builders. With the Web services in the core, it is also great for application developers for developing native mobile applications.
Sitecore is mobile responsive and display-agnostic. Its device detection module allows users to automatically detect and optimise content for different devices thereby giving the option of previewing the content on different mobile devices.
Also, the geoIP detection package helps in personalising the content based on the physical location of the user.
Inference: Mobile-friendly features are prevalent in both Drupal and Sitecore.
Content Editor's Eye View
| | | |
| --- | --- | --- |
| Metrics | Drupal | Sitecore |
| Editing Interface | Good editing interface | Good editing interface |
| Drag and drop functionality | Drag and drop feature available | Drag and drop feature available |
| Granular editing | Granularity while editing possible | Granularity while editing possible |
| Grouping of the content | Better grouping of content | Relatively less flexible while grouping of content |
| Layout configuration | Excellent layout configuration options available | Excellent layout configuration options available |
1. Editing Interface
Drupal offers excellent editing options. One of the options is to use the full edit mode where any content item can be easily edited using CKEditor - WYSIWYG HTML editor.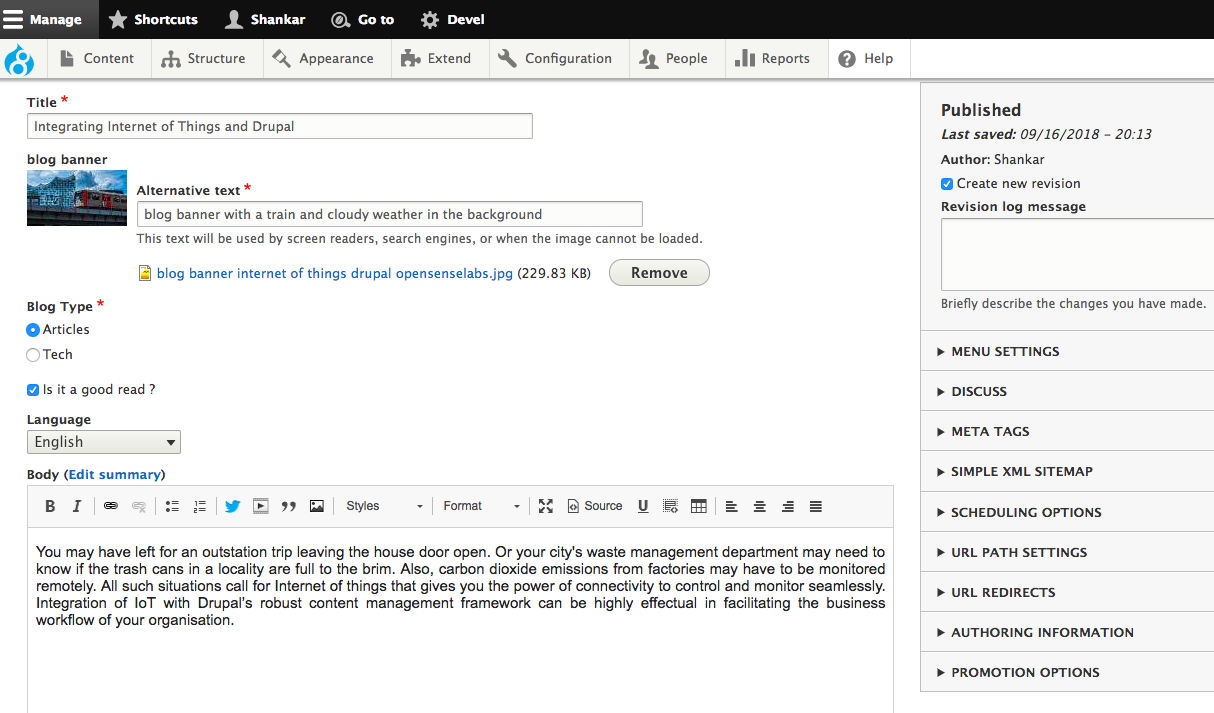 Another option is to do in-place editing with the Quick edit module where specific items are chosen to be edited as shown here.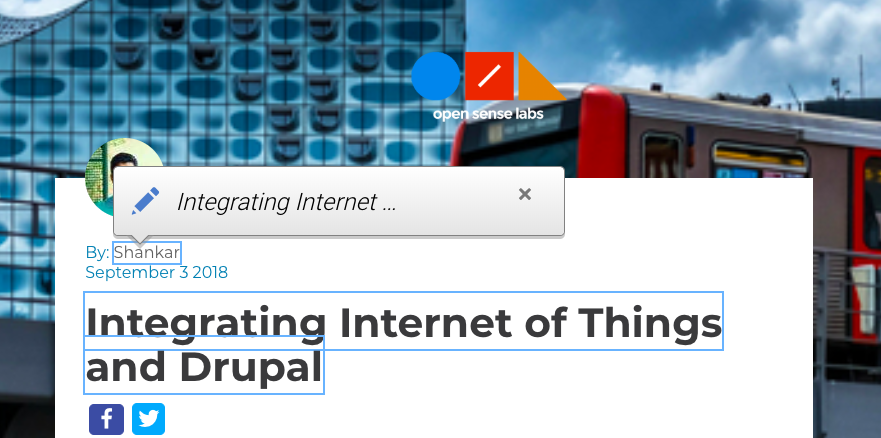 In Sitecore, content editing is managed by Sitecore Experience Platform and Sitecore Experience Accelerator. Sitecore Experience provides editing tools namely the Content Editor and the Experience Editor.
The Content Editor offers fine-grained control over the content elements organised as objects in a content tree. Editors can choose an item for editing its fields. The Editing UI is by design resembles that of Microsoft Windows and provides easy usability transition for Windows shops.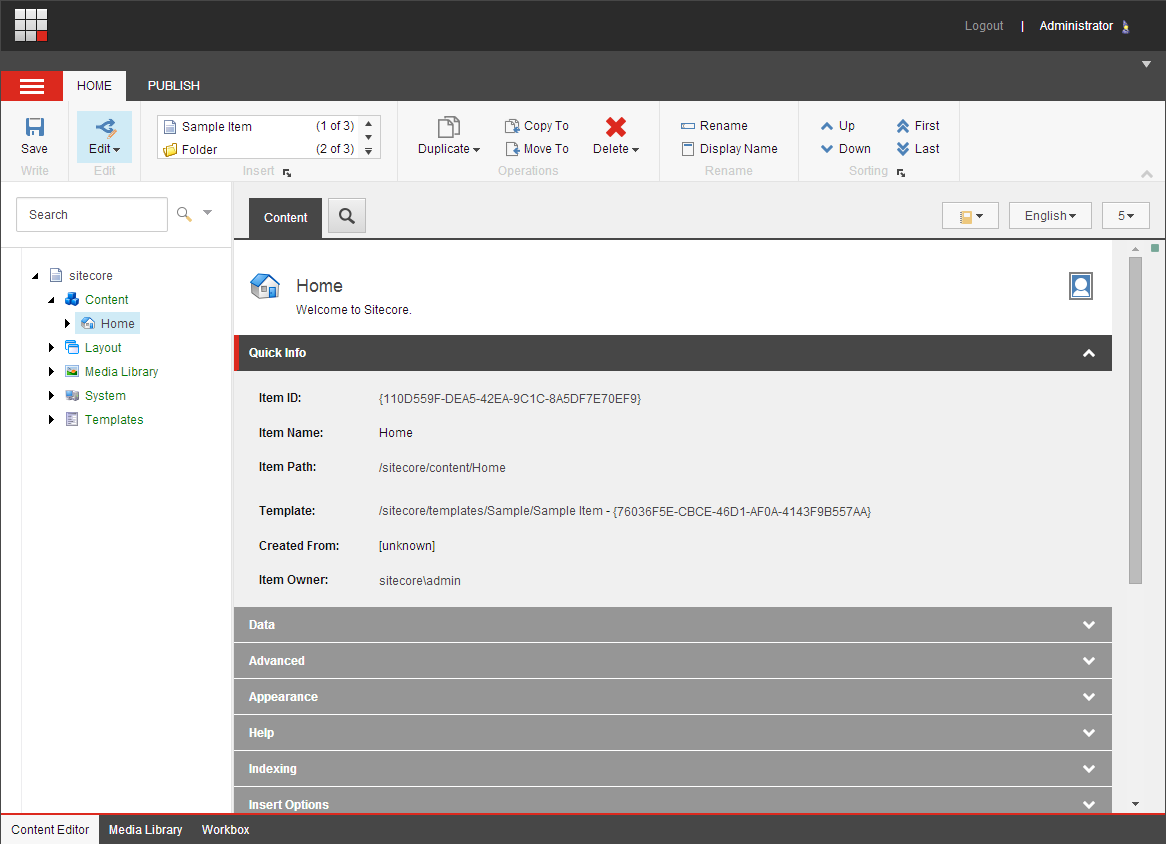 Sitecore's Experience Editor enables in-place editing where, like Drupal, content editors won't have to leave the page to edit a content item.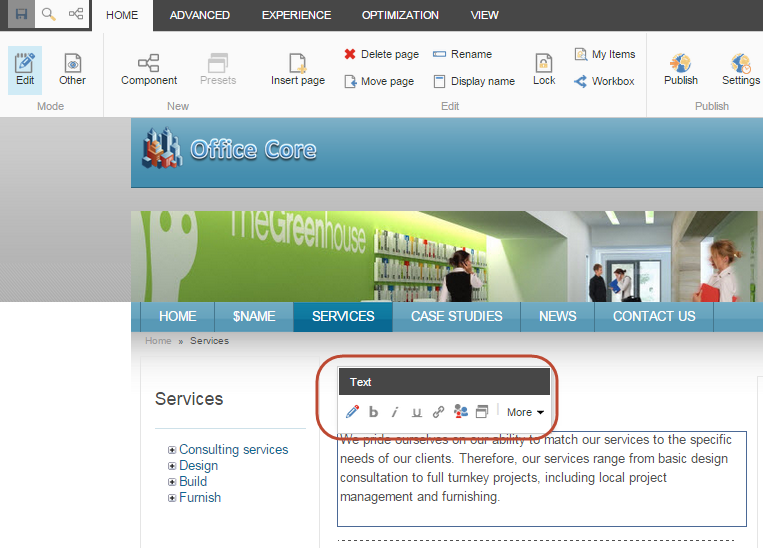 Inference: Editing Interface offered by both the CMSs is similar and efficient.
2. Drag and Drop Functionality
Adopting an intuitive feature like drag and drop interface is quite popular with Squarespace and Wix offering a lot of those features.
Drupal comes with Panels module which can enable drag and drop functionality. Another Drupal module, Stacks, can help content editors build beautiful pages without any code.
Sitecore Experience Accelerator offers a UI which can be leveraged to drag and drop various reusable elements onto the page like text, video, image, JS widgets and many more.
Inference: Both the CMS excel at drag and drop feature offering.
3. Granular Editing
In Drupal, monolithic content is broken up with the help of Paragraphs module that allows end users to select on-the-fly between predefined paragraph types independent from one another. The paragraph type is any unit of content such as a text block, slideshow, image etc. Entity Construction Kit, another Drupal module, offers an alternative solution to edit with more granularity and reuse.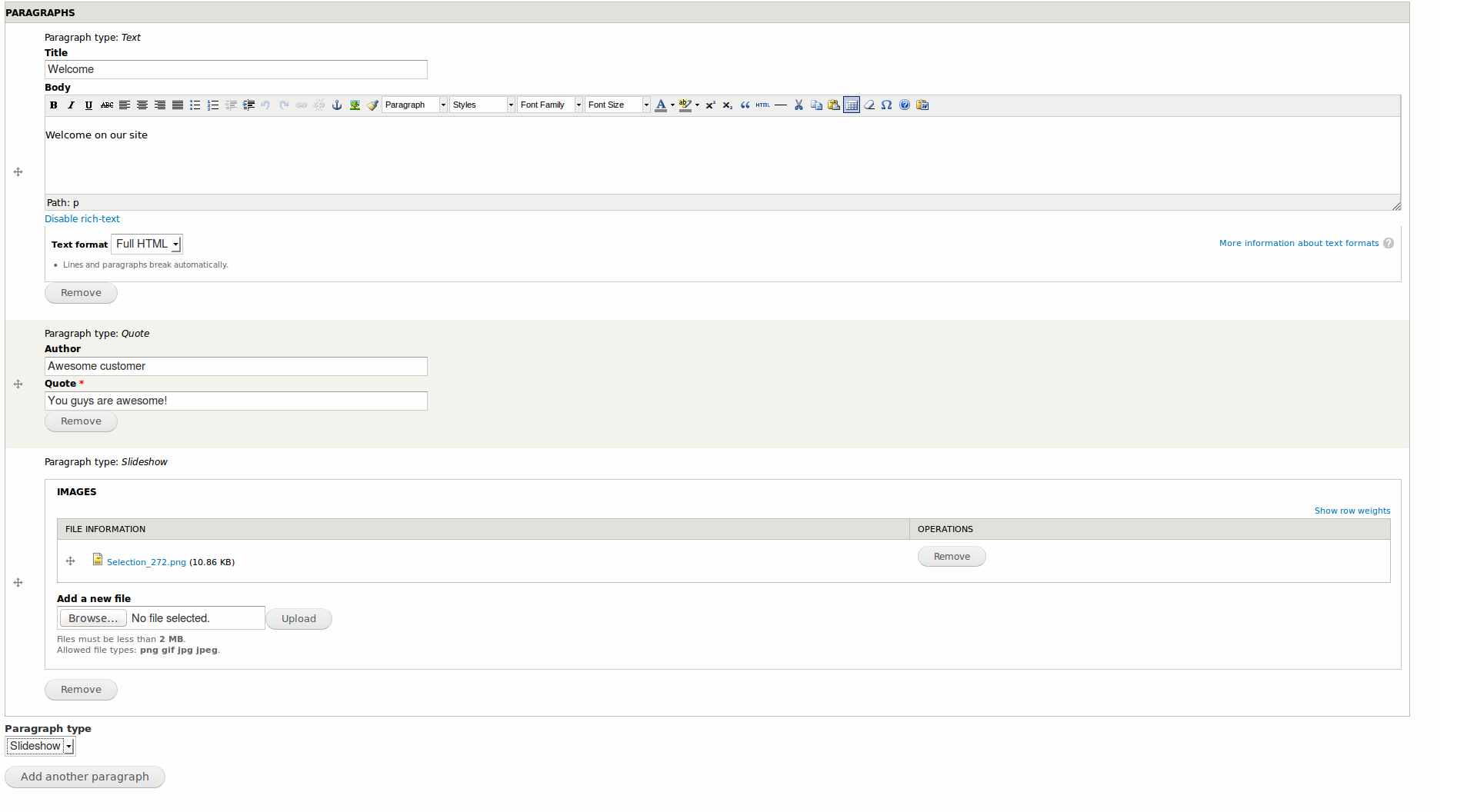 Paragraphs module in action
Sitecore allows the content to be broken up into smaller pieces instead of one monolithic body. This, again, offers more granular control and reuse of content.
Inference: Granularity while content editing is possible with both Drupal and Sitecore.
4. Grouping of content
Drupal offers flexibility in the way display of grouping of its content is done. It is because of its highly structured content and the Views module as part of its core.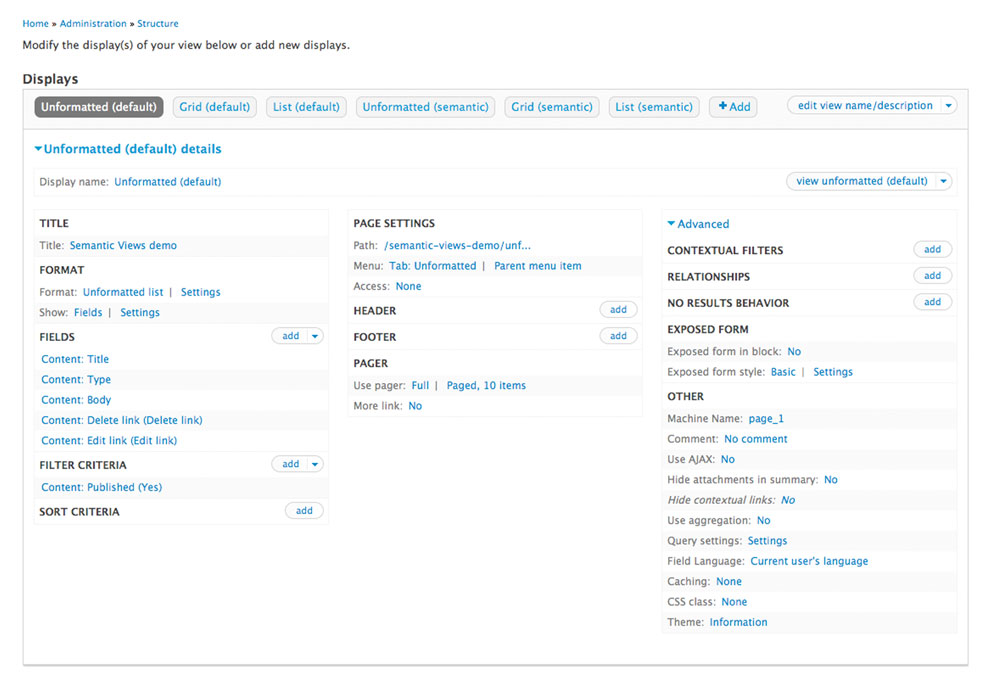 Views module in action
In addition to basic filtering, Views can also filter on context like determining the logged-in user, knowing what parameters were passed into the URL and many more.
Views also display a grouping with elements of multiple disparate data sources with a common element like the grouping of blogs written by authors from a particular set of magazines. It is possible to filter the search results further by a number of elements constituting author, tag, field etc.
Sitecore displays a grouping of content items using its Search utility. Search results can be displayed in multiple view types constituting image view, list view, and grid view. It can be filtered down further by numerous elements like the author, tag, field etc.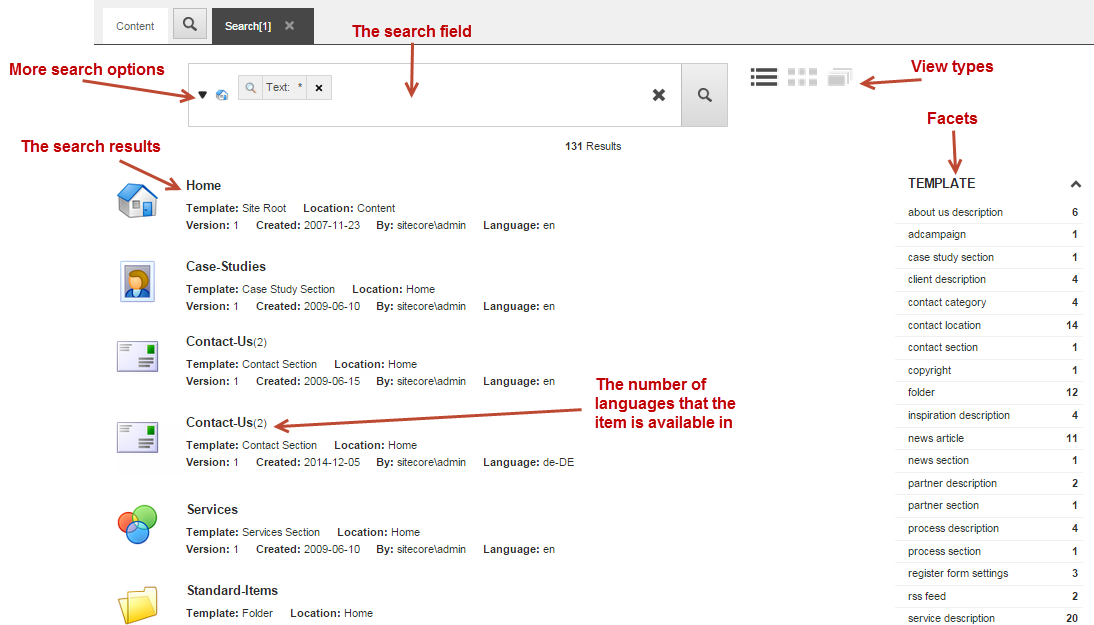 Inference: Drupal offers more power in the grouping of content than Sitecore.
5. Layout Configuration
Drupal provides the Layout module that helps in the provision of author-controlled layouts across several devices. It does so by decoupling layouts from themes created by the developer.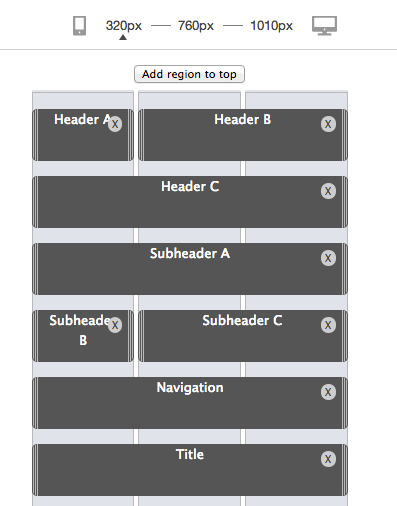 Also, the experimental Layout Builder module in the recent release of Drupal 8.6 supports per-display customisations for defining layouts with dynamic sections. It also helps in creating one-off blocks for a specific layout that won't show up in the global block list. This is essential for things like a promotion that is only visible in the single landing page.
Another Drupal module, Display Suite, lets content editors place the fields like paragraphs, images etc. in the required region of the page. It can, then, choose from several predefined layouts for any content type.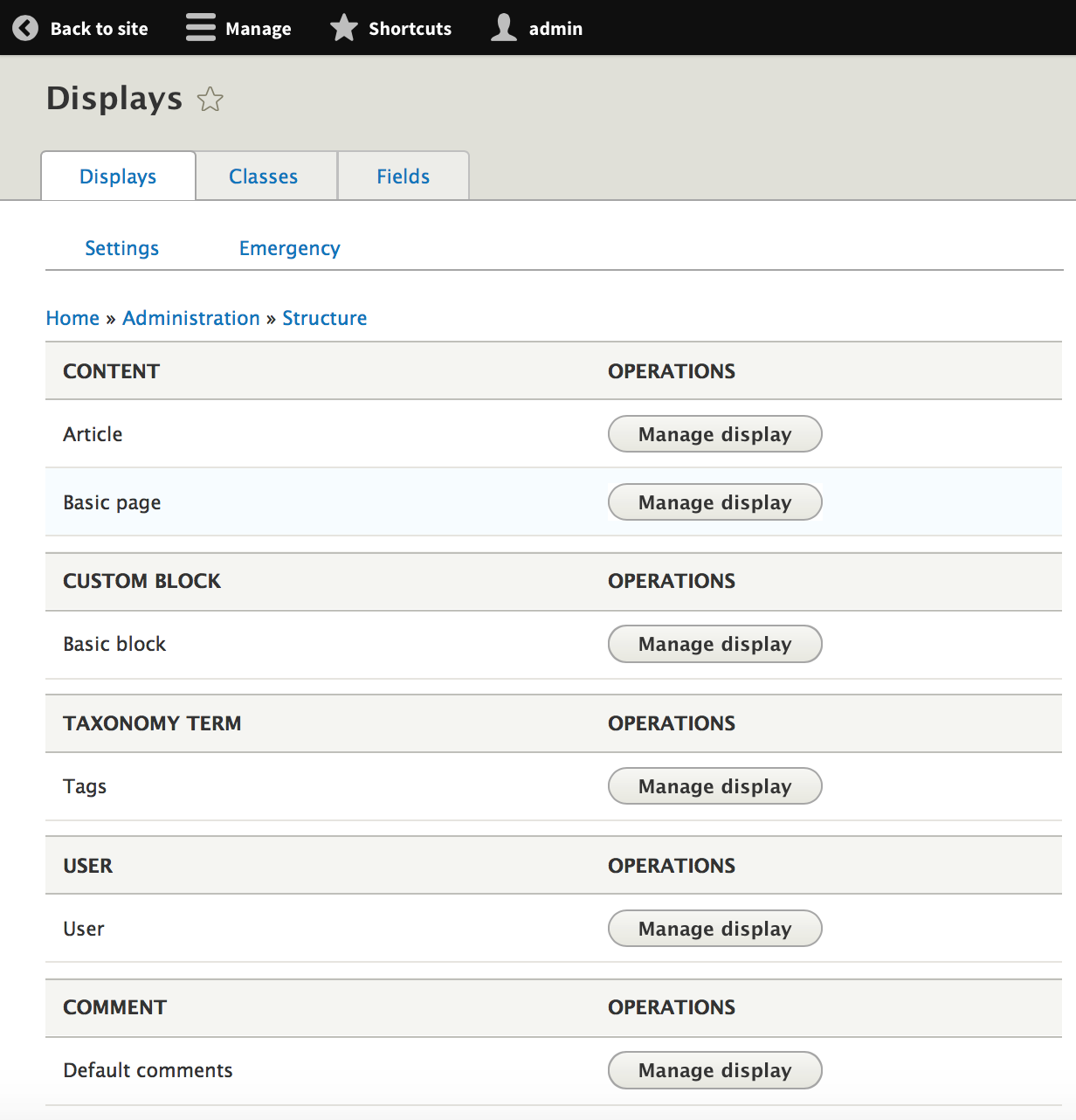 Also, Drupal's Panels module lets the user select layouts without ever leaving the page.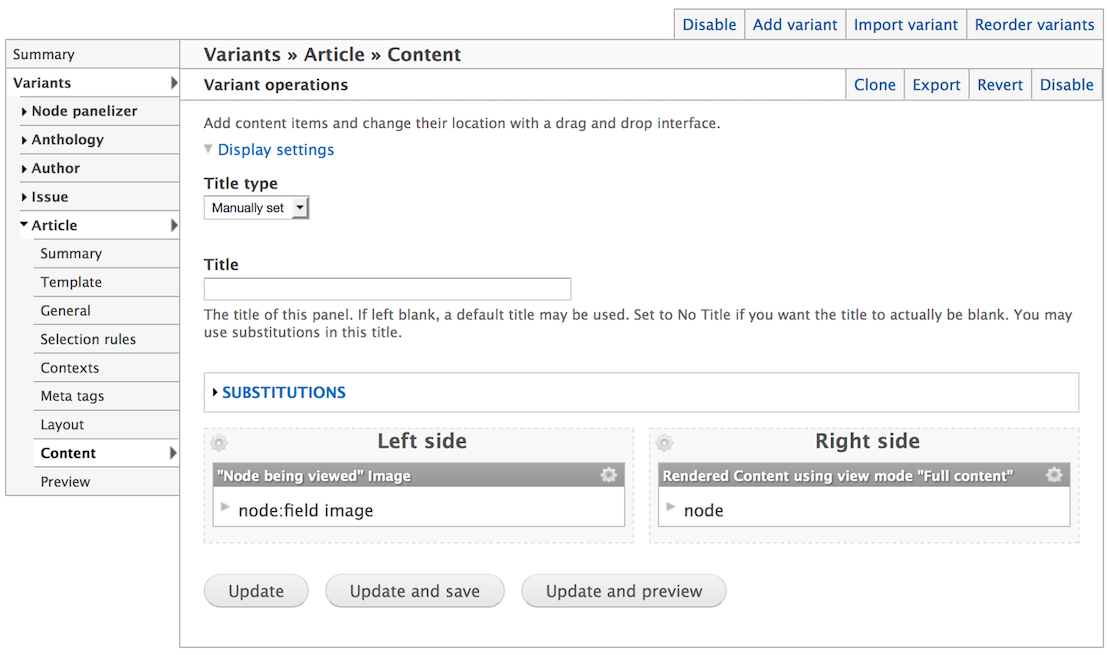 Sitecore does not let users do in-page layout editing but it does offer a wide array of multi-column grid layouts where each of the columns can be customised.
Sitecore also provides a tool called Splitter for creating row regions and customise columns where any layout can be customised with CSS.


Inference: Layout configurations options are excellent in both the CMSs.
Developer's Eye View
| | | |
| --- | --- | --- |
| Metric | Drupal | Sitecore |
| Skillset | Knowledge of PHP, Symfony, Twig, and YAML essential | Knowledge of C# and ASP.NET essential |
Development in Drupal needs proficiency in HTML, CSS and JavaScript for the frontend and backend requires object-oriented PHP and MYSQL as the database. Drupal, typically but not necessarily, runs on LAMP stack with Linux as the OS and Apache as the web server. 
Knowledge of Symfony and the dependency injection design pattern is required for the Drupal backend. For theming, understanding of Twig is required and YAML should be known for the configuration of themes, distribution and modules.
Since Sitecore is friendly to Microsoft shops, it requires developers to have proficiency in .Net library, in particular, C# and ASP.NET in addition to HTML, CSS, and JavaScript. Microsoft SQL Server or MySQL covers the database part and the application server is IIS.
Inference: Both are completely different tech stack and very efficacious as well.
Hosting and Deployment
| | | |
| --- | --- | --- |
| Metrics | Drupal | Sitecore |
| Hosting | Hosting-service agnostic | Typically hosted by Microsoft Azure |
| Deployment | Easy deployment | Relatively complex deployment |
Drupal is hosting-service agnostic which can be deployed to any hosting service that supports PHP-based web applications. It stores the site configuration data in a consistent manner. It is easy to move configuration between environments like development, test and production environments.
Sitecore solutions are typically hosted by Microsoft Azure. To aid in deployment to Azure, Sitecore comes with an Azure toolkit consisting of ready-to-run command scripts, performance optimisation configurations, security essentials and many more. 
Inference: Being hosting-service agnostic, Drupal does the better job in this category.
Marketer's Eye View
| | | |
| --- | --- | --- |
| Metrics | Drupal | Sitecore |
| Marketing capability | Allows integration with best-of-breed third-party marketing tools | Comes with integrated marketing capabilities but third-party integrations not possible |
| Web personalisation | Drupal modules available for incorporating web personalisation features | Comes with integrated web personalisation features |
| E-commerce | Drupal commerce module helps in setting up e-commerce sites | Sitecore commerce helps in setting up e-commerce sites |
Although Drupal core does not come with integrated marketing and analytics functionality, It does integrate well with major marketing automation platforms like Marketo and Pardot. Thus, Drupal gives power to marketing teams to choose tools that work best for their organisation.
Moreover, the Rules module helps in creating deep, personalised user experiences without the intervention of developers. Also, Acquia lift connector module provides integration to Acquia lift service incorporation best web personalisation strategies into the website.
Google Analytics module incorporates high-level analytics and reporting capabilities into Drupal.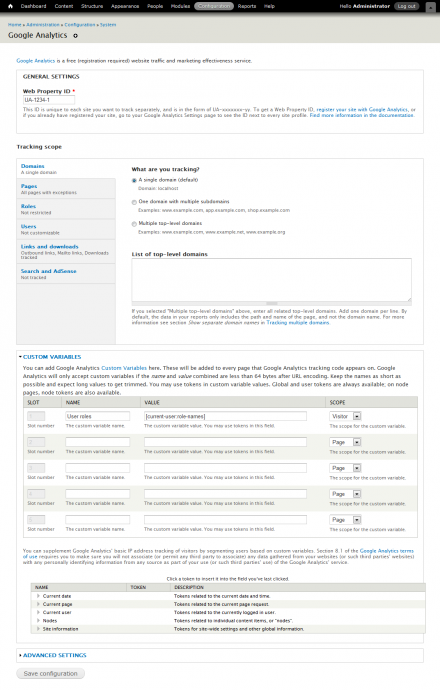 For businesses, who are in need of setting up an e-commerce site, open source module Drupal Commerce suite of modules offer a great platform.
Sitecore comes with integrated marketing and analytics capabilities in its core. It allows users to easily set up marketing campaigns and campaign analytics. For instance, you can track the number of visitors on your site and the level of engagement of the traffic.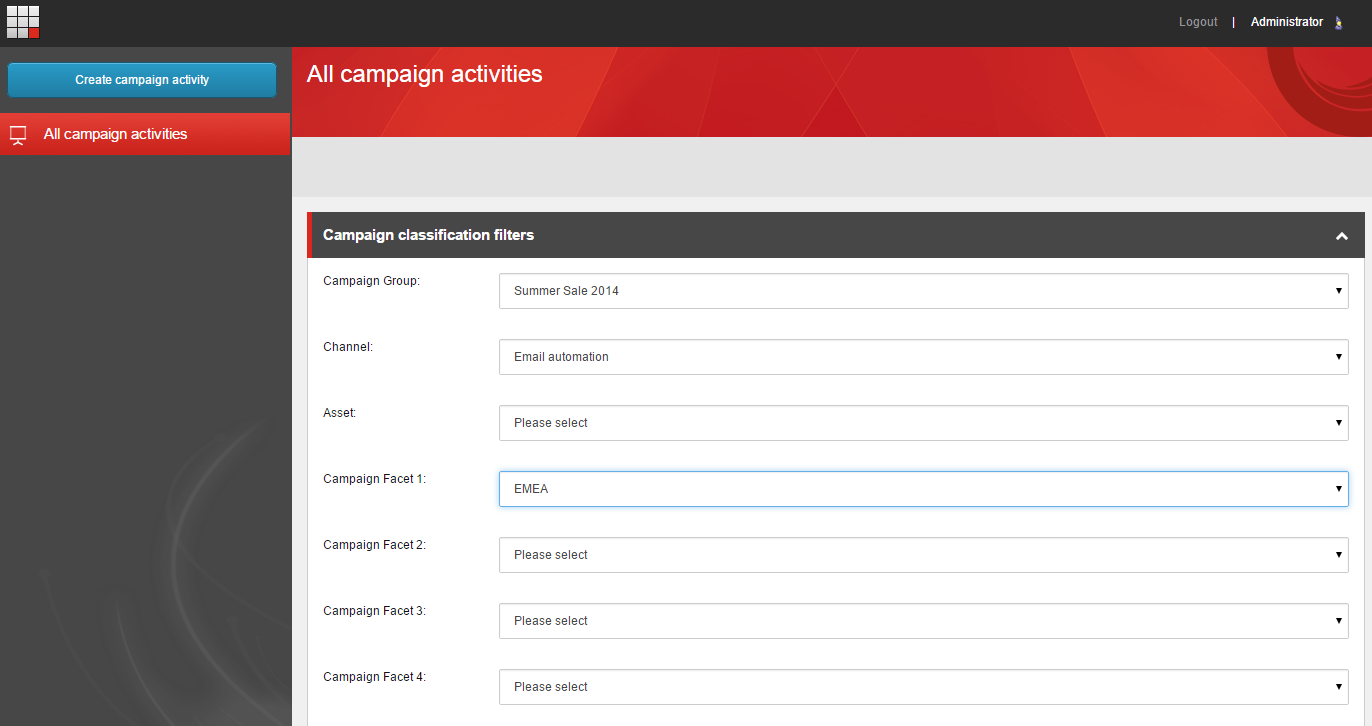 Also, Sitecore uses a rules-based interface to let digital marketers target content to specific users under certain conditions. With a feature called Engagement Plans, it can employ actions and triggers upon specific actions that are being met. Moreover, it manages Experience Profiles to track user behaviour.
Sitecore also offers dashboards and reports for monitoring page views, conversion rates, user engagement etc. which can be used for analysis.
However, the Forrester Wave: Web Content Management Systems, Q1 2017 report states that Sitecore's practitioner's tools like testing, optimisations, customer data profiles etc. for marketing needs do not compete against best-of-breed tools.
Sitecore also offers commerce capabilities by integrating with a suite of applications which is called Sitecore Commerce which is available for additional licensing costs.
Inference: Sitecore has in-built marketing analytics and personalisation capabilities which is not there in Drupal. But Sitecore's inability to integrate with other wonderful marketing tools available in the market makes a strong case for Drupal's third-party integration capabilities.
Business Constraints
| | | |
| --- | --- | --- |
| Metric | Drupal | Sitecore |
| Industry-wide adoption | Relatively more market share and industry-wide adoption | Relatively less market share and industry-wide adoption |
| Business costs | Being open source, it is free to use | Incurs licensing costs and is priced very high |
| Vendor lock-in | Vendor-agnostic | Not vendor-agnostic |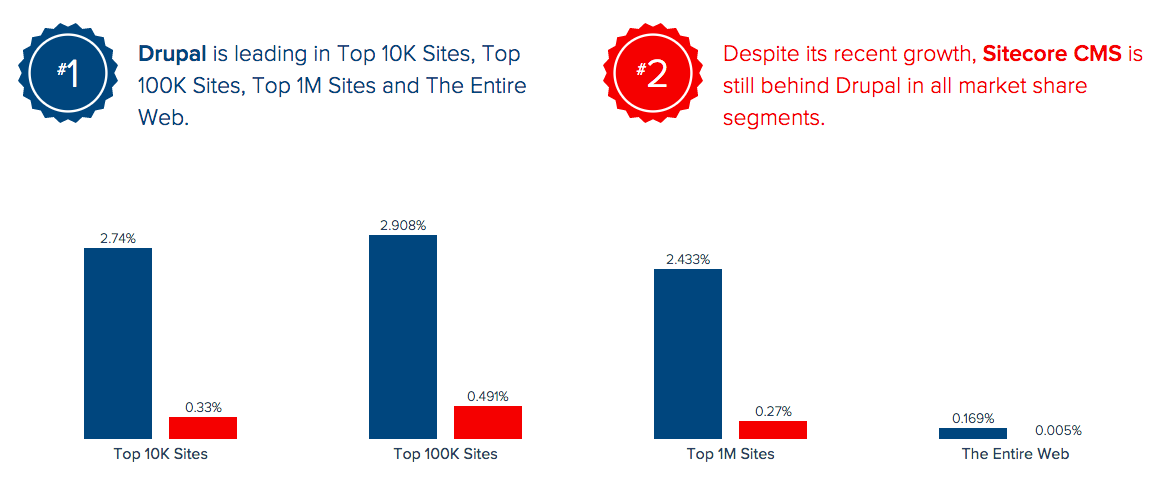 Source: Similartech
Whether it is Top 1 million sites, Top 100k sites or the top 10k sites, Drupal has a lead over Sitecore. This is because Sitecore's pricing is high as stated by Gartner Magic Quadrant for Web Content Management 2018. In comparison, Drupal and its contributed modules are absolutely free to use. However, Drupal involves costs for implementation and hosting like Sitecore.
Drupal has a plenitude of hosting options at virtually every price point.
Being an open source platform, Drupal is vendor-agnostic. In contrast, Sitecore, being a proprietary CMS, lands you in vendor lock-in incurring high costs.
Inference: When it comes to right decisions regarding business costs and efficient CMS for the digital business, Drupal beats Sitecore by a country mile.
Community Presence
| | | |
| --- | --- | --- |
| Metric | Drupal | Sitecore |
| Community size | Larger community | Smaller community |
Drupal community is gargantuan with more than millions of people across the globe of all the skills and backgrounds contributing towards the betterment of Drupal core.
With such a large community, the Drupal project is perpetually under a vast peer review with innumerable independent developers working on the project across the world. Peer-reviewed, community-created patches are rapidly built for Drupal and its modules. The community's ethos of teamwork and volunteerism drive digital innovation and it keeps on working towards the integration of Drupal with new, trending futuristic technologies.
On the flip side, Sitecore has user forums for developers to support each other. But the comparatively smaller size of community makes it difficult to gain access to qualified developers.
Gartner Magic Quadrant for Web Content Management 2018 stated that Sitecore has a reputation for intricacy and relatively long implementation and deployment times. Some customers have complained about insufficient support resources from Sitecore during design and deployment stages. Also, inconsistency has been witnessed in implementation quality from its partners.
Inference: With a robust community presence, Drupal far exceeds in this category against Sitecore.
Conclusion
Drupal and Sitecore have been compared against various perspectives and both the CMSs have apparently grown over the years with loads of features to offer.
Technical comparisons have shown that Drupal and Sitecore are both content store backed object-oriented framework. However, Drupal's ability in integrating with amazing third-party marketing tools and web personalisation tools should be considered which can be way better than what Sitecore offers as part of its integrated system.
Unlike Sitecore, Drupal is hosting-service agnostic and is relatively easier to deploy. No wonder, Drupal has witnessed more industry-wide adoption as compared to Sitecore.
More importantly, Business costs are a huge factor where Drupal, being open source, beats Sitecore by a big margin since Sitecore is priced very high.
Finally, Drupal, with a presence of an active community, provides seamless module extensions, quick mutual support, and rapid response to security threats. Unlike Sitecore, Drupal is vendor-agnostic and its smaller footprint ensures more scalability than Sitecore.
Choosing a CMS for a digital business involves business demands and strategies that state what's best for their future endeavors. It is important to look at this analysis in terms of your organisational needs and make a decision accordingly.
At Opensense Labs, we have been pioneering in the Drupal Development and can help you transform your digital presence. Ping us at [email protected] to make the right decision vis-à-vis CMS selection.
About Drupal Sun
Drupal Sun is an Evolving Web project. It allows you to:
Do full-text search on all the articles in Drupal Planet (thanks to Apache Solr)
Facet based on tags, author, or feed
Flip through articles quickly (with j/k or arrow keys) to find what you're interested in
View the entire article text inline, or in the context of the site where it was created
See the blog post at Evolving Web