Upgrade Your Drupal Skills
We trained 1,000+ Drupal Developers over the last decade.
See Advanced Courses
NAH, I know Enough
The Business Value of Web Accessibility
User Experience has gained significant prominence in recent years, and so, rightfully, have civic values. Organisations and individuals have left no stone unturned to make the globe an increasingly inclusive space for everybody. With the internet connecting the world throughout thick and thin, the right to access it must also be well distributed. Web accessibility as a phenomenon talks about how easy to navigate a particular web page is for a physically challenged or developmentally disabled person. Multiple ways in which organizations ensure web accessibility for disabled users is by adding alternative text for images, auditory or textual substitutes for video snippets, enabling screen magnification, etc. 
With the right to internet sliding into the fundamental rights of most modern day constitutions, web accessibility guidelines for businesses have become more elaborate and enforceable by each passing year. Hence, even in the commercial scenario, businesses can be highly impacted both positively or negatively owing to their policy on web accessibility standards
According to a commissioned study conducted by Forrester Consulting on behalf of Microsoft, these are the primary areas companies are looking to grow in -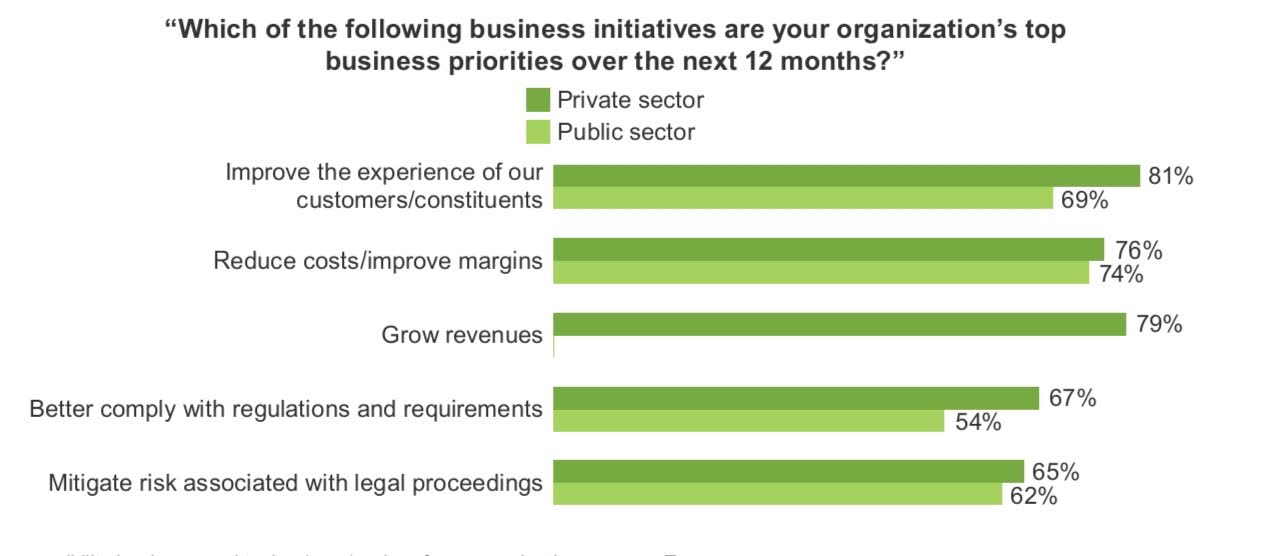 And this is how web accessibility for disabled users helps an organization achieve these targets -
Drive Innovation
When a certain user community is diverse and each member entitled to sufficient resources, the interaction and consequent innovation, following as byproducts, become drivers of growth for the company. Making a website accessible not only broadens the application, usage and user experience but also reinstates the muted human touch that connects us as a civilization. Flexibility is another added element that comes complementary with accessibility - as when you add multiple multimedia and interface compatibility to your website, it becomes fluid; fitting seamlessly as nicely into a tab as to a mobile screen. Hence, an increase in accessibility increases and solidifies your user base ticking off a domino effect in terms of innovation and upgradation. Microsoft saw this happen in real time when the company's management included making their online presence accessible to everyone a part of their responsibility and also their marketing strategy, driving growth substantially in turn.
Enhance your brand
To establish a proper brand identity and value, all bits signifying various important arenas should hold merit in the core ideology of a business. To propel your brand to the highest order, all these  boxes - inclusivity, accessibility, community - must be ticked. Corporations can't move forward by denying a significant percentage of the world a solution to the problems they face on their digital platforms. Hence, web accessibility also overlaps with Corporate Social Responsibility and constitutes a part of the brand's identity and public image. Negative public relations can lead to a downward spiral in the expansion of your business, and inaccessibility can be a major enabling factor for such a situation. Big corporations like Apple, Microsoft and Google have been applauded time and again for going the additional mile to be inclusive in their web approach. Hence, even the big players in the market realise that for enhancing one's brand image, web accessibility has to be seamless and clog free.
"Accessibility is a core value at Apple and something we view as a basic human right."
– Sarah Herrlinger, Director of Global Accessibility Policy and Initiatives, Apple
Increase Market reach
Expanding your user base can only lead to positive consequences, as every business wants to grow and expand. One might think that disabled population is a minority, but according to the World Bank's Disability Inclusion Overview, 15% of the world is living with some form of disability. If you for one are unaware about the significance of web accessibility and do not have it incorporated in your online presence, a major chunk of your audience hasn't been able to optimally access and consume all the content you're putting out. Consequently, you are probably missing out on word of mouth marketing, which till date remains a significant growth driver. 
SEO is also a huge driver of traffic for one's website especially if it is content based, and it is substantially enhanced by adding features like alternative text for increased accessibility. Hence, a prerequisite for a loyal customer base is a soothing user experience with no bottlenecks with respect to accessibility, and corporate benefits follow shortly. 
Minimise legal risk
Web accessibility is not only a social compulsion but also legally enforceable in numerous nations of the world, specially in democracies, where web accessibility litigation has been gaining greater ground due to focus on inclusion. Hence, accessibility norms have found their rightful place as a part of these litigations.
The Americans with Disabilities Act (ADA) has further solidified that being non compliant to web accessibility guidelines for businesses could invite a legal notice. It is a civil rights law under which numerous companies have paid monetary penalties for being inaccessible. The much famed case of a visually challenged man filing a lawsuit against Domino's after being unable to order pizza from their inaccessible website resulted in a lot of negative publicity for the brand. Amazon suffered a similar lawsuit by a blind man who stated that even using a screen reader hasn't been of much help as Amazon's website and fellow acquisitions weren't compliant with accessibility norms.
Improve the experience for everyone
It adds immense value to the ethics of a brand when they decide to roll out services that everybody has equally convenient access to, propelling the idea that their offerings aren't meant only for a few abled, physically privileged people. Improving the experience of browsing through a website for everybody has a symbiotic effect, the company gaining from a positive public image and inclusive brand identity as well. When brands adhere to web accessibility guidelines they also promote non discrimination as an idea, thereby improving the online experience of every user in the community. On the other hand, when they don't, brands lose out on potential customers because while most consumers may not go to the length of filing a lawsuit, they sure will make a conscious choice of not supporting or engaging with your business.
Read this complete checklist for design considerations for ensuring web accessibility standards.
Access and grow revenues
When Target got sued for an inaccessible website in 2008, cost efficiency went for a toss as they had to rebuild their entire website in addition to paying $ 6 Million penalty, which consumed much more money than if they had done it in the first place. Thus, keeping web accessibility in mind during the initial phases of creating a website can save crucial costs in the long run.
Recently, Kofax, a corporate giant, bagged a five year blanket purchase agreement with Social Security Administration, USA worth $20.9 Million by beating its competitors primarily in the arena of web accessibility. Thus, a significant business value of web accessibility is that you might reap benefits in more ways than one.
Prototype and evaluate accessible technologies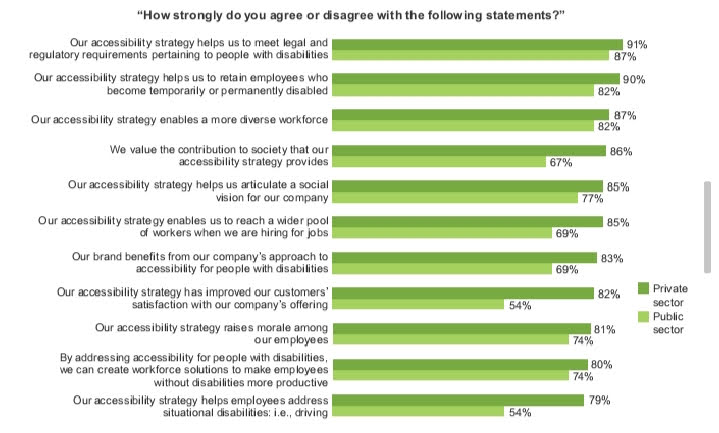 There has been greater effort on the part of corporations to bring accessibility to the table. Microsoft has come up with an accessible Office 365 and a new, modulated version of the Xbox to expand its user base. Google integrated morse code into its keyboard application, Gboard, to make it accessible to visually challenged people. Toyota has ventured out with a vehicle called Concept-i-RIDE - a car that replaces steering wheels and engine controls to make extra space for wheelchair bound people. By equipping a few products with accessibility features and rolling those out to serve as a prototype, brands enable crucial inputs from the consumer base and subsequent evaluation. As an added beneficial business impact of web accessibility, a sense of personalisation is also associated with accessible designs and websites. 
Build inclusive workspaces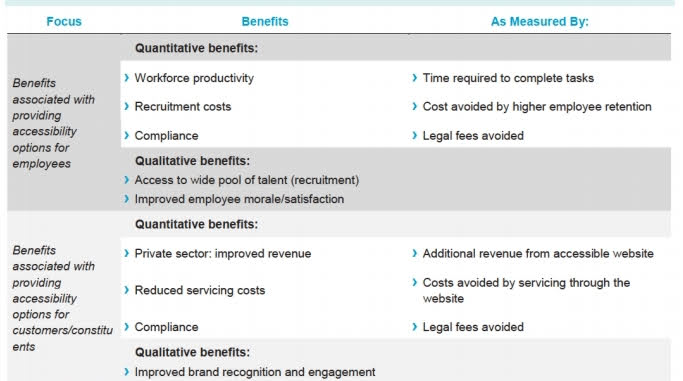 Needless to say, the business value of web accessibility includes making the entire workplace more inclusive. Offices have been going the extra mile to ensure accessible workspaces in real time, using technical assistance like voice commands. The said 'smart workplaces' work on the principle of inclusion and equity, customising the physical environment of the workplace to suit the needs of all employees and users alike. 
For a comprehensive guide to planning web accessibility for your business, read here.
Conclusion
Web accessibility is a change that everyone has been hoping to see in the new, digitised, scientifically tempered world. With provisions in place, we finally seem to be walking towards a new reality where age old rigidities bend to accommodate everyone.
About Drupal Sun
Drupal Sun is an Evolving Web project. It allows you to:
Do full-text search on all the articles in Drupal Planet (thanks to Apache Solr)
Facet based on tags, author, or feed
Flip through articles quickly (with j/k or arrow keys) to find what you're interested in
View the entire article text inline, or in the context of the site where it was created
See the blog post at Evolving Web