Upgrade Your Drupal Skills
We trained 1,000+ Drupal Developers over the last decade.
See Advanced Courses
NAH, I know Enough
It is Drupal's 20th Birthday!
First of all, happy twentieth birthday to Drupal. Yes, you heard that right. It is Drupal's 20th birthday! Two decades ago, an idea was conceptualised to improve the cost efficiency of an internet connection by sharing it among a group of friends. That idea has now turned out to be one of the biggest open source projects in the entire world!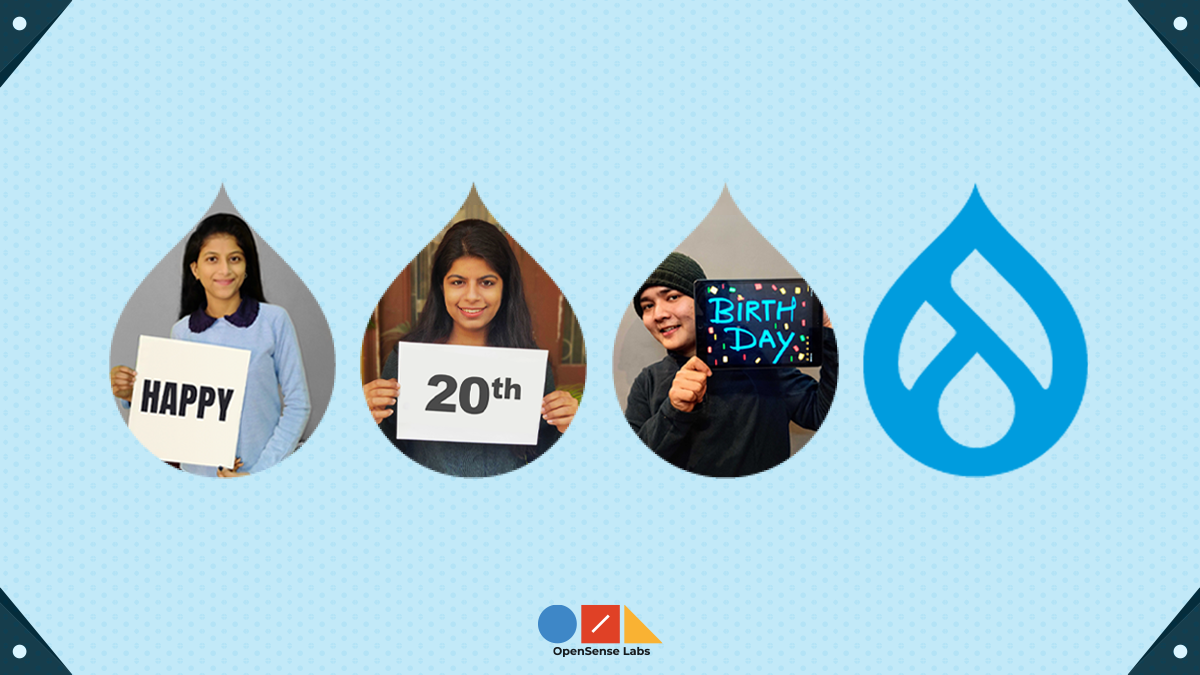 On the occasion of Drupal's 20th birthday, let's look back at how Drupal has evolved organically in the past two decades to become a sustainable community over the years, one that holds immense capacity to keep thriving despite all odds.
Drupal's growth over the years
Drupal 1.0 was launched as an open source project, drop.org, in 2001. Dries based it off Slash, a modular CMS, the first version having 18 modules one could work with. Notably, there was no bar on who could contribute to the software. 
This is what it looked like -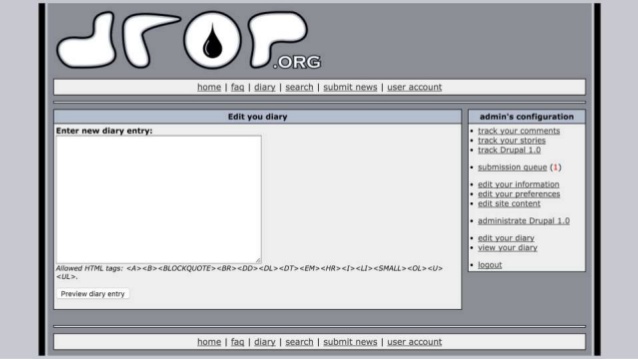 Isn't it substantial, how far we've come?
When Drupal was upgraded, Drupal 2.0 promised a feature where one could translate or overwrite their site in a different language. This laid a major mark in expanding but also bringing together the Drupal community. Other updates included user ratings, user permission system and sections for stories and user groups.
In the third major version, nodes were made the main unit of content in Drupal - in comparison to web pages, nodes provided the much needed flexibility in the Content Management System. Every category of content - whether an article, a news report or a forum - was created as a node and subsequently managed by a node module. Thus, Drupal became more convenient to use for everybody.
Drupal 4.0 was significant for the fact that it saw expansion like never before - armed with an e-commerce module in Drupal 4.4 and an WYSIWYG (What You See Is What You Get) editor, the fourth version of Drupal lay all its doors open. Web writers without a coding background could now use Drupal too, explaining the following surge in its usage after the release of the complete fourth version. 
Following its popularity, the first ever Drupal Conference was held in Belgium in 2005. Here's Dries Buytaert's ID from the event:
This is how Drupal started transitioning into a global community in the truest sense, with people from all walks of life, across the globe using and contributing to it.
By the time Drupal 5.0 was released on Drupal's sixth birthday, the number of contributed modules had gone up to 2500 and that of contributors was 492! Version 5.0 simplified web development by incorporating jQuery, a javascript library that made HTML way easier. Also included was a provision of pre-created but customisable Drupal packages and improved CSS (Cascading Style Sheets) management for greater speed on the sites. 
The sixth version of Drupal saw a sitewide growth and expansion - 7000 contributed modules were already in place in addition to 34 core modules and 600 custom themes. Drupal 6.0 added a rewritten menu structure, a ton of drag-and-drop features, even better security etc
With Drupal 7 and 8, customisation and personalisation had come into play in the digital sphere, and Drupal adapted accordingly. Drupal 7 provided URL handling, integration with e-commerce, and custom fields that could be brought to use across content types and users. Using installation profiles, companies could now systematically distribute their website. 
This is a snapshot of Drupal 7. Drupal had now started to look like its modern day successor, hadn't it?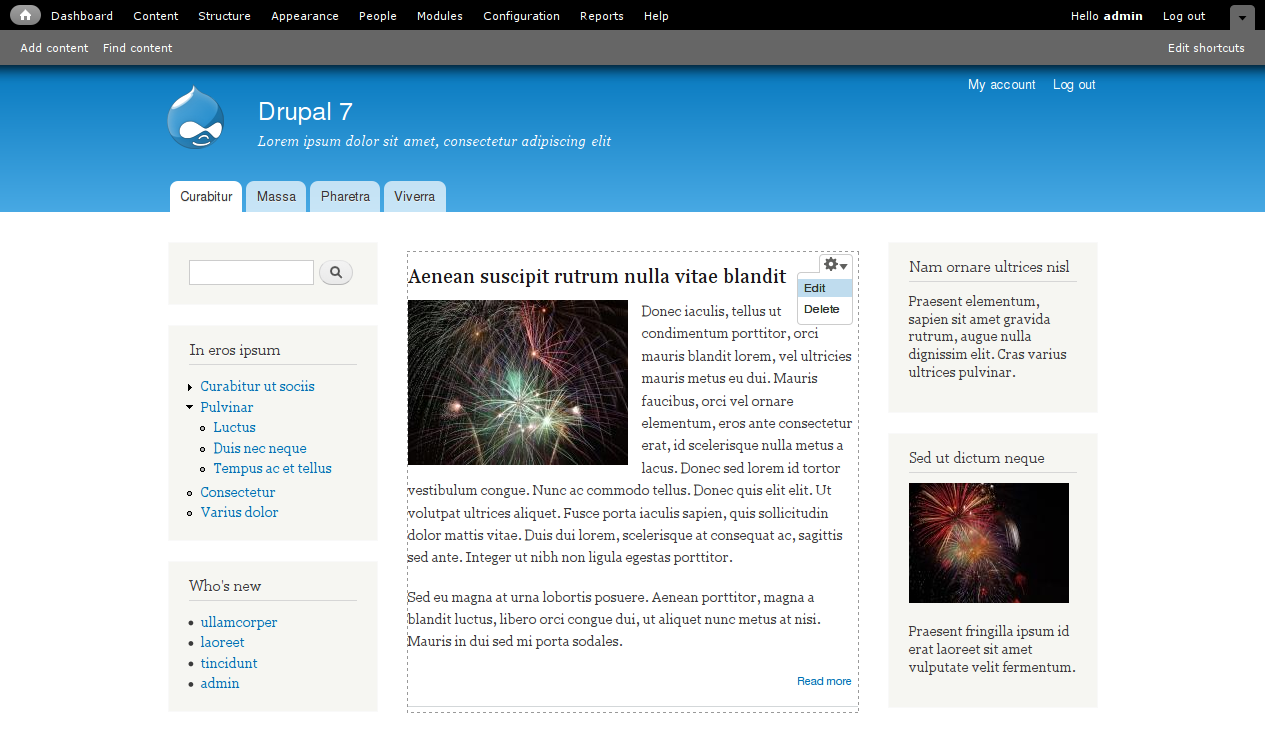 Drupal 8 rode the personalisation tide and responded aptly to the emerging needs of its user base, adding 200 essential features, one of those being adaptability of a website to the several devices it was accessed from. Personalised feeds and suggestions also came into play as businesses started to increasingly focus on User Experience. 
Called the 'easiest upgrade in a decade' by Drupal, Drupal 9 hit the market in the midst of a pandemic (which started making waves soon after Drupal's nineteenth birthday), to cater to the needs of the worldwide user base stricken by it. Drupal 9 removed deprecated code and updated third party dependencies to curate digital solutions compatible with most businesses and individuals. Well, all your burning questions about Drupal 9 answered here.
Dupal 10 is slated to release in 2022 with a bunch of new features and upgrades!
OpenSense Labs and Team love Drupal! 
We at OpenSense Labs have been working with and loving Drupal for years now. Minimal learning curve, the support of a widespread community, and customisable components are some facets of Drupal that our developers are especially fond of. As Drupal turns 20, here's what our in house Drupalists have to say about Drupal -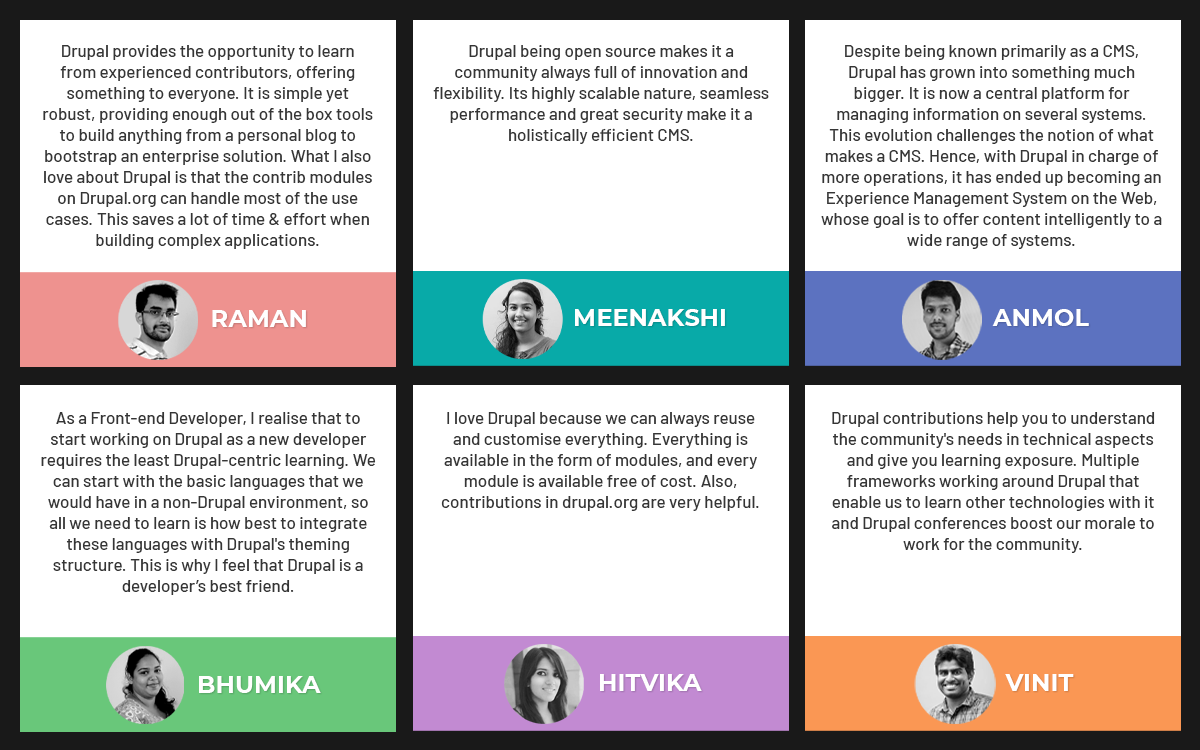 Once again, a very happy 20th Birthday, Drupal! Here's to many more years of growth and innovation!
About Drupal Sun
Drupal Sun is an Evolving Web project. It allows you to:
Do full-text search on all the articles in Drupal Planet (thanks to Apache Solr)
Facet based on tags, author, or feed
Flip through articles quickly (with j/k or arrow keys) to find what you're interested in
View the entire article text inline, or in the context of the site where it was created
See the blog post at Evolving Web