Upgrade Your Drupal Skills
We trained 1,000+ Drupal Developers over the last decade.
See Advanced Courses
NAH, I know Enough
DrupalCon London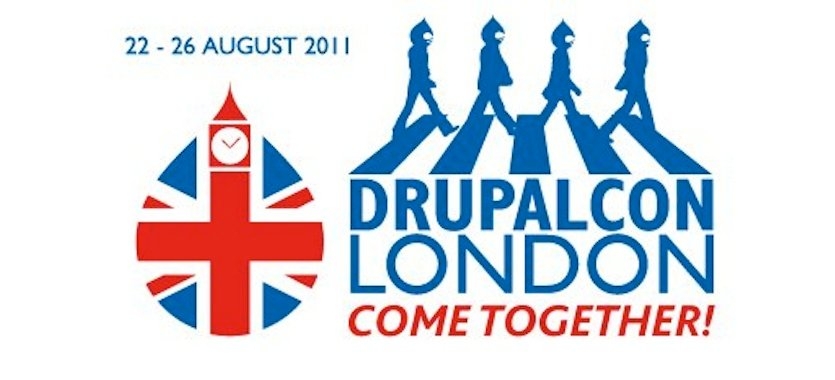 A few weeks ago the entire Annertech team left from their respective corners of Ireland to attend DrupalCon London 2011.
I flew Cork to Heathrow and after some initial London transportation difficulties (protip: buses are never direct) I found myself safe in Croydon, wandering around under the always reassuring helium filled Druplicon.
Code
During the conference itself, I found myself running around between the sessions in the main conference building, the core conversation room and the offices hosting the Birds of a Feather.
I particularly enjoyed the core conversations. I found them to be very accessible and it was interesting to hear people's visions for the future direction of Drupal. The build up to the conference was marked with a lot of interesting discussions on some of the challenges facing Drupal. During the conference however, many of these issues were worked out through conversation, collaboration and compromise. The core conversations reflected this. People with different interests and priorities all working together to create useful, robust and beautiful software.
I also really enjoyed the BOFs (Birds of a Feather = a small group having an informal discussion). I attended a half-dozen of these discussions on different aspects of front-end development. BOFs are a great way to have a focused chat about areas of shared interest. If you have not participated in a BOF previously you should definitely add it to your to-do list for the next DrupalCon.
Stella, Alan and I all participated in the code sprint on Friday. I worked with Alan on some of the front-end focused issues for Drupal 8 (in particular some HTML 5 issues). Stella worked on upgrading some of her modules to Drupal 7 (FAQ module now has an RC release!).
Community
In the same way that Drupal is as much a community as it is code, DrupalCon is as much about socializing as it is about the sessions.
It is not everyday that you get to hang out with people who are passionately interested in all the various aspects of web design and development. As such, I always try to take maximum advantage of the opportunity to talk script loading strategy during lunch, debate the render API at dinner and chat browser reflows over drinks.
I might be accused of a (tiny) bit of bias, but my social highlight was the DrupalCon pub/table/trivia (delete as appropriate) quiz organised by Drupal Ireland. All at Annertech were involved in putting it together. The table quiz was a refreshingly analogue event with the use of all new-fangled, will-never-catch-on digital devices banned. Unfortunately, the analogue style meant that I had to score the various teams with nothing but pen and paper. Stella, Dermot and myself were the markers for the evening. We may have been a bit rusty for the first round but we progressively modified and improved our hand-crafted algorithm. By the end we were all pretty exhausted, but our table quiz marking skills were much improved!
Farewell
So, DrupalCon London: one or two buses may have broken down, the occasional lunch time may have been a bit hectic, the odd wifi connection my have timed-out, but we would not have had it any other way. Big thanks to all involved in putting on a great conference.
See you in Denver 2012!
About Drupal Sun
Drupal Sun is an Evolving Web project. It allows you to:
Do full-text search on all the articles in Drupal Planet (thanks to Apache Solr)
Facet based on tags, author, or feed
Flip through articles quickly (with j/k or arrow keys) to find what you're interested in
View the entire article text inline, or in the context of the site where it was created
See the blog post at Evolving Web