Today, IT security is paramount to succeed in business. Enterprises are spending hefty amount on security than ever before. Progress in both security and hacking technologies such as intrusion detection systems, honey pots, honeynets, and other various security-related hardware and software solutions are showcasing the pressing need for transformation in the information security domain.
One of the reports by Gartner cited that enterprises in India alone are going to spend laboriously on the information security front which will mark up to US$2 billion in 2020.
The increasing awareness on the benefits of the risk assessment and the realization of the fact that security is one of the driving forces for digital transformation are boosting enterprise security globally. 
The battle between open-source and proprietary software has been throwing a fit since long. Multiple issues and concerns are being examined and scrutinized by both sides of the story. In the most recent phase of this fanatical dispute, both camps have inspected the issue of security with serious tenacity.
Having said that, let's take a sneak peek into this blog for further insights on the same.
Proprietary software is more secure than open-source software. This myth comes from many prejudices. But a commercial license doesn't assure security. Unlike proprietary software, open-source software is transparent about potential vulnerabilities.
Because it is open source, anyone can view the code. People often want to argue that being able to view the code allows nefarious hackers to look at it and exploit vulnerabilities.
However, this openness enables collaboration. Unlike, say, one proprietary software, which is developed and is maintained by a single company, Drupal is developed and maintained by more than one hundred thousand programmers around the world. These programmers might work for companies that compete with each other, or they might volunteer to create something new that's then given away. For free.

In fact, in 2015 Google open sourced its artificial intelligence engine, TensorFlow. Something which is a core part of its business. It hoped more developers would make the software better as they adapted it to their own needs. And it did, by making it open source, Google boasts of more than 1,300 developers, outside Google, have worked on TensorFlow making it one of the standard frameworks for developing AI applications, which could bolster its cloud-hosted AI services. 
#Myth2: Proprietary software are secure and not prone to attacks
There have been multiple instances in the past that depicts that proprietary software has been attacked several times. Such as:
Melissa Virus and ILoveYou Worm - spread through Microsoft Word email attachments. The email contained attachment. If the victim's system had the Microsoft outlook application installed, then the virus would send the email to 50 too all contacts in the Outlook program's address book. would also overwrite & consequently destroy various types of files on the victim's device including MP3 files, JPEG files, and more. It led Microsoft to shut down its inbound email system.
Wannacry - a worldwide cyberattack that took place in 2017. It was a ransomware crypto worm attack that aimed at computers using Windows operating systems, encrypting all the files on hard drives on these machines. It didn't let users access the files until they paid a ransom in the cryptocurrency Bitcoin.
The WannaCry attack impacted major entities all over the world, such as the National Health Service in Britain and Scotland, the University of Montreal in Canada, State Government websites in India, and Russian Railways.
With that said, it's evident that proprietary software is also easily vulnerable to attacks!
Although countermeasures like anti-virus programs and security patches were implemented to mitigate the threats and weaknesses, the long-term and especially exorbitant effects of these dangers have been engraved for permanent into the memories of people all over the world. This is because these attacks not only damaged vital electronic data but also shut down business operations and services, and facilitated malicious infiltration and theft of money & proprietary information.
History of Open source Software
The term "open-source", popular since its inception in the late 70s and early 80s has come from a revolution, "open-source revolution", which completely revamped the way software is developed- resulting in the birth of the community-generated software development method.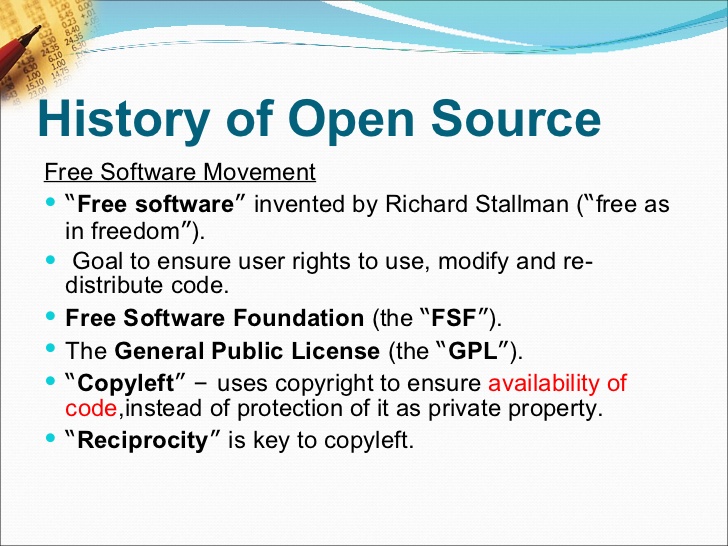 In 1971, Richard Stallman, a young software engineer from Harvard, joined the MIT Artificial Intelligence Lab with the intent of developing computing platforms. After serving for a few years in the early 1980s, the MIT Lab became extinct due to the booming of proprietary software in the market and lost its talented developers to privately held tech companies.
Stallman, who was closely involved in the field knew customers' software requirements believed customers should be empowered enough to fix and debug the software themselves instead of simply operating it.
"Users should be empowered enough to fix and debug the software themselves-instead of simply operating it"
The majority of software until now was controlled in its entirety by the developer where individual user rights were completely discarded. This was also a pain point for MIT AI Lab since they failed to incorporate this feature into their software development strategies.
The Disembarkation of the Free Software Movement
But this was until 1984. Post evaluation, Stallman began his GNU Project. Initiating with a compiler, GCC and a new operating systems-Stallman felt that GNU project was the major turning point in the evolution of free software community.
"The Free Software Foundation was formulated to let users run the software as they wanted"
Stallman believed that software should be available for free in terms of accessibility. Hence, the Free Software Foundation (FSF) was formulated so that users can run, modify, update, and disseminate software in the community.
Later on, he also introduced the concept of copyleft, wherein a program is first copyrighted, and then additional distribution terms are added for its further use.
Challenges Associated With Proprietary CMS 
Proprietary CMS comes up with a set of restrictions which makes it less flexible in comparison to open-source software. 
"The contribution and development teams of proprietary cms are smaller, which makes it evident that there is a probability of missing out on mistakes and bugs in the code"
It might appear that closed source software or proprietary software is more secure since the code is not available. But unfortunately, it is not the case! The contribution and development teams of proprietary CMS are smaller, which makes it evident that there is a probability of missing out on mistakes and bugs in the code.
You might not know what issues the proprietary system has had in the past, or is having currently because the provider of the proprietary CMS isn't going to voluntarily reveal this information. This sets a major drawback for proprietary CMS users in terms of security as well.
Let's further see the challenges associated with proprietary CMS-
Not many customizations options
Since these proprietary CMS are developed for a specific kind of industry and audience, it gets difficult to customize the website to fit the exact needs of the people. Users are not building their system so it's obvious that they will have limited flexibility options.
Portability is beyond the bounds of possibility
Users don't have an option to extract data and files out of their system with a proprietary solution. They are quite restricted because they won't be able to even move their website from one hosting service to another.
"Several CMS vendors don't upgrade their platforms, so it's better to do a bit of research first and then jump onto doing business with a vendor"
You don't have any option other than trusting the company blindly
Since the company owns the platform and the storage space your website will be built upon, you'll have to manifest a lot of trust into your vendor. They will have to continuously develop and refine their software, to handle their consumers' needs better. The vendor should also be in reach whenever you need assistance with your website
Several CMS vendors don't upgrade their platforms, so it's better to do a bit of research first and then jump onto doing business with a vendor.
You are just renting software
Even if you have bought the proprietary CMS, you won't own the code it's built with. It is not yours and hence requires a monthly rent from you, to keep your website running.
Benefits of Open-source Software
"People in the open-source community come forward to find solutions, assist each other, and to share extensions that would benefit the masses"
This implies that the source code is available for anyone who wishes to study it, analyze it, and modify it in any way.
Thanks to this feature that people can easily extend the code and add specific functionalities as per their requirements.
An open-source CMS is maintained by the large community
There is always a primary group of developers, similar to WordPress but it is also supported by its user base. People in the open-source community come forward to find solutions, assist each other, and to share extensions that would benefit the masses.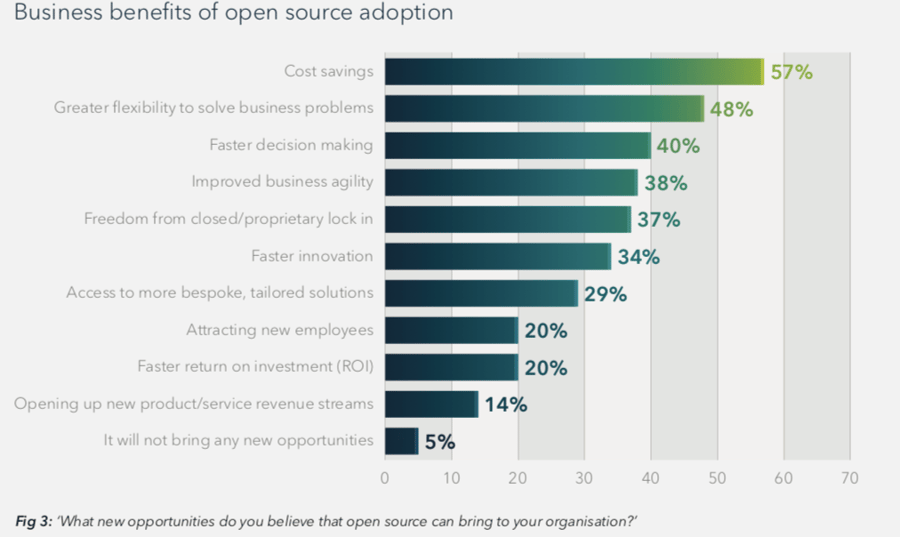 Source: Sas.com
An open-source CMS can be hosted ubiquitously
Most of them, like Drupal, offers one-click installs in the control panel of the accompanying hosting service, which again is very user-friendly and comfortable.
The CMS software itself is usually free of cost
You can easily make use of plenty of extensions, themes, and a variety of tools for free. However, there are plenty of paid extensions and themes as well. Some solutions can only be leveraged with paid software. An open-source CMS is usually the most budget-friendly solution.
Alternatives to Proprietary Software
It is interesting to see that there are so many open-source software alternatives for the existing proprietary software which are equivalent or more reliable, secure, and flexible. 
If you are contemplating to migrate from proprietary software to open-source, you can surely - that too with ease!
Software Category
Proprietary Software
Equivalent Open-source Software
Operating System
Microsoft Windows
Linux Ubuntu
Browser
Internet Explorer
Mozilla Firefox
Office automation
Microsoft Office
Open Office
MATHWORKS
MATLAB
Sci Lab
Graphics Tool
Adobe Photoshop
GIMP(GNU Image Manipulation Program
Drafting tool
Auto CAD
Archimedes
Web Editors
Adobe Dreamweaver
NVU
Desktop Publishing
Adobe Acrobat
PDF Creator
Blogs
Blogger
WordPress
Mobile
IOS
Android
Media Player
Windows Media Player
VLC Player
Database
Oracle, Microsoft SQL Server
My SQL, Mongo DB, HADOOP
Server
Microsoft Window Server
Red Hat Server, Ubuntu Server
Web Server
IIS
Apache

Open-source Security in Drupal
Drupal, having a proven track record of being the most secure CMS, has been rolling with punches against critical internet susceptibleness. Thanks to Drupal security team for earnestly finding anomalies, authenticating them, and responding to security issues.  
The responsibilities of the security team include documentation of these identifications and alterations made so that developers don't feel heebie-jeebies when faced with similar kind of situation.
"Drupal community comprises of over 100,000 contributors towards its enhancement"
Besides, the team also assists the infrastructure team to keep the Drupal.org infrastructure secure. They ensure that any security issues for code hosted on Drupal are reviewed, reported, and solved in the shortest period possible.
Important features that make Drupal 8 the best WCMS in regards to Security-
The Security Working Group (SecWBG) ensures that Drupal core and Drupal's contributed project ecosystem provides a secure platform while ensuring that the best practices are followed.
The community makes sure that people are notified the day patches are released, which are released every Wednesday for contributed projects, and the third Wednesday of every month for core, usually for a fixed period.
Drupal abides by the OWASP ( Open Web Application Security Project) standards and its community is devoted towards prevention of any security breaches.
Drupal community comprises of over 100,000 contributors towards its enhancement. An open-source code base, where contributed modules are properly reviewed, verified, and sent a notification if that module is acceptable for use.
Apart from encrypting and hashing the passwords, Drupal provides those modules which can support two-step authentication and SSL certificates.
Any member can make changes to Drupal modules and report any issues or bugs that occur in their system.
Access controls offered by Drupal is a superb feature. Dedicated accounts can be created for certain user roles with specified permissions. For instance, you can create separate user accounts for Admin and Editor.
It's multibranched cache structure that assists in reducing Denial of Service (DoS) attacks and makes it as the best CMS for some of the world's highest traffic websites like NASA, the University of Oxford, Grammys, Pfizer, etc.
Statistics Says It All
Sucuri, a security platform for websites, curated the "Hacked website report 2018". It evaluated more than 34,000 compromised websites. Among the statistics it shared, one of the factors was to juxtapose the affected open-source CMS applications.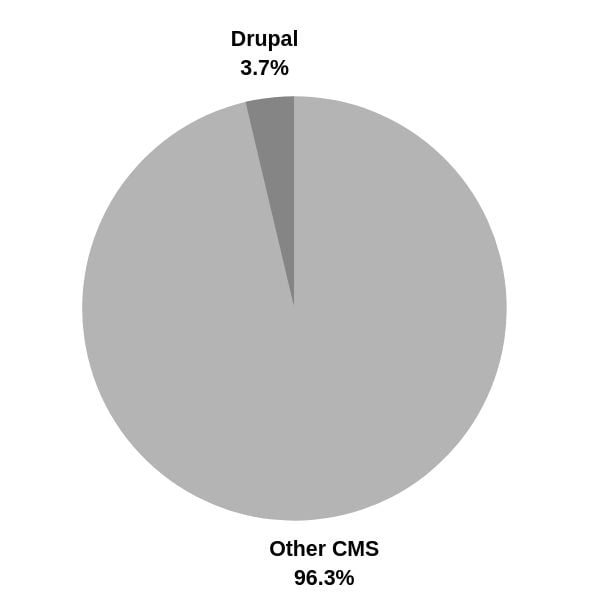 The results were clearly on Drupal's side declaring it a better WCMS than other leading platforms for preventing safety hazards.
The infection crept in these websites due to improper deployment, configuration, and maintenance.
Additionally, Cloud Security Report by Alert Logic also marked Drupal as the website content management system with the least number of web application attacks.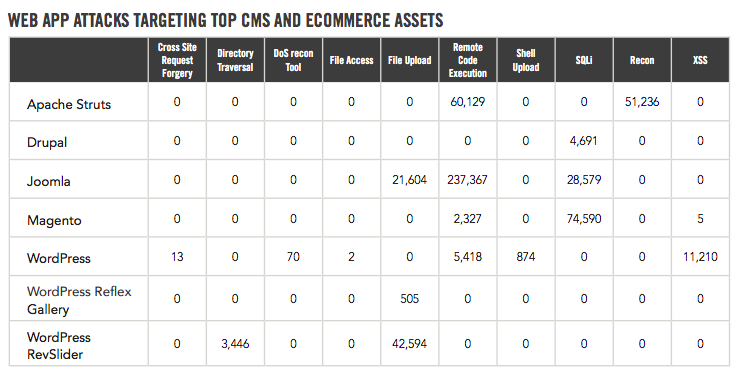 Source: Alert Logic
Difference Between Open-source and Proprietary Software
Factor
Open-source
Proprietary
Cost
Open-source software is free which makes it an alluring option if you have in-house capacities to meet your business requirements.
Proprietary software costs differently from a couple of thousand dollars to one hundred thousand dollars, depending upon the multifaceted nature of the framework needed.
Service and support
Open-source software communities of developers are huge and steadfast which helps clients with prompt solutions to their problems.
Proprietary software vendors offer progressing backing to clients- a key offering point for clients without specialized mastery.
Innovation
Open-source software boosts innovation by providing users the opportunity to modify, append, or distribute as per their requirements.
Proprietary software vendors don't permit its users to view or adjust the source code, thus making it unfit for organizations who desire scalability and flexibility.
Only developers can incorporate new features to the product as and when requested by users.
Security
As open-source code is available to everybody, it increases the possibility of finding more vulnerabilities easily. 
It is also worth noting that open-source communities fixed security vulnerabilities twice as quickly as commercial software vendors do.
Proprietary software is considered secure as it is developed in a governed condition of the employees having a frequent direction.
However, getting rid of the possibility of backdoor Trojans as well as lowering the threat of any other bugs or obstacles can be troublesome in proprietary software.
Availability
Open-source software is available for free on the web with 24*7 support from the community.
Proprietary software is accessible if the companies have the rights to the bundle or they have purchased from the respective vendors.
The trial version is also accessible for free to test.
Flexibility
As organizations aim at deriving more business values from less, open-source software can deliver high flexibility, lower IT costs and increased opportunities for innovation.
With proprietary software, such as Microsoft Windows, and Office, companies are required to upgrade both software and hardware on a timely basis. Updates must be installed for the proper working. However, not all updates are flexible with all the versions of the software.
In The End
Website security has always been a cause of hindrance in the journey of digital transformation and survival due to several potential threats. 
Open-source software can be considered as a befitting solution than a closed source or proprietary software. Further, this report indicates that there is an obvious desire among companies to adopt open-source technology and also prioritize the task of enhancing security in their organization.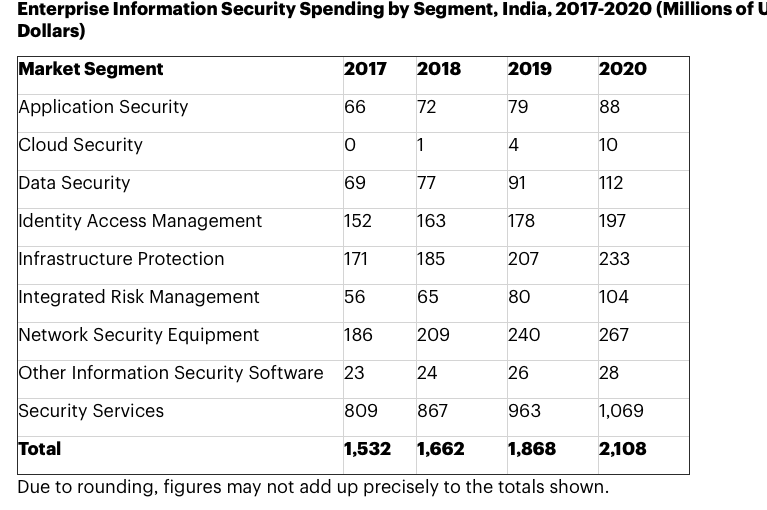 Source: Gartner
However, it all depends on the preferences and needs of the organization and the on-going project for their digital business.
Drupal, an open-source content management framework, comes out as the most secure CMS in comparison to the leading players in the market.
It has been the pacesetter when it comes to opting the security focussed CMS. More individuals working on and reviewing the product always means a higher chance of a secure product!
The quantum leap in technology and the ubiquitous demand for delivering personalized content has made it pivotal for companies to embrace the web content management system for all the right reasons. It begins from engaging customers, lead generation, to snowballing overall revenue from various platforms.
However, it can be daunting and tricky sometimes for enterprises to choose the right one as per their requirements on the basis of the varied features and potential that these CMS offers. 
One of the most cited reports by Gartner, Web Content Management Magic Quadrant report, has proclaimed that Acquia Drupal, Adobe Experience Manager, and Sitecore are the three most prominent WCM Managers.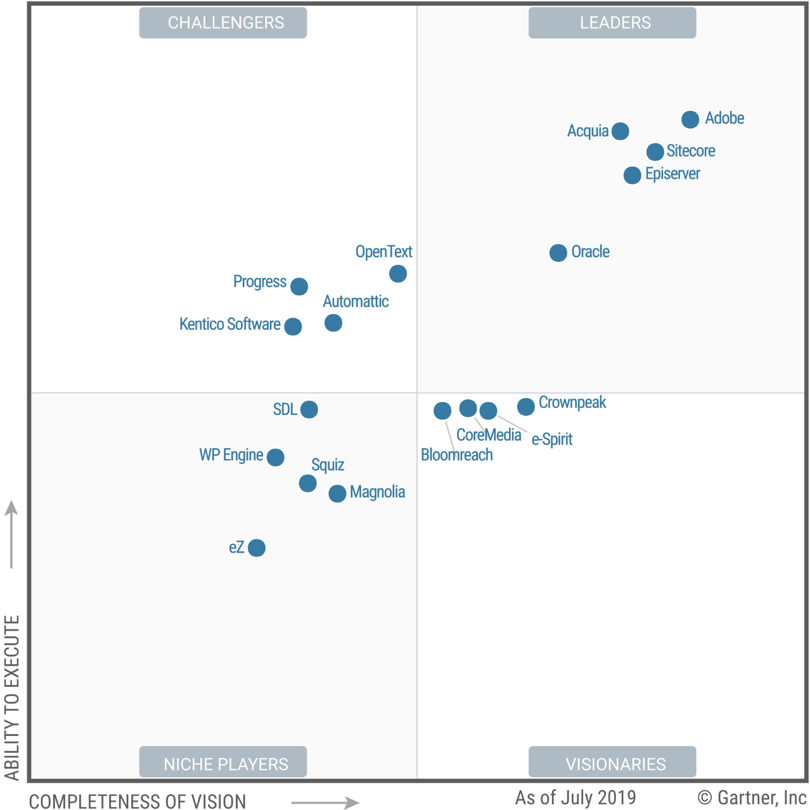 These three were at the forefront in Gartner's report based on the two factors majorly, "ability to execute", and "completeness of vision". They undoubtedly outperformed on both these parameters and hence it goes without saying that all three are proficient in fulfilling enterprises' WCM needs.
However, as one-size does not fit all and there can be multiple parameters for comparing these, it's better to largely group them into different stakeholder perspectives- the business decision-makers', the content and marketing teams, and the IT teams. Each of these teams play a vital role in the process. 
Source: Gartner
The content, marketing, and IT team because they'll be the ones directly working with the CMS they choose. The business decision-makers, CIO, CTO, and the freshly-coined Chief Data Officer (CDO) are the ones who will be held accountable for their choices and showcasing adequate ROI.
This blog will deal with the comparison of AEM and Drupal from the perspective of business decision-makers. Here we'll primarily focus on factors like cost of implementation, scalability, security, and maintenance to see how Drupal and AEM fare against each other.
Pick What's Best For Your Organization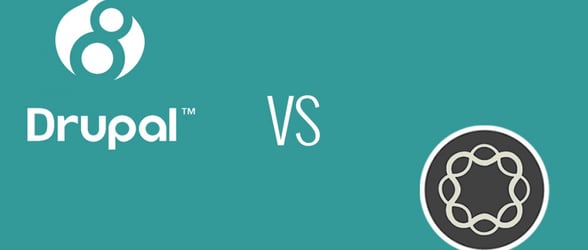 Identifying the company's particular requirement should be the first task on your to-do list. This will only help you out as a decision-maker to draw the conclusion.
Cost of Implementation
"A high price may be a part of its charisma in selling difficult art", quoted by Robert Genn, a renowned Canadian artist. 
You should get the desired output for the price you pay for a CMS. 
Setting up any large technology solution is always an eye-catching question as it involves the cost associated with it for implementation. Though it is justified as CMS forms a framework for the enterprise technology architecture, and further paves way for digital transformation; the expenditure made on this part is yet always under analysis.
"Being expensive doesn't make CMS equipped or competent enough for the enterprises"
Furthermore, migrating to new CMS is also a cumbersome task for any enterprise IT team. So, this crucial decision of investing in any particular CMS is made after several rounds of deliberation. And once deployed, organizations become extremely perceptive of acclimating to a change.
The objective behind all such discussions is to get this done right in the very first time & the investment and ROI of any particular enterprise CMS is one of the biggest factors to consider. 
Licensing Fees
The first and foremost difference between AEM and Drupal is their nature of availability- AEM is proprietary while Drupal is open-source. AEM's licensing fee starts from somewhere 40,000 USD, with additional cost implications based on organizations' size and expected usage. And this is not a one-time investment. It is a recurring expenditure every year.
Contrarily, Drupal is an open-source platform and hence discards any licensing fee completely. 
Build vs. Buy
The way current market trends are soaring up does not allow enterprises to consider the deployment of CMS a good idea as it will consume a considerable amount of time. Their expectations lie in finding out an unconventional and innovative solution which is readily available with the quick installation process and some training for content, marketing, and larger digital experience teams to run full-fledged campaigns. 
The general perception that surfaces with Drupal being an open-source, developer-driven solution, is the requirement of complete expert teams to deploy it. There is a definite apprehension around the fact that enterprises have to build from scratch to set up a Drupal CMS, and that without second thoughts, consumes ample amount of time, resources, as well as cost. 
AEM is perceived as a ready-to-roll product requiring minimal expert set up.
"In contrast to the assumption, Drupal does have over 20,000 modules and distributions that provide on-the-go functionalities and features"
However, it's paramount to apprehend that build vs. buy debate is not as straightforward as it appears. Because:
In contrast to the assumption, Drupal does have over 20,000 modules and distributions that provide on-the-go functionalities and features like multisite, multilingual, dynamic content, personalization, and more. With distributions like Acquia Lightning, Drupal caters to highly targeted, easy-to-implement enterprise-level content management solutions, unlike AEM.
The other noteworthy point is that AEM does need specialized teams for design, hosting and maintaining an efficient digital platform. They demand an almost similar degree of the build like that of Drupal. But even here, the total cost of implementation for Drupal would be around 250,000 USD to 350,000 USD on an average, and around 500,000 USD if you compute hosting too. On the other hand, typical AEM implementation budget starts exceeding the limit of 500, 000 USD and can go as high as 1 million USD.
Support & Maintenance
Both Drupal and AEM demand substantial maintenance post-deployment.
In regards to the maintenance, Drupal will safeguard your content but to lay the foundation for modern architecture it won't hesitate from breaking some components to ensure that the platform is up-to-date and relevant. To achieve the same, It will eliminate unnecessary bloatware associated with rote adherence to backward compatibility.
Licensing 
Build or Buy
Support & Maintenance
Drupal
No licensing fees
Considerable build. Cost approx 250,000-350,000 USD
Support costs can be tailored to fit different enterprises
AEM
Licensing fee applicable
Needs specialized teams for build. Costs approx 500,000 - 1 million USD
Dedicated support teams by Adobe
Security
AEM is certainly a secure platform with predefined functionalities to ensure security and administration. User identification and access can be easily managed. There are tried-and-tested techniques by which risk of inter-site request forgery, can be alleviated, and third party data storage, and role-based authentication and access to data objects can be successfully secured.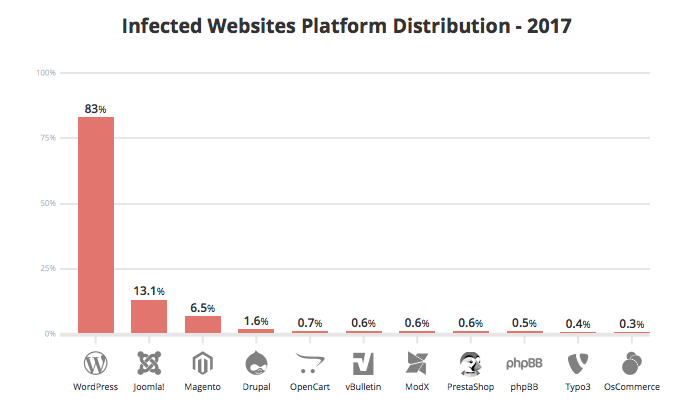 Source: Sucuri
As per the stats, Drupal performs substantially better than other leading CMS platforms in terms of protecting websites from any external attacks.
Sucuri, security platform for websites, compiled the Hacked Website report, analyzed more than 34,000 infected websites. Among the statistics that it shared, one of the factors for comparison was affected open-source CMS applications.
The infection crippled other CMS due to improper deployment, configuration, and the poor maintenance.
With Drupal being an open-source platform, it is generally presumed less secure in comparison to a proprietary platform like AEM. However, that's not the case! 
Drupal has almost similar security and governance features embedded within it similar to AEM. Drupal has dedicated modules for identification, authentication, and access-based controls.
"Drupal's security standards are set by the Open Web Security Project, making it secure by design"
The database encryption at various levels vouches for data security so that no unauthenticated user can breach the security. Also, there is built-in security reporting feature to let teams highlight and raise the security concerns within the community. 
It is to take heed that AEM's security initiative is led solely by one team, with Adobe extending support whenever necessary. 
But Drupal has a different story to narrate! The security advisory not only works on to safeguard the platform but also ensure that there are multiple touchpoints to resolve the issue.
Security documentation, helps developers write secure code, and maintain modules for added security - all this creates a larger system that continuously safeguards Drupal. It's security standards are set by the Open Web Security Project, making it secure by design.
Scalability and Future Proofing
CMS lays the foundation for providing the unique digital experience to users so it ought to be scalable and customizable. It should be capable of integrating seamlessly with other technologies and simultaneously support new solutions so that its ready to serve the growing needs of the organizations shortly. 
So how are Drupal and AEM different in this regard?
The Adobe ecosystem of products offers all-powerful solutions to amplify the enterprise digital experience. However, its features and full potential can only be realized when organizations are using a combination of several different Adobe solutions. While they continuously come up with new capabilities, the chance to leverage these is often dependent on having up-to-date versions of other Adobe products. AEM is a part of the Adobe Marketing Cloud and makes a pertinent case for buying all the other products to create an efficient digital platform.
For instance, Adobe's  Smart Layout was a new AI feature rolled out in 2018. However, to make use of this feature, enterprises will need the most recent versions of AEM sites, AEM Assets, Target Analytics, and Audience Manager. And that just adds up to the overall budget by several thousand dollars.
While large enterprises might think of implementing it, the vendor lock-in associated with Adobe does not bode well for scalability.
That's because most enterprises today opt for those solutions which are best-of-breed and best-of-need philosophy. The complete enterprise technology stack gets build in an agile manner, where every new piece appended is the best possible solution for the enterprise with given current requirements and constraints. But in case you decide to choose products from Adobe ecosystem, the need to stick to Adobe becomes crucial. And if you want to leverage any of its products to its full capacity, you may lose out on your flexibility of opting for other solutions that might be more suitable to your needs.
In a nutshell, once you have decided to go with Adobe or even with just AEM, getting out of it becomes difficult even if you keep on adding new moving parts to your digital experience stack.
"Drupal empowers enterprises with the flexibility of choosing any technology solution that works best as per their respective requirements and integrates with them hassle-free"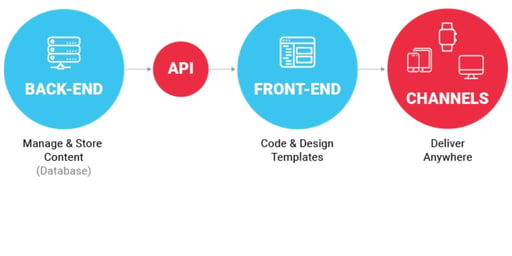 However, with Drupal, scalability, expansion, and flexibility have never been a cause of concern. Since Drupal is co-created by a whole community of developers, its feature of integrating seamlessly with various other technology solutions is inculcated in its DNA.
The Drupal CMS integrates effortlessly with multiple enterprise systems, even Adobe, and does not rely on the existence of other drupal based solutions to work effectively
The potential of decoupled Drupal applications has proven it as best content manager-while letting other technologies to build atop to deliver augmented user-facing functionalities.
The open-source community also takes care that new modules and functionalities built on any project get contributed and made readily available for others to use and worked upon.
In essence, Drupal empowers enterprises with the flexibility of choosing any technology solution that works best as per their respective requirements and integrates with them hassle-free. 
The Drupal community also ensures to keep the core up-to-date and the platform is always up to speed to work with other enterprise technologies.
The question that arises here is that whether you want to completely switch to Adobe solutions or want to keep that option with you where you have the flexibility to choose the best solutions for your company.
For uninterrupted flexibility and extensibility, it's suggested to avoid vendor lock-in and choose Drupal.
Have a look at this video to get more understanding of different web content management systems and their capabilities-
[embedded content]
Drupal or AEM
Here is a compiled list of factors arranged in tabular form to carry out the comparison between Drupal and AEM to help you reach the final decision-
Attributes Drupal  AEM

Major Differentiation

A web content management system built by the largest community of developers. A web content management system with implicit personalization and analytics feature.   Agility, cost, and open-source availability are its USPs. Proprietary and licenses are require Flexibility

Being an open-source platform, it does not require any roadmap to implement change.

It is innovation-friendly!

Since it is proprietary and requires a license, it has to wait for rolling out a roadmap to implement changes. Development Speed Easy prototyping leads to faster implementations

Requires considerable time to execute the process

Responsiveness

Highly responsive! It helps in building interactive websites for the enhanced digital experience of users

User Experience and building responsive interfaces are available Integration Capabilities

Rest APIs in the core is easy to integrate

Integratable-Relies on partners for integration

Enterprise Fit

Meets all the criteria of the enterprises

Meets all the criteria of the enterprises Security

Dedicated teams to ensure the security of the platform.

Has a more transparent and open process to communicate the issues within the community

Security directed as by proprietary team Scalable

Highly scalable

Scalable Maintenance

Sign up with any Drupal shop. Vendor Agnostic approach is possible.

Proprietary Cost

Source code is free but organizations have to pay more for adding up functionalities

License costs are high
Final Words
The final choice between Drupal and AEM will be made by the decision-makers based on the array of questions around the cost of building, hosting, and maintenance. This also involves considering the associated ROI with both Drupal and AEM to ensure easy workflow. 
The trade-off between making Adobe products work together well and the freedom to choose the best technology solutions as per your requirements needs to be carefully evaluated.
And even though both Drupal and AEM ensure top-notch security, your enterprise internal security and compliance requirements will also need to be taken into account before choosing one over the other.
Marketing department these days are feeling the heat to make processes faster, agile, and efficient in this fast-paced digital world. That's where the concept of Drupal comes into the picture! 
Drupal, since its inception, has been considered crucial for the companies which are trying to get on the digital transformation bandwagon in order to provide a faster and more nimble digital experience to customers.
Drupal comes equipped with a set of marketing tools to target the right audience and increase the overall ROI for the businesses. Additionally, the suite of tools and solutions available, build a solid foundation important for marketers, to unearth its potential and other martech capabilities; making it one of the most powerful and widely approached platforms for all the marketing needs. 
The blog gives you insights on how Drupal can be a perfect choice for marketers.-
Drupal has become an inseparable part of the marketing space which not only drives the business revenue but also makes a remarkable balance between marketing technologies and its ecosystem with its content first, commerce-first, and community-first marketing solutions.
Dependence on the IT team for implementation is the most known problem for digital marketers. With traditional CMS it takes an added effort, time, and resources across design, development and marketing departments to work in sync.
By the time changes are implemented the model already looks outdated to the new situation.
"Drupal seamlessly incorporates with the existing marketing and sales technologies of the enterprises"

The cutting-edge Drupal modules and distributions empowers different teams with to have their creative freedom in order to manage the development of a project at their own pace and convenience. 
With Drupal's architecture, organizations have a platform where they can dynamically launch their website. Marketing teams can curate the structure with segment content and visuals to lay the foundation of a strong digital strategy in its backbone.
Drupal turns out to be a useful asset for organizations which are looking for implementing it in their digital business as it seamlessly incorporates with their existing marketing and sales technologies.
CRM systems are important in running businesses and boosting sales management. It is important for organizations to integrate and be able to customize the martech stack to their unique needs.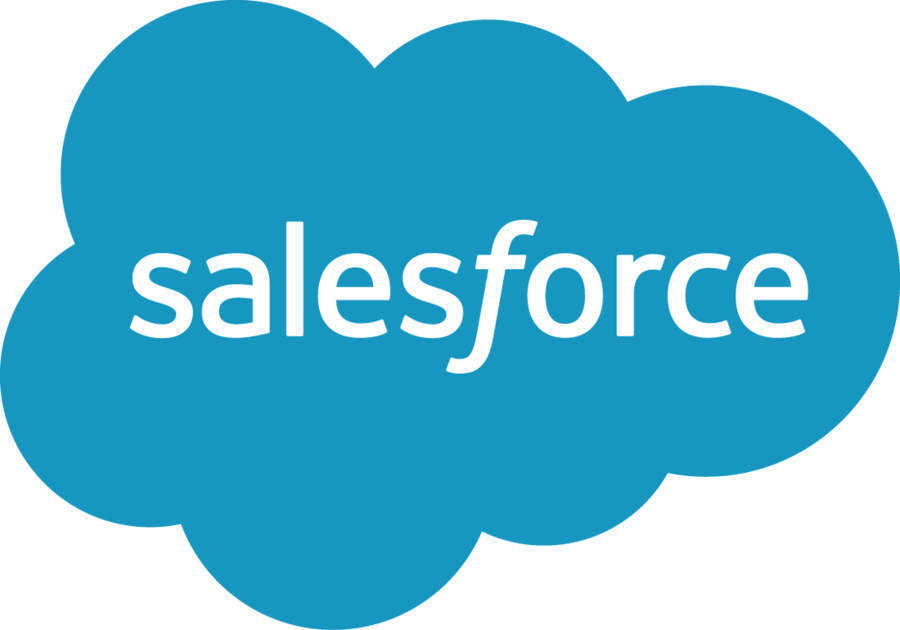 Drupal offers features that help you create a fine balance between CRM and marketing ecosystem- with content-first, commerce-first, and community-first marketing solutions. Business, technology, and marketing professionals use Drupal to create such agile solutions that are easy-to-use and offer a wide reach across the web. Built fully-responsive, customers and users can discover products and solutions with the help of any device. 
It possesses infinite potential with native features and module extensions, including collaboration with third-party digital marketing tools.
In all, it's a platform to help you push your strategy for the upcoming phase of digital customer engagement and digital business.
Based on the system of engagement, it gives a solid foundation important, for all the single interactions with customers and people within the organization alike, to provide the ultimate unified experience. Streamlining your business operations and aligning your digital strategies, it delivers on the mobile-first approach. Enterprises' marketing teams can manage the website and administrative pages with ease across multiple platforms.
"Personalized customer experience is evolving at a blistering pace"
Organizations competing in this customer-centric age are putting efforts to provide a personalized experience to customers for keeping them engaged and simultaneously attracting new visitors on board for lead generation.
The digital strategies run by marketing teams majorly focuses on increasing leads, conversions, and revenue percentage of the company gradually via digital channels. 
As customers lie at the center of the organization, this can be accomplished by offering them a tailor-made experience across all channels.
The motive is the same but the way it is rendered has evolved significantly and Drupal has a large part to play in it. Here's how-
Have a look at the video to understand more about the Acquia Lift and how it can be beneficial for marketers-
Focus on Personalization with Acquia Lift
There is no denying to the fact that companies are leaving no stone unturned to provide personalized results to users- it's not just about presenting content on the website but rather tweaking the whole experience. Simply put, they are trying to ensure that every single user-prospect or customer - gets what they want, even before they realize it.
Acquia Lift is a powerful amalgamation of data collection, content distribution, and personalization helping marketers deliver on the refined user experience 
Acquia Lift bolsters the personalized experiences of the customers. It is a powerful amalgamation of data collection, content distribution, and personalization that helps enterprises' marketing teams ascertain the refined user experience without much dependency on development or IT teams.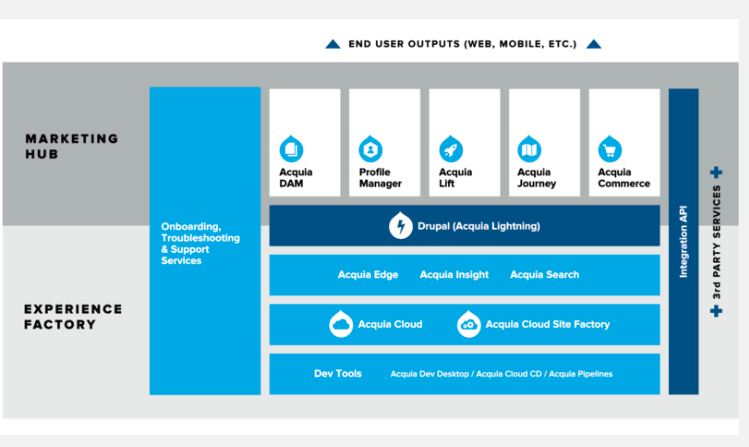 Source: Acquia
Acquia Lift encompasses three key elements to boost personalization-
Profile Manager
It helps you build a complete profile of your users right from when they land on your website as anonymous visitors up until the stage where they are repeat visitors or loyal customers. Collecting user info such as demography, historical behavior, and real-time interactions, it complements the collected insights on user preference with best-suggested actions in your capacity.
Content Hub
This cloud-based tool provides a secure content syndication, discovery, and distribution. Any content created within the organization can be consolidated and stored here; readily available to broadcast on any channel, in any format.
Searches on varied topics and automatic updates give insights on a wide spectrum of content being developed within the enterprise- in different departments, across websites, and on different platforms.
Experience Builder
This is the most essential element of Acquia Lift. It lets you create a personalized experience for your users from the beginning.

The Experience Builder is an easy-peasy drag-and-drop tool that allows you to personalize every section of your website to showcase different content to different target audiences, based on the information retrieved from the Profile Manager.

Marketing teams can:
Define the rules and protocol on how content should be displayed to a different segment of site visitors
Carry out A/B testing to determine what type of content drives more conversions for which user segments.

All this can be executed with simple overlays onto the existing website segments, without disturbing the core structure of the site and without depending on IT teams for implementation.

Multilingual
With companies expanding their reach to the international markets, Drupal multilingual features are definitely worth to make capital out of it. As it supports 94 international languages, it can translate the complete website within a fraction of seconds with less than 4 modules in action, enabling marketing teams to deliver localized content experiences; thus increasing the probability of turning a visitor into a customer. 
"Drupal multilingual features are definitely worth to make capital out of it"
Despite the features of Drupal site's language for the audience, the editors and admins have the option to choose a different language for themselves at the backend. Marketing and editorial teams have the rights to create and manage multilingual sites, with no need for additional local resources.
Layout Builder
The Layout Builder with its stable features showcased in Drupal 8.7 allows content marketers to create and edit page layouts and arrange the presentation of individual content, its types, media, and nodes. It also lets you feed user data, views, fields, and menus.
"Marketing teams can preview the pages with ease without impacting the user-experience"
It acts as a huge asset for enterprise marketing and digital experience teams-
It offers flexibility to help you create custom layouts for pages and other specific sections on websites. You can override the predefined templates for individual landing pages when required.
Content authors can embed videos effortlessly across the site to enhance user experience and ultimately drive conversion rate.
Marketers can preview the pages with ease and without the fear of impacting the user experience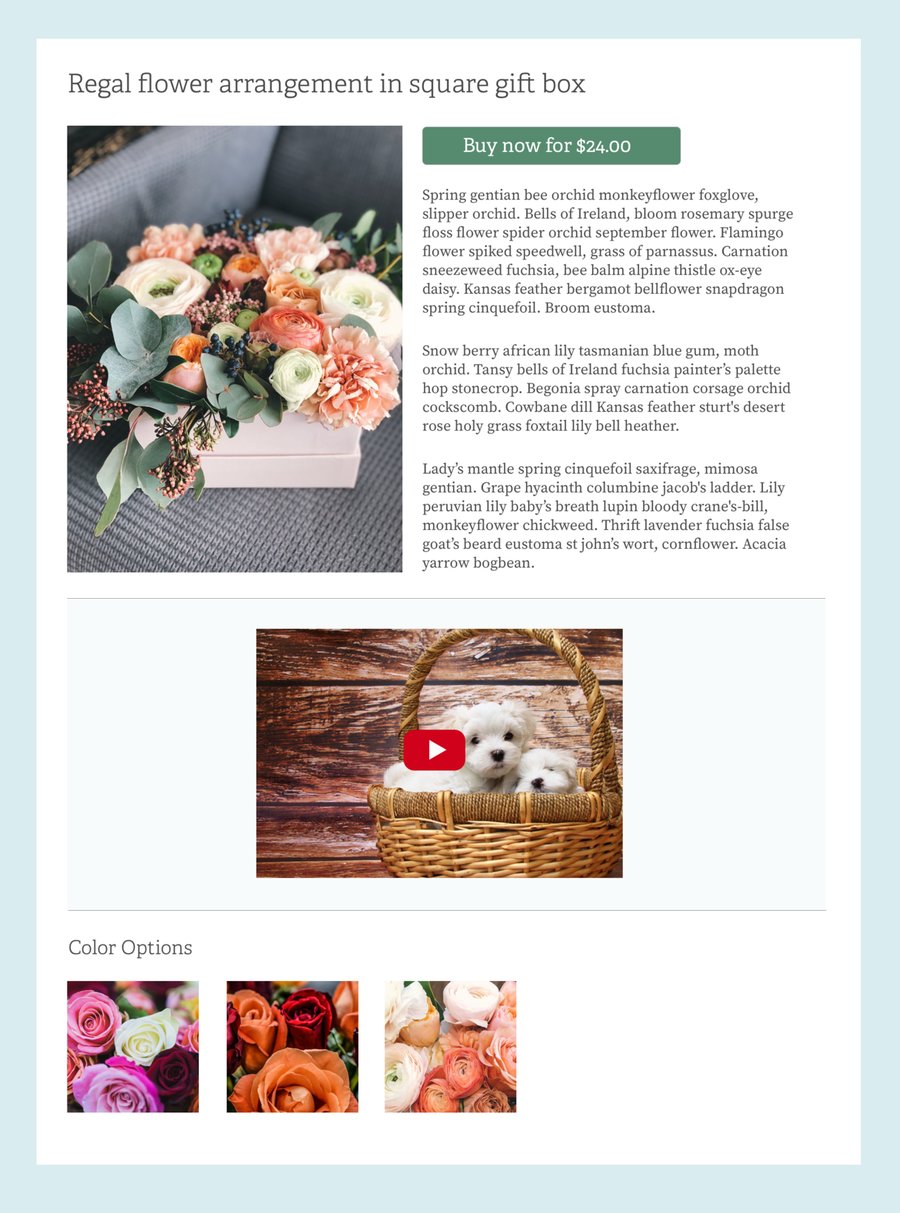 Source: Dri.es

All these features offered ensures that marketing teams have more control over the website and can work independently without needing to take help from developers. This ultimately reduces the turnaround time for launching campaigns and hence the dependency on development teams.
Improved UI with API - First headless architecture
With the ever-increasing demands of acquiring and retaining customers, marketing teams are always in a hurry to redesign and update the backend and front-end in a short period. However, this becomes quite a strenuous task for them to update and redesign digital properties rapidly keeping in mind the evolving customer expectations.
Traditional Drupal architecture could take ample amount of time to make updates and redesigns because the refinement needs to take place at both front end and back end resulting in a dependency on developers and designers for the completion of the project.
"A decoupled CMS strategy can work wonders for a website that is in desperate need for a change"
But now with the powerful feature of Drupal, i.e., decoupled Drupal, marketing teams can become more agile and efficaciously segregate the processes & streamline the upgrades without impacting the user experience at the front end. This uber-cool feature of the Drupal helps in making the design and UX alterations easier to maintain.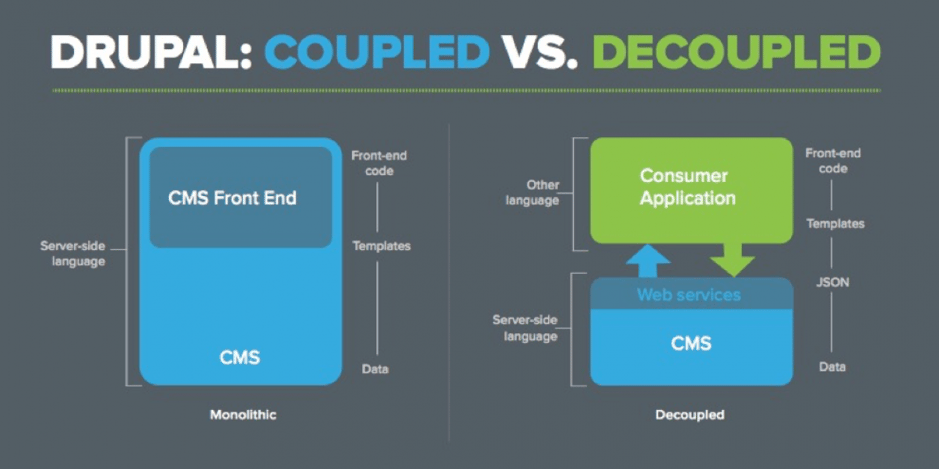 Source: Acquia
Having the flexibility to come up with more ideas and implementing them by being able to easily add them to the website is a huge upliftment for marketers. New requirements can pop up anytime in the marketer's mind that could be added to the site for more customer engagement and lead generation. The decoupled approach gives the extra agility needed to keep improving the public-facing site.
Final Words
Drupal has the potential to provide a promising future for better digital experiences with its every upcoming release. The appending of new features in Drupal will help marketing teams to become more flexible and scalable and yet provide a surpassing customer experience in no time. Consequently, conversion rate, sales, and brand visibility would increase manifolds.
Marketing teams in the organization who are already running their sites on Drupal have a lot to be happy about. Specifically, the development around Acquia Lift and Acquia Journey gives them freedom and hence no reliance on developers for any website updates and making content live, etc, to target the audience at the right time and increase ROI.
And for the marketing teams of the organizations those who are envisaging to roll out a plan for shifting to Drupal due to its all-inclusive features, the culmination from the highly-skilled and empowered team will make it worth all the efforts.
About Drupal Sun
Drupal Sun is an Evolving Web project. It allows you to:
Do full-text search on all the articles in Drupal Planet (thanks to Apache Solr)
Facet based on tags, author, or feed
Flip through articles quickly (with j/k or arrow keys) to find what you're interested in
View the entire article text inline, or in the context of the site where it was created
See the blog post at Evolving Web