Upgrade Your Drupal Skills
We trained 1,000+ Drupal Developers over the last decade.
See Advanced Courses
NAH, I know Enough
Whether you are running your business into B2B space or B2C space, the need for agility and speed in workflow management is indispensable. Because eventually, clients also expect faster delivery of the project/application to catch up with their customers' requirements.
However, if developers do not use any standard tools, it can add unnecessary overhead and eat away their development time. Also, given that they are coming from different backgrounds and skillsets, it would become difficult for stakeholders to set up projects, onboard developers, troubleshooting, and even train them as large-scale projects come with complex requirements.
That is why it's critical to have a standardized development environment across the teams. This blog guides you on using Lando software (an open-source tool that provides a single local development environment for all the developers' projects) with Drupal 9 composer, PHP & SCSS Linters, and a multisite architecture scenario.
How Lando Provides a Standard Development Environment?
Setting up the project from ground level to managing configurations and distributing it to each developer, including frontend & backend,  becomes tedious due to various aspects, including different machines, a different configuration of the machine, and different OS.
And that's where Lando software comes into the picture.
What is Lando Software?
It is an open-source, cross-platform, local development environment, and DevOps tool built on Docker container technology. Its flexibility to work with most of the major languages, frameworks, and services helps developers of all skill sets and levels to specify simple or complex requirements for their projects and then quickly get to work on them.
Some of the benefits of Lando include-
Maintaining standardization across project/application.
Offering speedy development(prebuilt configuration of the composer, drush).
Add tooling to extend it from services. 
Recommends out-of-the-box settings that are customizable.
Automates the complex steps involved in unit testing, linting, compiling, or other recurring workflows.
How to Use Lando With Drupal 9's Composer.json for Faster Development?
Consider a scenario when a developer has been replaced in the team with the new developer for the existing Drupal project. The new developer might not be familiar with the OS that others are using. Here, it would become difficult for him/her to install the composer quickly. And hence, this would delay his/her onboarding process.
However, if the team is already using Lando for development, it would take care of the operating system's bottleneck itself. In fact, the composer is already built in the recipe (Recipes in Lando are the highest level abstraction and contain common combinations of routing, services, and tooling) of Drupal 9 and is also compatible with different OS. The only thing is developers should know how to use it.

Steps to Use Lando with Drupal 9's composer.json
The prerequisite for this setup is that your local development machine should be compatible with Docker and Lando and installed successfully without any glitches. Make sure when you are running docker setup, other ports are not conflicting with Lando setup.
Here are the steps to be followed-
You need to clone this 

Drupal

9 open source git repository.(Ex:

git clone  [email protected]:AbhayPai/drupal9.git)

Change the directory to the cloned repository. (Ex: cd drupal9)

Start your app using the

lando start

command. Before you begin, you can change some parameters in

.lando.yml

as per the need of your application.
This repository would give you some common tools that include linting of PHP, linting of SCSS, linting of js files, and compiling of SCSS files and services like node.js and npm to directly connect with the Lando app. You do not need to go inside any container after starting your application. By default, this repository is only able to lint custom themes and is flexible enough to extend it to custom modules and profiles.
How to Use PHP Linters With Drupal in Lando
As Drupal is one of the largest open-source communities, millions of developers contribute and offer coding solutions in different ways. To standardize the coding practices and make the modules easy-to-maintain and readable, varying from indentation, whitespaces to operators, casting, line length, and many more, Drupal has a core package that takes care of these standard practices automatically when configured in the project. In general, these are called PHP Linters.
Following are the steps to configure the PHP linter in the project-
Download dependencies package of Drupal coder using `lando composer requires drupal/coder`.
Define a file for linter standard or copy file from Drupal core in your project folder where all standards are predefined in the XML file. It resides in core/phpcs.xml.dist.
Configure a tool of `lint:PHP` within the .lando.yml file like the below example-

4.  Confirm if tooling is configured correctly just by using the 'lando' command to list all tooling.

5.  Use this newly configured tool in your project using 'lando '. In this case, it is 'lando lint:php:themes'

This automating tool which is configured with Lando software will help developers save time for finding and fixing these issues and will also ensure best practices are followed in the project repository.
How to Use SCSS Linters With Drupal in Lando
SCSS is a preprocessor used for writing CSS or CSS3 in any modern-day project. This SCSS is used because it helps developers to write less code and remove redundancy in the repetition of classname and other properties which are frequently used in the project.
The purpose of using SCSS linter in the project is to ensure that the quality of the code is high and easily maintainable for future enhancement. Further, it would save time in development and faster delivery of the projects.
Following are the steps that need to be followed for configuring the SCSS linter in our project-
Configure node service and install gulp inside that service within .lando.yml file.

Configure tool for using npm with Lando within .lando.yml file.

Confirm if tooling is configured correctly just by using the 'lando' command to list all tooling.

Create a package JSON file and install and configure the stylinter package in the project.
Create a new script in the package.json file for triggering stylinter.

Configure the tool to trigger this using lando.

Confirm if tooling is configured correctly just by using the 'lando' command to list all tooling.

Run this tooling command and Lando will lint it automatically.

This automation tool integrated with Lando for SCSS linter will ensure that best practices and code hygiene is followed in the project repository.
How Can Lando Help in Reducing Developers' Efforts While Building Drupal Multisite Architecture?
Let's take a scenario where your project ( client's website) is live now and running smoothly. Now the client wants to create multiple new sites in alignment with the existing site. For instance, the new sites should have custom modules, themes, profiles, etc. to ensure brand consistency. 
Here, Drupal would come in handy as it would simplify the multisite architecture and speed up the local development setup with Lando through some minor tweaks in configuration files.
For setting up multisite architecture in an existing project, you need to follow below steps- 
Configure .lando.yml file to setup app server URL for the new website

Configure database server for setting up this site with the new website

Configure drupal settings like sites,php, and folder structure for site2; to leverage this Lando configuration


Rebuild configuration for setting up this new website.

The minor tweaks in the existing project would help you extend existing Lando projects/websites to build multi-site architecture via local development and accelerate the delivery process for the client.
Conclusion
If you have come this far, Dhanyavaad (thank you). I hope that this article would help you in speeding up the development process & hence, faster project delivery, knowledge transferring of your application/project with Drupal, and leveraging Lando at its best by using inbuilt composer for automation in local development environments.
Now that you are armed with the knowledge and Lando's benefits, what are you waiting for? Get started now!
Every aesthetically pleasing website has a common ground - a good theme. An attractive theme can bring the website's visuals to life and facilitate you to create a powerful brand identity. But that's just one part of the story!
The website theme, beyond being beautiful, should cater to great user experiences also. 
And that's how you prepare a robust yet enticing website - maintaining design & the best usability practices hand-in-hand are the key to increase conversion rates.
The launch of Drupal 9 in June encouraged the community to make it high up on their agenda to revamp its user experience and ensure friendliness for every stakeholder - designers, editors, marketers, and developers, of course. 
With an emphasis on Olivero, a modern front-end theme designed to exhibit the CMS in its best light; front-end developers can expect plenty of benefits from it. 
It will empower them to bring that magical touch to the websites by utilizing their creativity along with modern tools and frameworks to define layout, styles, typography, buttons, color schemes, and many more, to drive the visuals and engagements of the website/ application.
This blog walks you through Drupal's soon-to-be default theme - Olivero and how front-end developers can leverage it for designing a great website.
Olivero and its Benefits
Olivero is going to be a new default front-end theme that is expected to be rolled out in Drupal 9.2. It is designed to give Drupal a flamboyant look and feel. Olivero is also going to be compatible with the Drupal 8 website as a contributed theme.
Currently, Bartik, a ten-year-old theme, initially created for D7, is being used. It is certainly mobile-responsive and had some outstanding features to meet D8's mobile-first requirements. However, the development has outdated the design. 
Thus, the need for a new front-end theme emerged to showcase Drupal's strength appropriately.
Drupal Trivia
Olivero is named after a female programmer, Rachel Olivero, an outstanding supporter/ programmer of website accessibility. Sadly, she passed away in 2019. To honor her, the Drupal community kept her name alive with this beautiful theme. The idea is to showcase patience, generosity, and inclusiveness - the qualities of Rachel that the theme should also epitomize.
Benefits of Olivero Theme in Drupal 9
The Olivero theme is intended to give Drupal websites an eye-pleasing view apart from ensuring,
Simplicity-

declutters by eliminating the colors, effects, and visual elements that make the theme look and feel too heavy.

Professional look -

encompass all the design elements, for instance, negative space and high contrast, to grab users' attention.

Accessibility-

designed with WCAG AA conformity in mind, from functionality to layout, to colors, all components will be accessible for everyone. 
Drupal Trivia
The blind federation conducted an accessibility test to evaluate the Olivero theme for visually impaired users. They were happy and satisfied with its design and high responsiveness.
Flexibility-

facilitates Drupal front-end developers with multiple options to choose from - be it button styles, headers, or logo styles to text titles, and many more.

Compatibility

- supports modern browsers' features & various engagement modes. The creators have ensured that the theme supports recent Drupal updates and features for websites such as Layout builder, media embeds, second-level navigation, and many more.
Get the Hang Of Olivero's Exciting Features
Here are the features of Olivero that you can leverage for designing your next Drupal website-
A. Bright color palette
Websites leveraging Olivero's color scheme will look beautiful with a base color of bright blue. Besides being attractive, it would boost Drupal's brand recognition. Several permutations and combinations of darker and lighter colors and shades would provide website improved accessibility.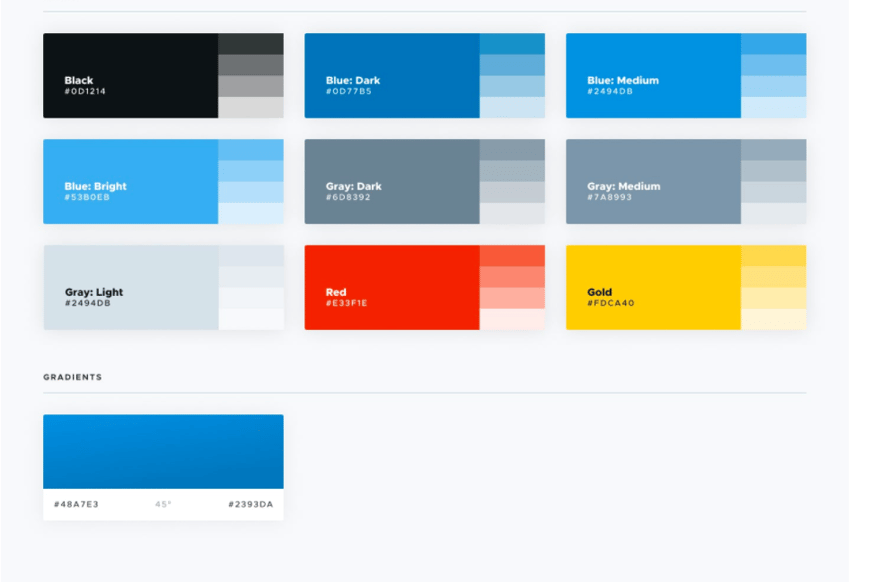 A bright color palette in Olivero theme
B. Simple and elegant forms & buttons
The forms and buttons added in the new theme are user-friendly, distinguishable, and accessible. Forms comprise a left color bar, and their labels are placed above the fields to abide by the website accessibility requirements and guidelines. 
The buttons inform users about clickable action. The theme also has a filled primary button style and a secondary button style which is an outlined version of the button.
The buttons' different modes are present default in Olivero, unlike other themes where you need to define these modes. 
The four modes are- Default, Hover, Focus, and Active

Button modes in the new theme
C. Typography
Typography provides scale to maintain uniform sizing, line height, and spacing throughout the design. The base font used for body copy is 18px. The size can be tweaked for smaller screen sizes.
Consistency, throughout line height and spacing, has been a key objective when setting the scale for typography.
D. Flexible header and navigation options
Navigation options can cater to any website's needs. The header can fold into a hamburger button menu when scrolling, allowing the user to access the menu easily on long pages. 
The secondary dropdown menus are also supported by Olivero, thus saving coding efforts of developers unlike Bartik where they need to reinvent the wheel time & again.
E. Vertical Rhythm
Vertical rhythm ensures the correct spacing arrangement of the text. It calculates line-height, font size, and margin or padding to maintain equal space throughout the website. 
F. UI Patterns
The header is designed flexibly so that it can accommodate the text titles and or logos of varied width and height. 
On scroll down, the header will fall into a hamburger-button menu, to let the user access the menu or longer pages.
G. Site branding variations
You can tweak the theme settings to change the background color and width of the site-branding to incorporate different types of logos and long text.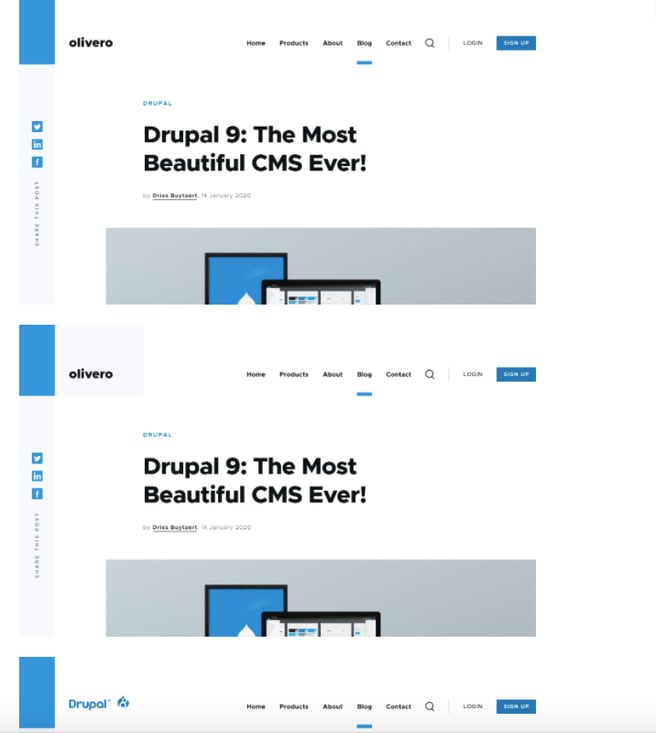 Flexible site-branding options in Olivero
H. Forms
These simple yet modern forms consist of elements that enhance the design, while still being recognizable, usable, and accessible. 
The left color bar highlights the form element and labels are added above the form field to avoid confusion. Form fields have a consistent look to indicate to users that they are a form element. States such as focus, disabled, and errors have also been accounted for.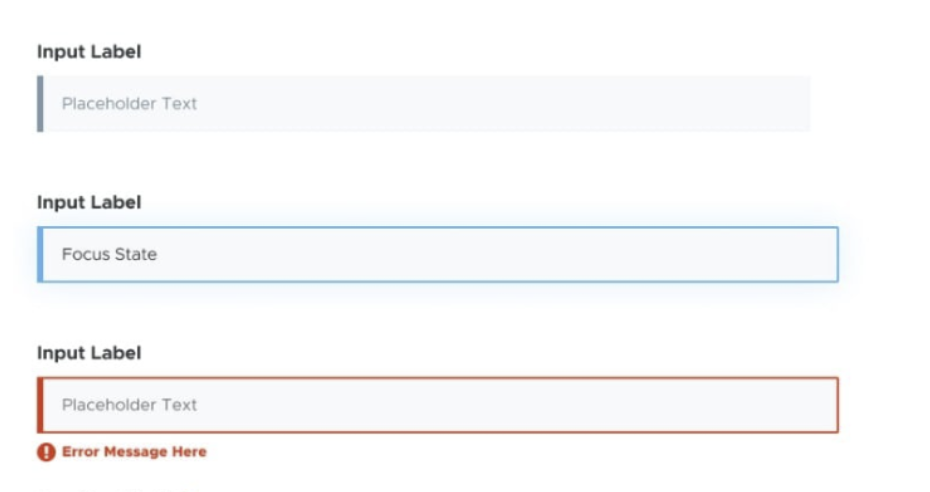 Highlighting error state in the form
I. Tables
Table divider lines are designed such that it improves readability. Olivero's theme will also support the responsive table features of Drupal. 
J. Sidebar
Only one sidebar is implemented to stop competition for space on the screen. It improves readability and allows content to look more rich and prominent on the screen. Editors can showcase related posts and other types of utility blocks too. 
The sidebar also offers good support and space.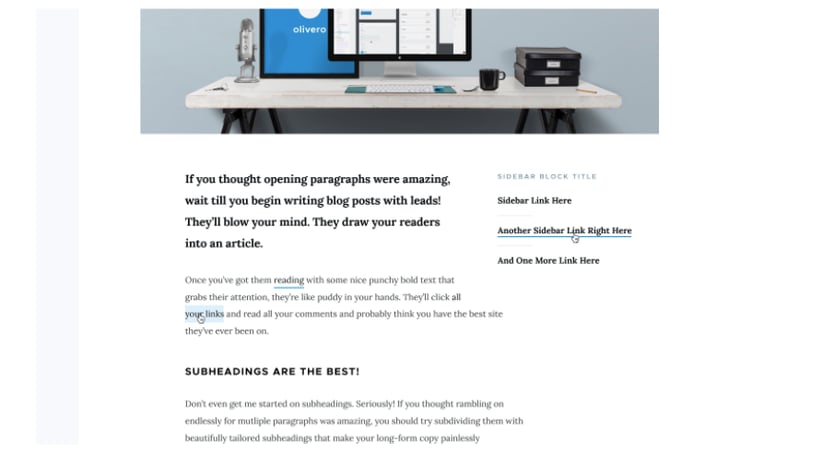 One sidebar aimed at improving readability
K. RTL Support
Olivero theme supports right-to-left languages as required by Drupal core. It also supports better display and multilingual functionality. For example, Arabic, Hebrew, Persian, and Urdu support RTL writing and so does Drupal.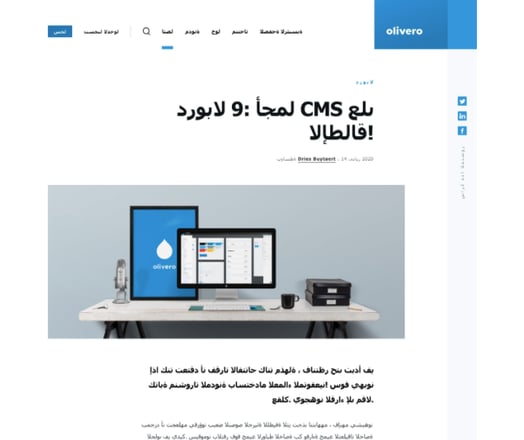 RTL support in Olivero
L. Messages
Messages intent to inform users for they need to consume important information or provide feedback on an action already taken. 
Messages are visible as they are designed with bright colors to highlight the message and yet don't mess up with the readability of the message itself.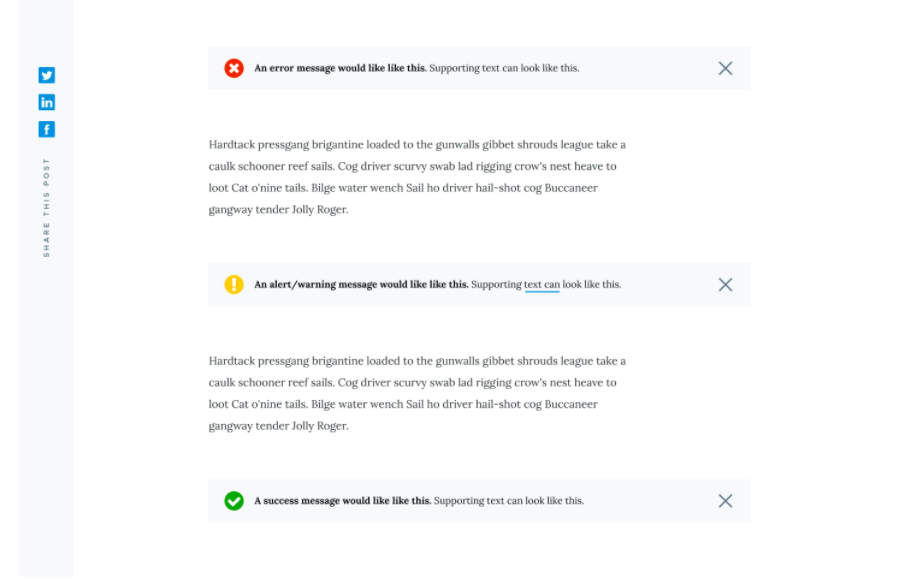 Displaying messages per their type (error, alert, and success message)
M. Breadcrumbs
Breadcrumbs in Olivero are placed near the top of the page above the page title to help users keep track of documents or websites. 
A visual cue informs users about more breadcrumbs which they can access later by swiping left to right or right to left. This feature is not part of MVP.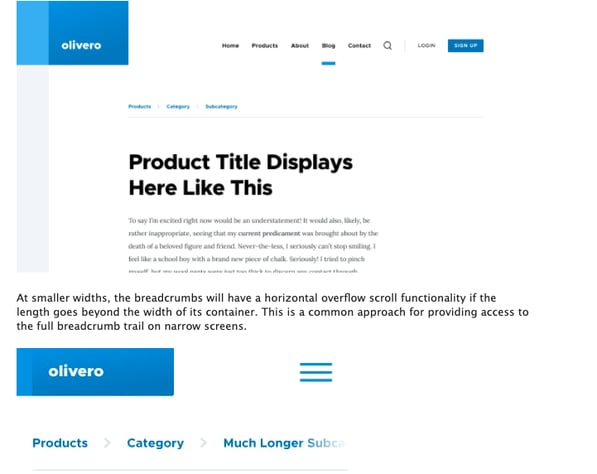 Breadcrumbs to keep track of pages
N. Color module
This feature is not part of the initial release. However, this or similar functionality might be included later. 
Challenges That Olivero is Going To solve for front-end developers
Olivero is a modern theme with a magnificent look and feel. It can help front-end developers in simplifying their work. See how-
1. Lighter theme with up-to-date design elements
Unlike Bartik which used outdated graphical elements such as drop shadow and gradient, it uses a layout builder, grid system, hamburger menu, to name a few, to ensure that the site remains lightweight and responsive.
2. Low code
There is little or no coding required in CSS to determine the presentation of a web document and for adding content blocks anywhere. 
There are few other scenarios that simplifies the work of front-end developers -
Bartik doesn't offer a secondary menu while Olivero does. This saves the coding efforts of front-end developers 

If any other theme is used, the hamburger menu is not available. Olivero theme is mobile-friendly. It encapsulates the menu automatically via the hamburger

menu feature.

No coding is required for it.



3. Scalability
Even on enlarging page size, it won't break. Instead, it would give you a clear view as always. This makes Olivero more responsive.
4. Compatibility with other browsers
Bartik is not compatible with other browsers like Internet Explorer 11 while Olivero is. Front-end developers need not write code separately to ensure the support to all the functionality and features of the browsers. 
5. Code compilation/ testing
Olivero has CSS Grid Layout that can handle both columns and rows. It is a powerful layout system that helps developers write code hassle-free. They can write code in a nested structure to make it compact, easy to understand and increase readability. 
6. Extensibility with PostCSS Standalone technology
PostCSS is an accessible tool that empowers front-end developers to easily contribute to in the form of custom plugins. 
It simplifies the writing of CSS stylesheets by keeping code simple and facilitating understanding of dependent selectors and media queries within the stylesheet. 
During the development of the Olivero theme, there were several PostCSS plugins that were leveraged to make the CSS more readable and reduce the probability of breaking the page.
Conclusion
Olivero is a modern theme that is going to be the new default theme for Drupal from version 9.2. Front-end developers can use this flexible and scalable framework to improve work efficiency and create exquisite websites. 
Figure out how your enterprise can leverage Olivero's constructive features to empower your front-end developers. Meanwhile, let's wait for this beautiful theme!
Drupal 9 was launched on June 3, 2020. Given this, it would be necessary for enterprises to upgrade to it later or sooner to acquire complete functionality and retain the ability to receive security updates within the bi-yearly cycles.
In the past, migrating from one version to another has been similar to moving from another CMS to Drupal, bringing in more time and fatigue.
However, the upgrade from D7/8 to D9 is much easier and painless. Let's dive into more details and understand as to why moving on to Drupal 9 would be a better choice.
Why Should You Upgrade?
With the end of life approaching for Drupal 7 and 8 soon, operating the website on them securely and with complete functionality won't be a feasible option.
At the same time, it might also be overwhelming for Drupal 7/8 site owners to know that their website will need the upgrade, especially when their site is running absolutely fine; thereby, resulting in confusion among them.
Here are 3 reasons why you should consider upgrading your site to Drupal 9:
The Drupal security team will soon no longer provide support or security advisories, wavering your website's and its users' cybersecurity
D7 and 8 releases' on all project pages will be flagged as 'not supported'. D7/ 8 may be flagged as insecure in 3rd party scans making the integration with other third-party tools and systems challenging
Leading hosting services providers like Acquia and Pantheon will also soon withdraw their support from D7 leaving you without many options but to assume hosting responsibility for maintaining your application and server level configurations
The good news for Drupal 7/8 site owners is that even when it goes out of official support in November 2022, remaining Drupal 7/8 sites won't stop working at that point.
Should an Existing Drupal 7 Site Be Upgraded to Drupal 8 or 9?
One of the major reasons that more than seven hundred thousand Drupal 7 sites still haven't migrated to Drupal 8, is due to the known challenges in the migration process. And with the majority of people on Drupal 7, it is quite likely that most of them did not want to upgrade their CMS twice in the span of one year.
A safe bet seems to be migrating from Drupal 7 to Drupal 9. But will the site be secure? Let's get to know a few facts.
Since D8 and D9 are similar except for deprecated codes removed and third-party updates in D9, it would be a feasible option for enterprises to migrate to D9 instead of D8 - to save them from constantly going through the same process and investing time, money, and efforts unnecessarily.
What's New in Drupal 9?
There are innumerable capabilities added in Drupal 9 which further will be consistently updated biannually to help enterprises stay up-to-date.
Now once you upgrade your system to D9, you won't require to make major changes the next time you plan to update it to a newer version. 
Here are some of the new capabilities that are added to D9-
Backward compatible

Drupal 9 is backward compatible, i.e., it is compatible with its predecessor, Drupal 8. That being said, D9 will be able to use modules, configurations, and data created on D8 of the same software, unlike the case with D7 and D8.
Additionally, preserving this functionality won't burden Drupal with historical baggage and so the performance of the system will remain unaffected. The Drupal community has also focused on breaking code and not the data.
This way, Drupal will remain fast, clutter-free, and yet an up-to-date technology.

Faster and Better Performance

Drupal 9 has taken it further to extend its support for responsive images, wherein mobiles can display the best-sized images and hence, consume fewer amounts of data.
In a recent webinar by Dries, he mentioned that Drupal 9.1 onwards versions/updates will witness the innovation and pave the way for faster and better performances of the websites. Drupal 9.1 update is just six months post the release of Drupal 9. Meanwhile, here are some of the features of D9 that you can leverage for efficient workflows-

    A.  BigPipe increasing page view performance and supporting faster initial page loading

    B.  Content Workflow allowing you to define multiple workflows

    C.  Multilingual capabilities

    D.  Structure Content- Drupal 9 comes in with an array of available fields, encompassing phone, email,       data, and time.

Cleaner code base

Drupal 9 has removed the support for deprecated codes in D8. This implementation will ensure that the code marked as deprecated will no longer be supported and used in the Drupal ecosystem. 
The motive behind this is to make D9 a cleaner version so that whenever the modules in D8 want to become compatible with D9, they need to first eliminate the deprecated code. 
Thus, the end result is clear- to make the code more nimble and improve the website's performance.

Newer Major Versions of Symfony and Twig

Symfony 3 will be replaced with Symfony 4 or 5 after November 2021. Also, the Drupal community can introduce an upgrade to Twig 2.0. These upgrades will only result in enhanced performance, improved developer experience, and enhanced security.

Panelizer will be removed and replaced 

What's new in Drupal 9? Well, the panelizer will be replaced with the Layout Builder, the "star" module of the moment.

Headless CMS

Drupal 8 and 9 both come with an API-first approach. Dries also mentioned in the webinar that the Drupal community is vigorously capitalizing on Headless CMS so that it can enhance users' experience with the powerful front-end of the website with Javascript framework like React or Angular. 
The essential features of Drupal Headless CMS are-
Front-End Freedom
Create Once, Publish Anywhere
API-First Approach
Easier Resourcing
Drupal 9 is more usable, accessible, inclusive, flexible and scalable than previous versions, with the following updated features-
It will be significantly easier for marketers to use D9
Simple than ever to maintain and upgrade for developers
D9 is experimenting with its headless or decoupled capabilities
Additionally, you can also learn from our previous blog where we have explained how to find and fix the deprecated code - Site Owner's Guide to a Smooth Drupal 9 Upgrade Experience.
Why Remove Deprecated Code in Drupal 9?
To ensure that the D8 modules remain compatible with D9, it's typically essential to remove deprecated codes- 
The all-new Drupal 9 ready code gets deployed on Drupal 8 sites and issues can be tested.
It is a continuation of the fully-tested and stable codebase of Drupal 8
With time, the effort is being made to make Drupal better. There are functions that have been around for a long time but will not be a good fit in the latest release. Most were deprecated in Drupal 8.7.0, which will be removed in Drupal 9.
To sum it all, the key to achieving this smooth transition to Drupal 9 is to rollout your migration plan within deadlines and save yourself from any unnecessary hassle later on.
Srijan is working with leading enterprises to help them migrate their digital web properties to Drupal 9 for better user experience. 
If you are also looking for a smooth upgrade/migration process for your enterprise's system, we are all ears and excited to assist you. Contact Us!
About Drupal Sun
Drupal Sun is an Evolving Web project. It allows you to:
Do full-text search on all the articles in Drupal Planet (thanks to Apache Solr)
Facet based on tags, author, or feed
Flip through articles quickly (with j/k or arrow keys) to find what you're interested in
View the entire article text inline, or in the context of the site where it was created
See the blog post at Evolving Web