Upgrade Your Drupal Skills
We trained 1,000+ Drupal Developers over the last decade.
See Advanced Courses
NAH, I know Enough
Drupal vs AEM: The Ultimate Comparison
To say that a website or a web application is deemed worthy primarily because of its content would not be totally wrong. A website's performance does play in the equation, but it is the content that seals the deal for the user. Web builders across the world are becoming aware of this fact and that is why the web content management (WCM) systems have become pivotal for websites. 
A WCM helps you in attracting and retaining your clients and ultimately give you the revenues that you had desired from the time the idea of the website came to you. Therefore, choosing the right WCM that is suitable to all your business needs is probably one of the most significant decisions you will take for your website. 
There indeed are numerous options to choose from, however, two of these have been stealing the limelight from all the others in the recent times. And these are Drupal and AEM. So, let us compare these two to make your decision a tad bit easier. 
| | | |
| --- | --- | --- |
| Parameters | Drupal  | AEM  |
| Performance and scalability  | Ease of expansion; impeccable performance  | Growth mandates performance and stress tests |
| Content workflow | Flexible  | Flexible  |
| Marketing and engineering perceptions | Community driven innovations for developers and marketers | Little room for leveraging marketing capabilities outside of periphery of Adobe |
| Cost  | Free | Can be expensive  |
| Security  | Extremely secure | Highly secure, yet there are vulnerabilities |
| Community  | Over a million and counting  | Supported by community; but pales in comparison to Drupal |
| Responsiveness | Excellent responsiveness; mobile-first approach | Excellent responsiveness as well |
| Development  | Works on PHP | Works on JavaScript  |
| Third-party integrations | Impressive  | Good, but involves issues to be troubleshooted |
| Upgrades and migration  | 'Easiest upgrade of the decade' | Easy to perform  |
| Multisite | Excellent multisite tools  | Great multisite features as well |
| Headless approach  | Gives options for decoupling  | Decouples, but only in one sense  |
| Multilingual  | Terrific with multiple languages  | Competes in parallel to Drupal  |
| SEO  | More SEO-friendly modules | SEO is optimised, but on a scale lesser than Drupal |
Getting to know the contenders
Websites are dependent on content management systems to enhance their digital experiences. The better the WCM, the better the chances of your website's digital content. But how do we decide which is better? Let us start by knowing what they personify. 
Drupal 


If you are reading this blog, there is a high, well a very high, chance that you would know what Drupal is. Still I would tell you a little about it. 
Drupal is an open source platform that helps in building web applications and making web projects come alive. It is free to use and is being used by millions of people across the globe. Organisations like Redhat, Timex, University of Colorado are some of the elite clients of Drupal. So, to say that Drupal is a small fish in the pond of WCMs would be a dramatic understatement. 
You can create and publish content without being an engineer. And the fact that your content does not have to be confined to a certain type of layout or a specific number of content fields is just a bonus. It uses the best of PHP along with that it also abides by HTML5 and YAML standards. Twig, jQuery, Symfonyand CKEditor are some of the powerful third-party dependencies Drupal implements. All of these are responsible for making Drupal a powerful web development platform, which cannot be deterred by high traffic. 
All in all, Drupal can help you create web experiences that are both wholesome and unique to lure your target audience and never let them go. 
Up until now, Drupal has had 9 versions with multiple sub-versions of each. Although Drupal 9 is the most recent version, less than half a percent of Drupal websites use it. As many as two-thirds of them are still on Drupal 7, while over a quarter of the websites are using Drupal 8, as per a survey by W3Techs.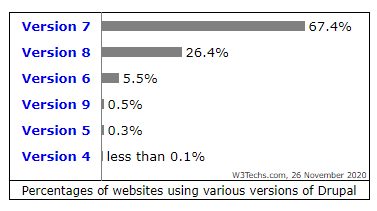 Adobe Experience Manager (AEM)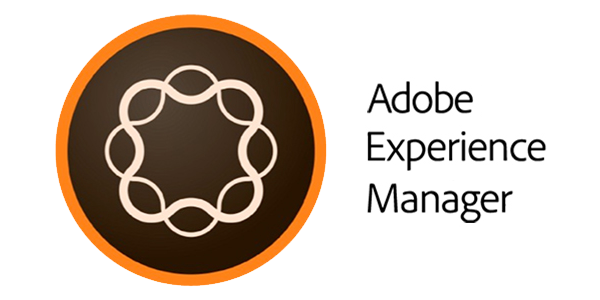 AEM could be deemed as the opposite of Drupal, provided the fact that it is a proprietary software rather than an open source. Built by a leading content management suite, it is a WCM that its proprietor refers to as a powerhouse and given its many features, it is not an inaccurate description. 
Adobe Experience Manager is an all inclusive system for content management that is equipped to build websites, forms and mobile apps. AEM effectively manages your content and your applications in an integrated manner, leading to applications being deployed as conveniently as the content. The result is a streamlined management of your online presence and that is what Adobe capitalises on.
This sounds somewhat similar to Drupal, doesn't it? That is because at a foundational level, both of these are performing the same work. It is the way they do the work, the means and the features they are packed with that make them different, and that is what we are going to find out today.
Before we get into that, let us have a look at some statistics involving both Drupal and AEM to get a clear picture of their market share.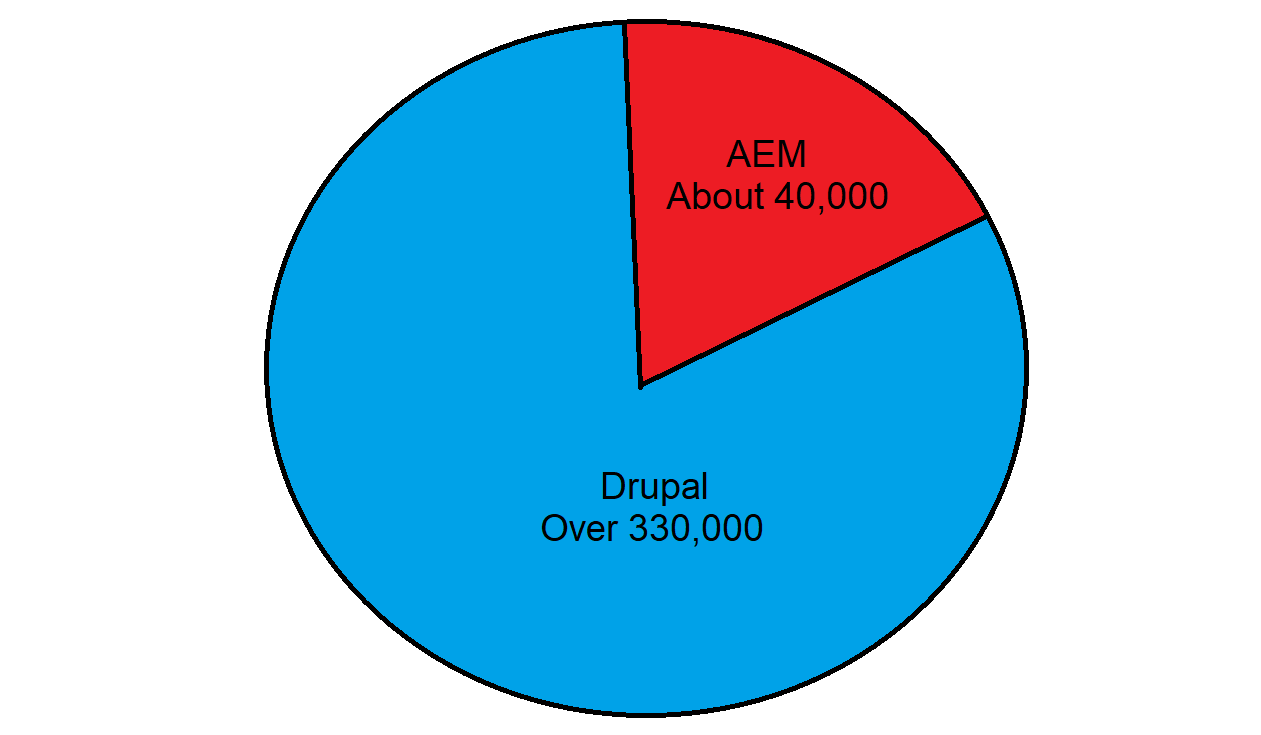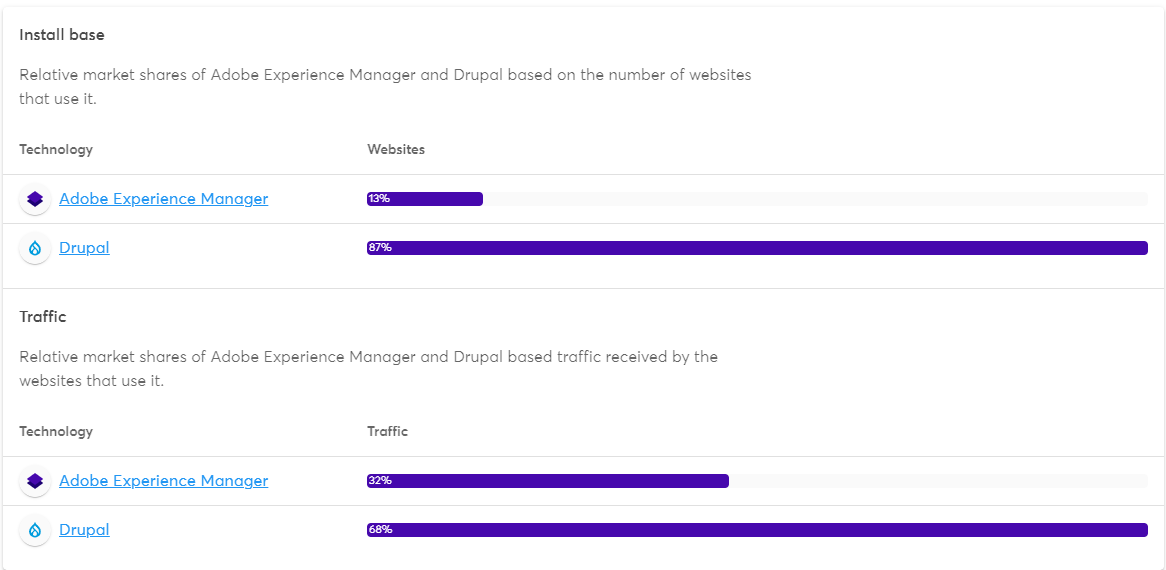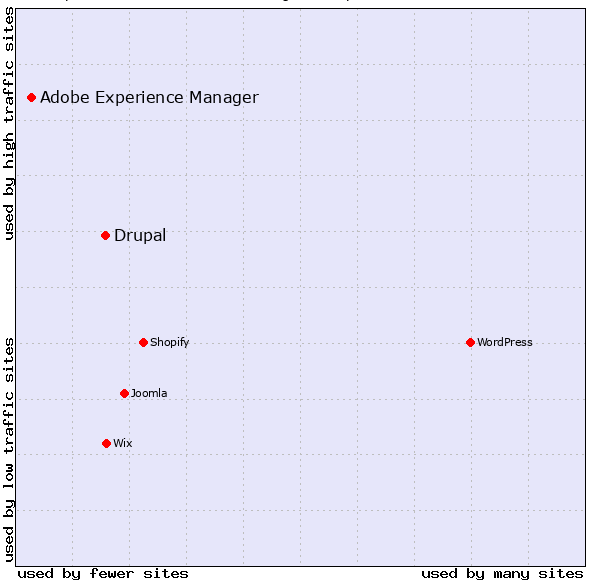 What is the degree of performance and scalability offered?
The performance of a website is probably what makes the user stay on it for a longer period of time. If it is taking more than 2 seconds for a page to load, the user may become inclined to hot hit the escape button and move onto a different site. You know you have competitors and they gain from your loss.
So, the first feature to discuss has to be performance and scalability of Drupal and AEM sites. Let us get on with it. 
Drupal 
You must have heard that on occasion many sites tend to crash, especially when there is bulk traffic on them. With Drupal, you do not need to worry about that. The busiest of sites all across the world are using Drupal to handle their traffic spikes and keep them away from the embarrassment of slow performance.
And it is not just traffic that would be managed by Drupal, it also gives you the room to expand your content as much as you want, with multiple content contributors, without having an effect on the performance.
Therefore, managing site performance and scalability is quite easy and efficient in Drupal. The only thing to remember is to optimise your site well, if you don't do that, there won't be any guarantees. 
Drupal provides many tools and features to make that happen. 
Read about Drupal's performance optimization techniques and scalability provisions to know more.
AEM 
With regards to small and medium based applications, AEM's default configuration settings do their work without much effort on your part, leading to a streamlined performance for publishing and authoring at the same time. However, the growth of your sites would require a performance and stress test, depending upon the result of these tests, you will be able to comprehend the way to optimise the system. 
The advantage of Adobe Experience Manager is that after the installation and configuration is done, the degree of complexity of your project along with your development team will be the deciding factor for the performance optimisation. Even if your system load and performance profiles change over time, AEM's performance tune-ups will keep your system optimised. Measurements, analysis, optimisation and validation become a constant part of these tune-ups.
Also, AEM uses files from content, JavaScript and CSS to establish performance standards. It also takes necessary performance action by using caching, load balancing and CDN; almost similar to Drupal.
All in all, Experience Manager can easily scale so that your performance needs are satisfied on the basis of the demand for your digital assets.
To sum up, Drupal offers you room to expand as much as you want without hampering your site's performance, AEM also does something similar. However, the latter comes with a stipulation of tests to ensure that. 
How smooth is the content workflow?
If performance is the spine of a website, then its content would be the blood in its veins; metaphorically speaking of course. So, it was only wise to talk about the content workflow after performance. 
Drupal 
Drupal is a big name in the WCM market and the way it lets its authors use and manipulate the content across multiple pages is the reason for it. Drupal provides an ease in content authoring that is unparalleled by other systems. It is equipped to provide all the necessary tools required by the authors to create and publish content that is customisable. The WYSIWYG editor personifies Drupal's flexibility. The workflow and content is easily managed through authentications and permissions. 
With regards to the content architecture, Drupal excels here as well. You can create just the right architecture based on your needs with the help of an Admin Interface or programmatically, the choice is yours. With display mode tools and Views, you can display only the content you want to be displayed based on the context, be it images, videos or even pdfs. Modules, like Paragraphs and Layout Builder, help you get the best out of your content by letting you micromanage the minutest of details. Moreover, Drupal workflows support annotations, it can reuse images in various components and it can easily support several individual fields in a single field with multi-fields. All of these provide a great user experience and the fact that it is equally good on multiple devices is another forte of Drupal. 
Apart from the creation of the content, the way it is stored and accessed is also imperative, after all we are talking about a content management system. In Drupal, the content is stored in a database, in a hierarchy, if you want, wrapped in Symfony. The interaction to the data by Drupal is usually done through MySQL, although there are other databases available as well. 
AEM 
The user experience to content authors provided by AEM is tough to compete with as well, although Drupal does manage that feat. Adobe Experience Manager not only integrates the content with other adobe technologies, but it also provides a high degree of flexibility and drag and drop user interface for almost all tasks, thereby making content authoring a breeze. 
Content in Adobe is not one single body, it is divided into multiple smaller components that in turn provide an immense degree of control to the content author because he can manage the smallest of parts of the content body. The feature of content fragments helps in editing the content to the most granular level with each component, be it text, images or videos given a separate fragment. The pre-existing templates in AEM work in a similar fashion to Drupal's modules, allowing all the more ease in content creation. However, the fact that these individual components can be reused across multiple articles, makes AEM different from Drupal. 
Coming to content storage and access, AEM stores content as files instead of a database, which are wrapped up in Adobe CRX. And these files are accessed through Apache Sling. This web application framework provides an interface that can be accessed programmatically by developers to retrieve content. 
Drupal and AEM are more or less the same in terms of content, flexibility being the forte of both and the drag and drop feature being the focal similarity. The only difference that is blatant to me in terms of content is the way it is stored and retrieved. Although both use frameworks, the way these frameworks work is quite contrasting. 
How do Drupal and AEM align with your Marketing and Engineering goals?
There are two sets of people who are considered to be the building blocks of a website and it is their input that takes a web project to the next level. These are the engineers and the marketers. So let us understand their take on Drupal and AEM to highlight their difference further. 
Drupal 
Drupal, being an open source platform, comes with a great deal of benefits. The number of open source components found can be overwhelming for your engineers for all the right reasons. The primary one being the fact that Drupal is the synonymous of a developer-centric ecosystem. What this means is that you would be benefiting from the knowledge and expertise of other developers. This encourages learning like nothing else.
As for the marketers, Drupal again provides. For one, Drupal equips the marketers to edit or update page layouts without the presence of a developer. Earlier this feature was only found in AEM, but now Drupal is also packed. Then, there is the fact that Drupal allows the marketers to choose the tools they want to outside the jurisdiction of Drupal. Any leading marketing automation tool you might get compelled by would be perfectly used with Drupal for your gains. 
AEM 
Like I have already mentioned, AEM is a proprietary software, meaning that it does not have any of the benefits of an open source. In terms of an engineer, this can be a major drawback. You must be wondering why? The answer is simple, there wouldn't be a developer pool, whose knowledge could be tapped into. So, the technical costs become high and you might find yourself solving an issue that has been resolved by numerous developers, but you can't know that since AEM is not an open source and the locked code prohibits you from knowing. 
Adobe has many fancy, for a lack of better word, marketing tools that can effectively urge any marketer to take it up. The integration with these Adobe tools helps in providing a page building experience that is simply impressive. However, there are two things that make it lag behind Drupal; 
For one, only Adobe tools can be used, you cannot access other marketing tools available in the market;
And secondly, although agile marketing is provided, the fact that other developers in the community cannot contribute to it can be slightly disheartening. 
This is not to say that Abode is inferior or Drupal is superior, they are just different in the eyes of the marketers and engineers. 
It is pretty clear who is the winner here, a developer would always prefer a pool to stimulate innovation. Drupal's vast community provides that and AEM's doesn't.
What are the cost implications?
Whether something fits your budget or not is an important consideration when you are  considering to adopt a practise or in this case a WCM. How do Drupal and AEM fare in this regard, let's see. 
Drupal 
In terms of costs, Drupal is going to be a clear winner and I think you knew that even before reading this blog. Drupal is an open source software, that means it has zero licensing fee. However, this does not mean that it is free, there would still be money required to build it. This is primarily because Drupal sites are built from scratch. You have to hire experts to take that seed Drupal provides and water it to become a full-fledged tree, you get the metaphor, right? 
When your site is built to be fully functional, then the costs for maintenance would start following, which is understandable. Drupal provides you the advantage of scaling the maintenance and support costs to align with your budget, and that is all we can ask for. I wouldn't call Drupal to be free, but it is pretty economical. 
AEM
Compared to Drupal costs, AEM travels in uncharted territory. The costs start to pile on from the get-go. Since it is a proprietary software, you have to pay a licensing fee. Add to this the cost of building, including the hiring of developers, and the costs would be substantial. And then there is the cost of maintenance, although for support, AEM does provide a dedicated team, thank goodness for that. The average cost of AEM license and implementation can be around $100,000 to $200,000.
In the times of the pandemic, AEM can be way out-of-the-league for many organisations looking for a WCM.
Drupal is free of cost and this is one fact that would always make it outshine AEM, which, on the other hand, cannot be free, being a proprietary software. 
How good are the security measures?
Everybody has vulnerabilities, humans and websites alike. Our vulnerabilities might take us longer to overcome, however, websites are not that tricky. Security measures that are both sound and effective can help even the most faulty of codes become hack-proof. In this regard, let us try and figure out the standing of Drupal and AEM.
Drupal 
Many think that open source software is more prone to security breaches simply because they are open. However, that isn't the case. Open source security, aka, Software Composition Analysis helps in giving the users the chance to attain a higher visibility level for their open source applications. For this, a lot of elements come into play. The binary fingerprints are examined, research both professional and proprietary is utilised, corroborating the research with scans and providing all of this to developers in the form of tools. So, no open source by no means can be regarded as unsafe and insecure.
The security elements of Drupal are top-notch and help you overcome the most severe security problems. The proof lies in the fact that numerous government agencies have trusted Drupal to build their sites and Drupal has passed all their stringent standards. Drupal's Security Team is equipped to address all the security issues that are reported, be it in core or contrib modules. The members of the team are experts in security measures from across the globe, validating the reliability of Drupal in terms of security. 
The password policies of Drupal are the first sign of it being safe with minimum length, complexity and expiration. 
The limitation of login attempts from one IP address can detect brute force entry. Certain IP addresses can also be banned. 
The user roles in Drupal help you control what can be seen and modified by uses on any given page. 
The database encryption Drupal provides can be configured to become extremely strong for applications that warrant high security, be it to the whole website or certain parts of it. 
The Form API oversees the validation of all data entries into the database by scrubbing them so that XSS, CSRF and other malicious data entries are stopped in their tracks. 
All of these account for a safe and secure system for all your website building needs.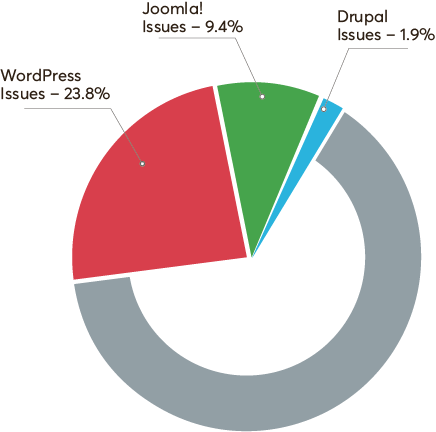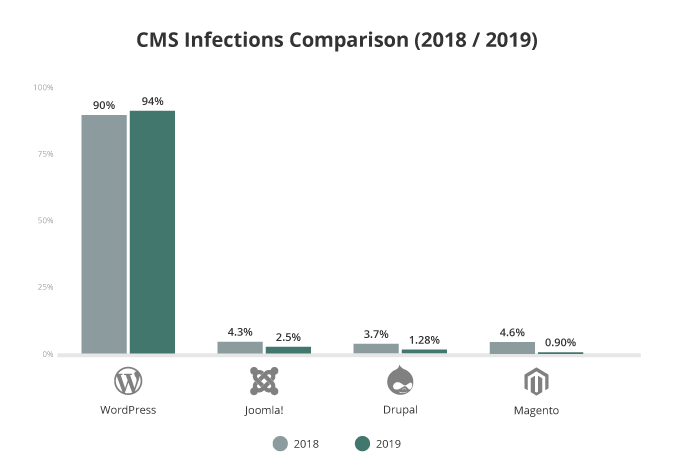 AEM
Unlike open source, proprietary software is considered to be intrinsically safe and less prone to vulnerabilities. Again, that is not the case. There are instances when AEM sites have suffered major breaches. Something as simple as forgetting to use "nosamplecontent" during publishing can give just the opportunity a hacker was waiting for. This is because sample content is often under production and many know the user passwords. Saying this does not negate the brilliant security measures AEM does provide, my point was simply to enunciate that proprietary software is not immune to vulnerabilities. 
To say that AEM's security features are similar to that of Drupal would not be entirely wrong. This is because Drupal has covered all the possible vulnerabilities that need to be prevented and worked the security measures around them. Since AEM wanted to do the same, like it should, the similarities come as no surprise. 
The security console to manage user access;
The theme language of AEM, HTL, has an intrinsic design to prevent XSS hacks; 
The AEM checklist helps in ensuring that all the security precautions are done as needed.
However, take a note of the security vulnerabilities of AEM that were reported in the recent past:

Do AEM's security features sound similar to Drupal? I am certain they do. AEM is quite secure in itself, however, it has been reported for authentication bypass vulnerability and cross-site scripting vulnerability which should be taken into consideration.
How well are they tied to the community?
The developer community is vast and extremely supportive of each other, so as the next point of difference, let us look at how community plays a role in Drupal and AEM. 
Drupal 
There are plenty of advantages in contributing to open source. It pays dividends to both the contributors and the open source software itself. The support of the community is probably the best feature of being an open source. And Drupal has a pretty large one, with over one million members. This means the intellect of the million developer minds will be found in the core and contrib parts of Drupal, driving innovation further. Developers from across the globe could provide you a peer review for all your projects. 
Another advantage of an open source community is that it helps you thrive even in the most difficult of times. Therefore, the chances of Drupal going out of business are slim to none. The long term success of Drupal is almost a guarantee with its million volunteers. Learn more on how open source has remained recession-proof and how it has stayed relevant in the times like Covid-19 pandemic.
AEM 
With AEM, the story is different. A proprietary software does not have a community as impressive as an open source's. There are still many AEM  user forums, but it does not match Drupal. 
The lack of community support somehow inhibits the force of innovation and makes AEM seem a little pale against its counterpart, Drupal. 
How responsive is their web design?
The user is the focal point of any web application, it is he who is at the heart of every decision made for the website. Therefore, a responsive web design that would take into account the user's needs and his environment is of the essence. On this note, let's compare the two. 
Drupal 
When responsive web design comes into the picture, the first thing to cross your mind is that it has to be mobile friendly and Drupal sites are just apt with that. Drupal is known for its responsive designs that provide the best experiences despite the device. 
It is Drupal's aim to support a seamless content experience throughout the lifetime of its websites with its mobile-first approach. The out-of-the-box responsive elements have made it the premium choice of developers and content authors alike.
The ability to add and edit on the go is a must have and Drupal provides. 
The built-in themes with responsiveness embedded in them allows your webpages to fit all screen types. 
The ability to change the width and height of images depending on the device is also provided by Drupal through breakpoints. 
Even the tables in Drupal 8 are responsive with high, medium and low priorities available to assign to them.
AEM 
AEM is also up there in the responsiveness game, with many features making it a friend of all the mobile devices.
Using single or multi-columns for layout;
Manipulating the text size based on the screen size;
Displaying only priority content on smaller screens;
Providing device-specific tools for access;
Taking into account the window dimensions to assess the size of images to be displayed.
When web responsiveness is prioritised, you would not have any qualms about the future of your site because it would be secure leading to boundless capabilities. In this aspect, both Drupal and AEM pass, that too with flying colours.
Are there any development constraints?
Next comes the part where development is concerned, do Drupal and AEM have development issues? Do they limit the developers in their building? Or do they give them proverbial wings to fly on? Let us find out.
Drupal 
Drupal is renowned for building digital platforms that are transcending the boundaries of digital media in the present day. Its LAMP technology stack is the reason for it. Linux, Apache, MySQL and PHP, all four provide you agility, pace and flexibility to meet your enterprise's development needs. 
One drawback of Drupal that is often cited by its counterpart is that it's not highly available. The reason being the fact that it does not provide multiple database instances, meaning one change to one database automatically changes all of them. Even though it is true, does it really account as a development constraint? 
Focusing on PHP, it is often considered to be a less advanced version of Java simply because it does not include state memory constructs. Therefore, tracking data separately becomes exhausting.  
AEM 
AEM developers need to be fluent in HTML, CSS, HTL, JavaScript and Java to develop on top of AEM, no PHP required like Drupal. The best feature of AEM development is the fact that it uses HTL instead of JSP for front-end development. This removes the chances of human error leading to XSS and secures your site a little more.
The drawback I talked about in Drupal is not really an issue in AEM, but does that really make it better? AEM is expensive as we have already established, its exorbitant costs are justified by providing an extravagance that may not really be needed. I mean what would globally distributed data centres do for a local website? They do sound appealing though.
AEM has Java instead of PHP and yes, it can do a lot more per process, but this would increase the complexity levels and make the overhead go on the higher side along with the chances for faults.
I would say that figuring out which is better between PHP and Java is a moot point, both have their own abilities. The fact that many leading organisations use them on their websites speaks quite loudly for their capabilities. Don't you think so? 
How well do they support third party integrations?
Being able to integrate itself with other applications is often regarded as a great feature of a WCM. Both Drupal and AEM are able to do it, however, one of them stands out as the better option. 
Drupal 
Third party integrations have become a rudimentary need for open source platforms. Since Drupal is an open source, it comes with an intrinsic ability to integrate well with other platforms. Drupal was architecturally designed to be both scalable and modular, this makes it competent to allow third party integrations with ease. With the Services Layer and Library API being equipped to handle all the integration needs, the process goes by smoothly. 
Drupal can integrate with numerous analytics platforms such as Google Analytics, Salesforce and HubSpot.  It can make the ecommerce businesses feel connected with all the varying aspects they mandate. For example, Drupal Commerce can integrate with Magento. There are plenty of options for media integration too such as Colorbox and Slick Carousel. If you need an enterprise search solution for your web application, Drupal has got you covered and gives you Search API Solr.
AEM 
AEM is known to have a vast number of tools in its collection, however, it is also able to integrate itself with other applications.
Integrating with Amazon web services is easy with Amazon SNS connection;
Email marketing becomes convenient with ExactTarget;
Capitalising on social networking is also done through integrating Facebook Connect and Twitter;
Sales and CRM software are integrated through Salesforce.
There are other integration tools available as well for your convenience.
Despite all of these, AEM has certain issues with integrations which require troubleshooting. AEM does talk about these and mentions ways to overcome the problems as well.
For instance, some integration issues are known in AEM such as the Report Importer causing high CPU/Memory usage or the non-visibility of targeted content in preview mode when using custom page components. 
Even taking troubleshooting integration issues into account, AEM is still quite good with integrations, especially given the fact that it is a proprietary software.
Concluding this point, I would say that both Drupal and AEM have elaborate tools of integration for every field and need of a business. However, when troubleshooting is concerned, it does put a damper on the impressiveness of AEM. 
Are upgrades and migration easy-to-do?
Technology keeps enhancing and new updates keep on coming, so it is a matter of time before the version you are using becomes a thing of the past and something better is on the market. The question is how do Drupal and AEM fair in the upgrade and migration aspect?
Drupal 
Like I have already mentioned, Drupal 9 is the most recent version, yet not many sites have upgraded themselves to become Drupal 9 sites. However, they would have to because; 
as of November, 2021, Drupal 8 would not be supported; 
and after November, 2022, the same would be true for Drupal 7.
So, how do you update them? Let's talk about the switch from Drupal 8 to 9, as per the makers, this upgrade is considered the easiest in almost a decade. By following a four-step guide, you can have your current site ready for the functionality and better security standards of Drupal 9 by using the Upgrade Status. 
As for the upgrade from Drupal 7 to 9, easy is not a term that would be used to describe it. The migration will overwhelm you, but all the advantages of Drupal 9 will make it seem worth it. Developers can make the upgrade themselves with the help of Upgrade Status and Drupal Module Upgrader. These help in letting you know whether your themes and modules are competent for Drupal 8/9 and converting your custom code respectively. Explore the ultimate guide to Drupal 9, all the burning questions that you may have about Drupal 9 and the must-have modules to start your Drupal 9 website to know more. 
AEM 
With AEM, the story revolves around a similar terrain, with more steps though. Upgrades from AEM 6.0 to 6.5 involve a lot more work than Drupal would. Separate migration tools are needed for making the entire upgrade a success. For instance, if going from a version older than AEM 6.2, you would need JMX bean to migrate your assets.
However, if we look at the upgrade from AEM 6.3 to version 6.5, the task of migration is totally eliminated. The new format for the SegmentNodeStore is the reason for it. 
The title 'easiest upgrade of the decade' has stolen the show, making Drupal upgrades more attractive and user friendly than AEM. 
How do they answer the multisite request?
Having multiple variants of a single website is not an uncommon trend, it is practised by Drupal sites and AEM sites equally. How do they fair then?
Drupal 
Drupal's multisite setup helps you in gaining the many advantages of having multisite simply because it allows you to save on time and effort by running all your Drupal sites on a single codebase. 
Running easy updates for security issues, saving on hosting expenses, using Simpletest and functional PHP unit-based tests are few of the many use cases for multisite in Drupal. 
AEM 
For AEM, the Multi Site Management function does all the heavy lifting for you in capitalising the multisite feature. MSM allows you to monitor and control mobile and web properties into one integrated interface for all so that your global presence is defined by its consistency. Live Copy Overview and Blueprint Configuration Management are the two interfaces responsible for making the use of MSM easy for you. 
MSM is a great tool for creating user-friendly web experiences at the same time providing you localised control with regional teams having the power to edit. It also makes recycling your content a breeze. 
Drupal and AEM are not much different in terms of the multisite versatility, both equip their sites to make the most of one codebase or interface, and aim for consistency. 
How fulfilling is their headless approach?
Going headless has become immensely popular today. I mean who would want to pass on the chance of tapping into the latest technology without parting with their trusted WCM. Here is how Drupal and AEM perform. 
Drupal 
In a headless approach, the WCM is merely a content repository and nothing else and Drupal is a fine one at that. The separation of the front from the backend is pretty streamlined in Drupal with REST, JSON:API and GraphQL, being the APIs holding them together. 
Drupal is known for its flexibility and that can be seen even in its headless approach, with three alternatives to choose from. 
The progressively decoupled Drupal has a presentation layer that is built using Drupal and other frontend frameworks, like JavaScript.
The fully decoupled Drupal completely segregates the two ends of the site and Drupal is just responsible for the content while a JavaScript framework like React manages frontend
The fully decoupled Drupal for static sites allows a static site generator like Gatsby to build a frontend by being its source. 
AEM 
A major reason for opting for a headless approach is to publish the content on as many platforms as possible, the web, mobile apps and other channels. With AEM's headless approach, you can do that. It allows you to "manage and re-use" page elements or the entire experience, if you want, across numerous channels. This is done through grouping content and layout. 
Like it is for decoupled Drupal, AEM also has customisable APIs as a core component of going headless. On top of this, it gives the developers the choice to choose a default or custom JSON output. The AEM HTTP API provides a smooth transition into headless inclusive of content fragments. 
The headless approach for Drupal and AEM have a set of advantages accompanying them. However, the option of choosing the way and degree of decoupling, gives you something to ponder on, doesn't it?
How do they help sites be multilingual?
We live in a world where diversity is a constant and diversity means being multilingual. Today, more and more sites are trying to be multilingual, so how do Drupal and AEM help them? 
Drupal 
With Drupal, you can create customized sites in any language, web applications in multiple languages and displays that have multiple admin languages. You get to translate your content completely, so that your business has a wider audience. And you also get the option of choosing a language interface for the administrators, content authors and translators. 
Drupal has been designed in a way that it can promote multilingual sites. The four modules, Language, Locale, Content Translation and Configuration Translation, created to ease the language transition are proof of my earlier statement. 
AEM 
AEM has a similar story to tell. It can also support multiple languages and that too with ease. The fact that it provides both human and machine translation workflows makes it a great choice. 
You might be thinking how it supports human translation. It does so the old fashioned way by sending the content to an actual translator and once it is done, the translated copy is sent back to AEM and it works its charm on it. 
The six-step process of translating content does not leave much room for errors and you get a perfect copy of content in whichever language you may need it in. 
Both Drupal and AEM are close to perfect in their multilingual feature and it is safe to say that this one is a draw. 
Finally, can they help you capitalise on SEO?
Search Engine Optimisation helps your site become more visible and visibility brings in traffic and you must know what happens then. 
Drupal 
Drupal is best friends with SEO, that is why it has all the modules required to make the most of its friend. 
You might know that keywords are an essential part of SEO practices, and Real-time SEO for Drupal helps in ensuring that the keywords are there without seeming spammed. Links are equally important in SEO practices, so there is the Linkit module. For duplicate content, there is the Redirect module to help you. And these are just a few, for an entire checklist, read our blog, The Ultimate Drupal SEO Guide for 2020.
AEM 
AEM lets you get the best of SEO and URL management by helping you optimise them. It makes you focus on the minutest of details, so that you never make an SEO error. 
For instance, when you have translated a content, you might forget to translate the URL and AEM's SEO guide would never let that happen. From configuring the dispatcher to creating and XML sitemap, AEM takes care of all things. 
Drupal might have a tad more SEO-friendly modules than AEM. Although AEM does cover all the essentials, factors like keywords, headers and footers do not take precedence in it like they do in Drupal.
The Bottom Line 
The purpose of this blog post was not to draw out a clear winner because frankly speaking, there simply can't be one. I might even give you a winner, but then there is a high chance that you might disagree. Taking all the features into consideration, Drupal does tend to come out with better prospects, even if the margin is not that huge. AEM would be close second to Drupal in terms of functionality and features. 
If I had to give you my perspective, for me, the end line is the cost. Since Drupal is free and AEM is not, it would become difficult for me to adapt to AEM and its exorbitant cost implications, at least initially. So, for me the winner would be Drupal. However, for you, it could be AEM and that is fine too.
About Drupal Sun
Drupal Sun is an Evolving Web project. It allows you to:
Do full-text search on all the articles in Drupal Planet (thanks to Apache Solr)
Facet based on tags, author, or feed
Flip through articles quickly (with j/k or arrow keys) to find what you're interested in
View the entire article text inline, or in the context of the site where it was created
See the blog post at Evolving Web