Upgrade Your Drupal Skills
We trained 1,000+ Drupal Developers over the last decade.
See Advanced Courses
NAH, I know Enough
We're heading to Florida DrupalCamp 2020
Florida Drupalcamp 2020 is the event that celebrates open-source software and brings together a worldwide community of Drupal users, developers, marketers and content specialists to a spot. The brightest of minds share their expertise, level up their skills, and make new friends in the community every year. 
This year, OpenSense Labs is a Silver Sponsor for Florida Drupalcamp 2020! To be held from 21-23 February 2020, the event will provide for a platform where developers, designers, and marketers gather to explore the most ambitious and cutting edge case studies.
Catch us here!
If you're going to be around during the camp, do not miss out on these sessions: 
Session 1: Centralised content distribution and syndication demystified. Why and how?
Saturday, February 22 | 2:15 pm - 3:00 pm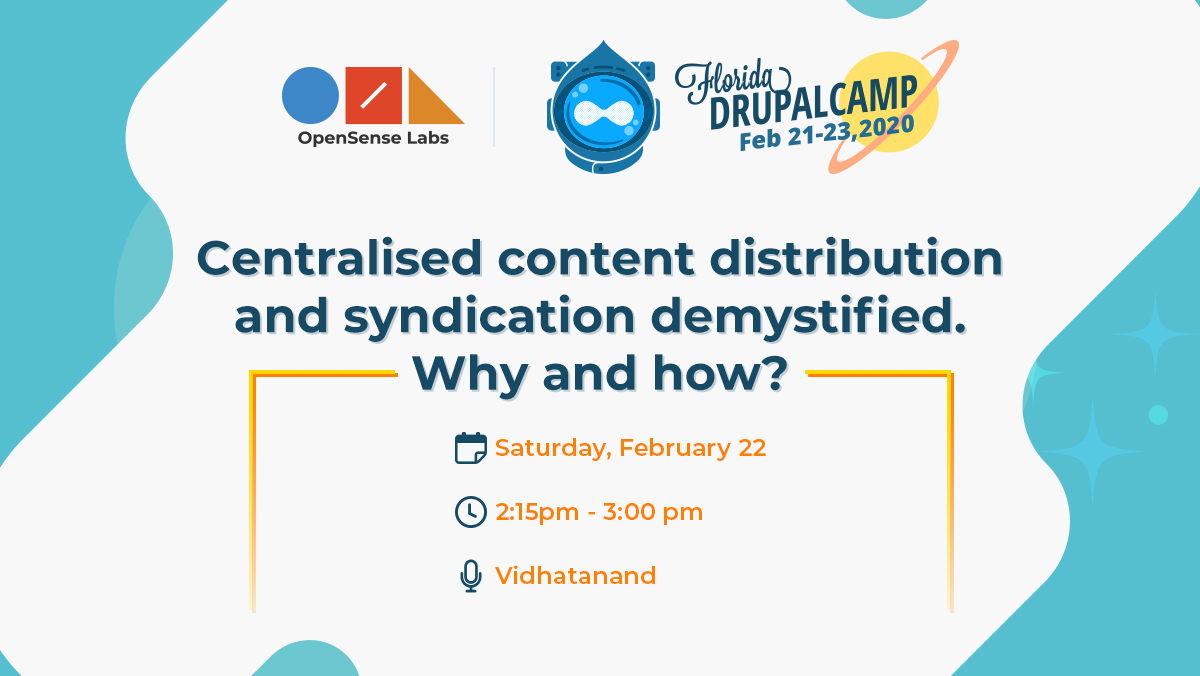 A central content repository allows the content editors to edit content directly from the backend of one site. Using the publisher site, organizations can publish, reuse, and syndicate content across a variety of subscriber sites and publishing channels.
The session will stress the importance of having a centralized reporting to boost the editorial teams' productivity & article publication pace.
At the end of the session the attendees would be able to take away the following:
Centralized Content Distribution Architecture.
Real-time content syndication by setting up publisher and subscriber sites.
Configuring content schema between publisher and subscriber sites.
Minimizing Failures during data transmission.
Choosing the right infrastructure for content distribution.
Session 2: Architecting a Highly Scalable, Voice-Enabled and Platform Agnostic Federated Search 
Sunday, February 23 | 9:30 am - 10:15 am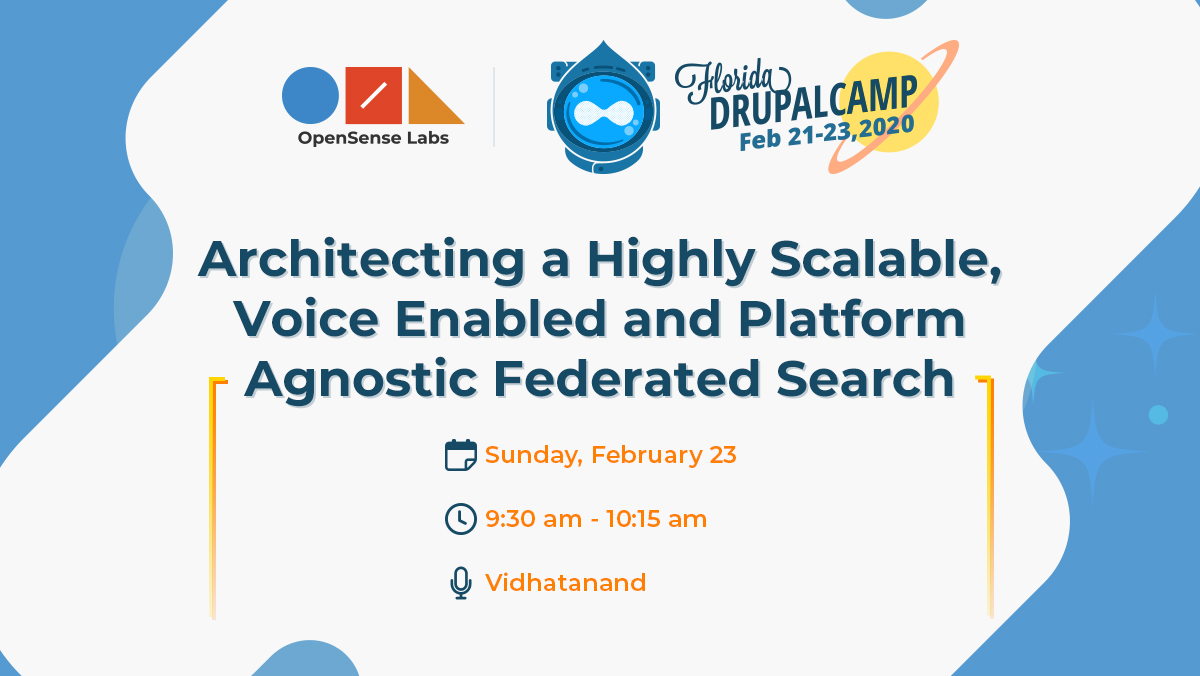 Vidhatanand will be sharing how we have built an enterprise search over the traditional by tinkering with robust Apache Solr and Drupal 8, leveraging portability using Java Script and with a diverse range of CMSs, thereby increasing efficiency by 40%.  
He will walk you through the complex architecture of federated search and challenges amidst architecting a microservice. You will be equipped with the know-how of:
Enhancing website search experience retaining a blend of useful and accurate results.
Expanding inter-site searchability decreasing the bounce rate and latency.
Increasing data discovery and interoperability of information by cross-functional support to a plethora of platforms. 
See you there!
Taking this great opportunity to be a part of Florida DrupalCamp 2020 we can't wait to connect with you about the amazing things our team has to offer. Come stop by and say hello to get your hands on some cool Drupal swag!
When: 21-23rd February 2020 
Where: Florida Technical College, 12900 Challenger Parkway, Orlando, Florida 32826
About Drupal Sun
Drupal Sun is an Evolving Web project. It allows you to:
Do full-text search on all the articles in Drupal Planet (thanks to Apache Solr)
Facet based on tags, author, or feed
Flip through articles quickly (with j/k or arrow keys) to find what you're interested in
View the entire article text inline, or in the context of the site where it was created
See the blog post at Evolving Web