Upgrade Your Drupal Skills
We trained 1,000+ Drupal Developers over the last decade.
See Advanced Courses
NAH, I know Enough
How Drupal can pave the way for the future of digital healthcare?
Healthcare industry is one of the fastest growing industries that need to embrace digitalization for offering customized care and services to patients. Every aspect of healthcare operations demand a digital transformation to meet the numerous necessities of modern healthcare. In this article, we will get a deeper understanding about how the healthcare industry is welcoming new digital tools and innovations breaking the old traditional healthcare pathways. You will also get a glimpse of what role Drupal plays in empowering the healthcare industry. 
How digital transformation trends are contributing to the digitalization of the healthcare industry?
Digital healthcare is enabling patients to get access to modern healthcare services that deliver seamless patient experiences. Here are some of the digital trends that are adopted by the healthcare industry to bring radical changes in their respective services.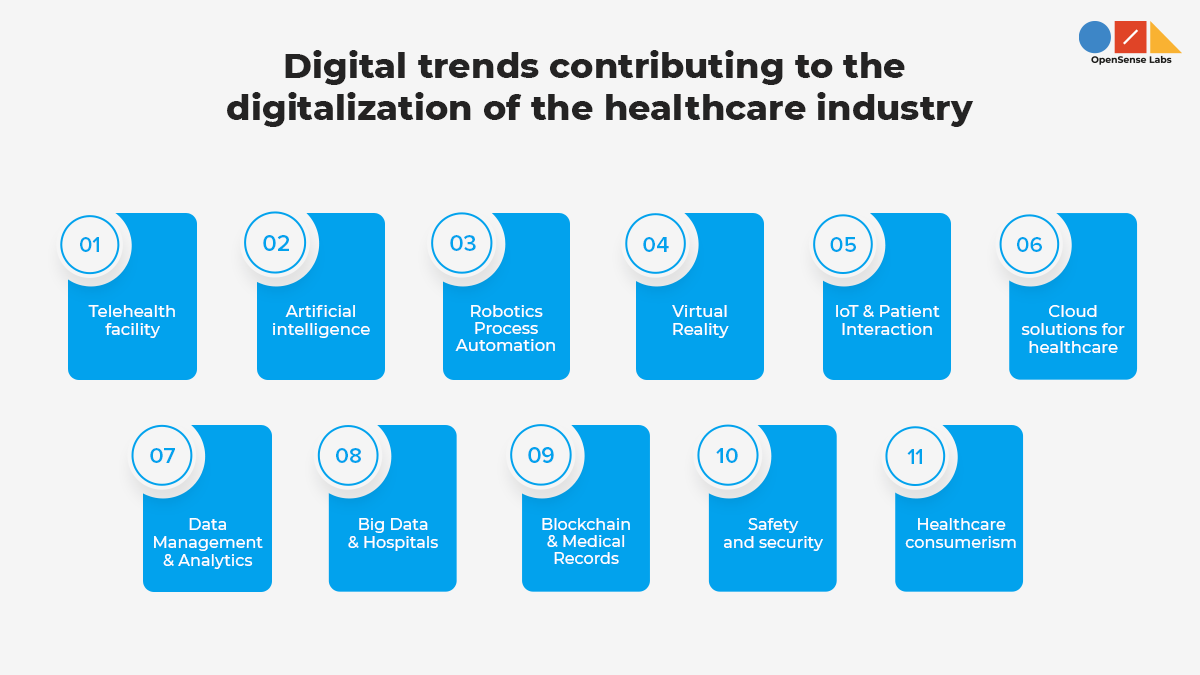 Telehealth facility
Telehealth enables us to witness a complete change in the communication process between a patient and a healthcare provider. The technologies such as telemedicine, patient-portals, remote patient monitoring, video conferencing and mobile health are making the patient-doctor interaction very secure and swift.  
Artificial intelligence
Artificial intelligence is one of the most rapidly growing trends for healthcare and technology. The AI-based solutions enable the doctors and medical staff to rightfully take data-driven decisions beneficial for all. Instead of utilizing the rule-based registries, the AI-powered data recovery method is practised to provide exact patient information. The chatbots and automated voice systems are adopted by the hospitals to reduce the workload for the medical staff and screen patients without any difficulties or concerns. The versatility in chatbots enables it to play multiple roles such as diagnostic tools, customer service representatives and therapists as well. Also, the AI screening helps in recognizing who is in need of immediate care and guides patients towards the right contact channels. 
Robotics Process Automation
Since robotics process automation(RPA) can be termed as an intelligent form of business process automation which helps in recording processes carried out by humans on their computer and then carrying out the same processes without the help of any human interference. This technology can be very useful for the hospitals as it can automate all the repetitive processes that necessitate human interference in a hospital.
Virtual Reality
Virtual reality has significantly brought a change in the way patients are treated. This technology helps physicians and doctors to perform proper diagnosis and also plays a huge role in physical therapy, where patients are instructed to follow an exercise routine including VR instead of invasive surgeries and drugs. It can be considered as a powerful communication channel between doctor-patient that helps the healthcare providers to have a better understanding of patients needs and engage them virtually with the necessary services.
IoT & Patient Interaction
IoT provides operation theatres, labs and hospital's diagnosis rooms with sophisticated technology that connects tools, equipment and machinery to deliver smooth integration where data is shared. IoT altogether helps in enhancing the patient satisfaction with better and much effective communication between patients and healthcare professionals. Additionally, healthcare providers are able to track data for critically ill patients with IoT based wearable devices to get a better understanding of their health conditions. Preventive healthcare is facilitated to patients where they can monitor their internal health conditions by wearable technology. Some of the commonly used wearable devices are oximeters, heart rate sensors and exercise trackers. This technology provides a sense of ownership to the patients during the process of improving their health conditions. The information received from these wearable devices also enable the health insurers to correctly rate a patient's risk for ailment. It overall enables the healthcare industries to save a lot of money and provide the best healthcare assistance to the patients.
Cloud solutions for healthcare
Cloud-based data services enable hospitals to work upon value-based reimbursements models, providing real-time access to data storage and offering much required agility and flexibility in the healthcare operations. Since, the healthcare companies need to maintain a large volume of data in the form of patient information, medical reports and electronic records. All this data needs to be analyzed, and cloud technology enables the healthcare companies to properly store and access the data also at the same time avoiding any additional costs of physical servers in-house maintenance. Depending on the needs, cloud provides healthcare professionals with the facility to increase or decrease the data storage capacity as well. 
Data Management & Analytics
Since there has been a problem of managing huge data of patients by the medical professionals, they are seen majorly depending on Electronic Health Records (EHR). Maintaining data manually can create errors at times. But adopting necessary technologies such as big data, wearables and blockchain to properly obtain, manage and analyze data can be very beneficial for healthcare providers. Such effective data management leads to better patient diagnosis and care. 
Big Data & Hospitals
Big data brought a change in the process of fetching, analyzing and managing data, also improving the quality of patient care services, reducing the treatment costs and predicting disease outbreaks. The various healthcare apps having exclusive features help companies to get access to huge data, and Big data further analyses them and provides necessary insights. It provides additional benefits like lowering the rate of medication errors, availing preventive care and proper staffing facility.
Blockchain & Medical Records
Blockchain enables registering every transaction, identifying any conflicting information, and decentralizing data. There are countries like the UK and Australia which are seen utilizing blockchain for managing proper medical records. It is an effective tool that helps in preventing data breaches as well.
Safety and security
Cybercriminals and hackers target hospitals to take away sensitive patient data and further misuse them. Therefore, to ensure safety to patients, there is a need to have a robust cybersecurity architecture in the healthcare organizations. With the growing technology, the healthcare industry is able to maintain the necessary safety and security.
Healthcare consumerism
The healthcare consumerism helps patients to actively get involved in their important healthcare decisions. Due to the emerging technologies, like mobile health apps, member portals and bi-directional provider portals, a proper communication between the patient and the physician is built. By using such technology, the health community is able to design and develop modern healthcare facilities. 
Therefore, the above discussed emerging technology trends succeeded in enhancing the various healthcare systems and led to better patient care service. 
COVID 19 emphasizing the growing need of digitalization in the healthcare industry
The COVID 19 pandemic has adversely affected the healthcare sector leading to restriction in various services to prevent infection from this deadly virus which further resulted in reduction in health spending. Undoubtedly, due to this pandemic, there has been an economic impact on healthcare but at the same time, the industry also felt the need of prioritizing digitalization to ensure better healthcare facilities for all. It was observed that globally, the corporate funding for digital health companies was doubled and the investment in telemedicine also rose to a great extent. Additionally, due to these hard times, there has been a disruption in the supply chains of businesses. As it is mainly about life and health, the healthcare industry has to take better initiatives in the form of contingency planning than other industries to resolve such a major issue that is currently prevailing around the world. Therefore, 60% of companies are stepping in to invest in the digital supply chain prioritizing robotics, machine learning/artificial intelligence and automation according to a research conducted by Capgemini. For example, Melbourne Health Logistics has decided to take on a Supplier Improvement Pilot Project that includes 10 Australian-based SMEs and further focuses on addressing the supply chain challenges and inventory management with the help of digitization. The three main focus areas of the project are executing of data capturing technologies, enhancing data quality and enabling suppliers to utilize the Electronic Data Interchange (EDI).
Let us look into some of the healthcare predictions for 2021, post COVID 19.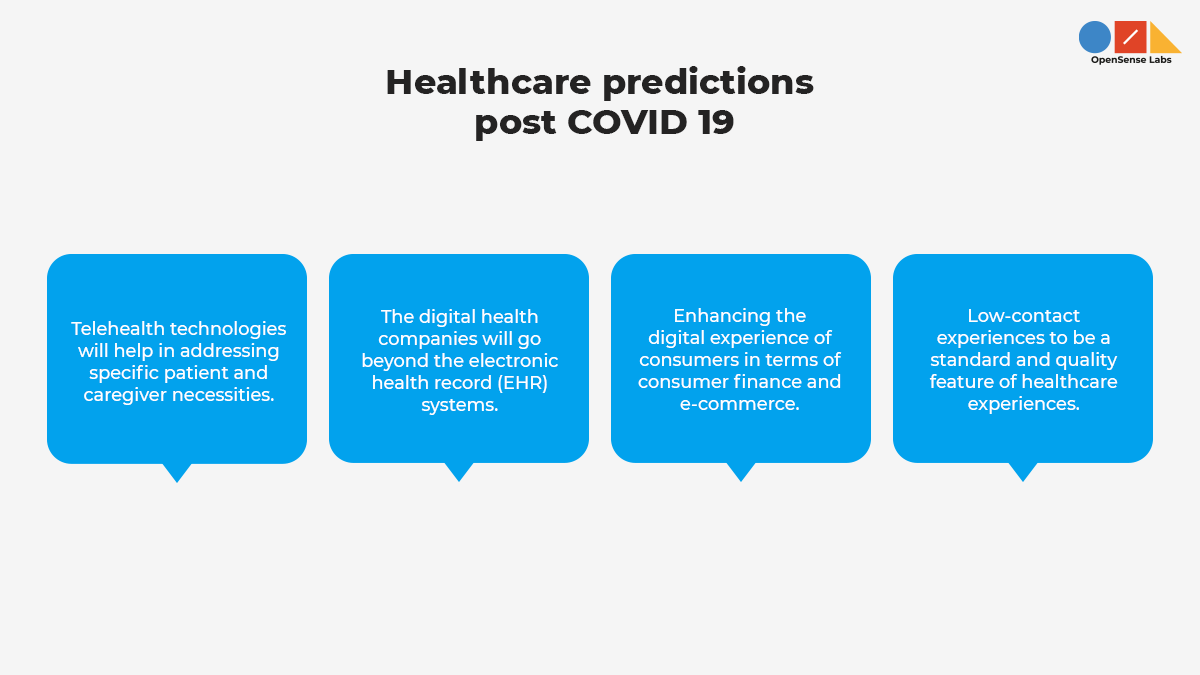 Telehealth technologies will help in addressing specific patient and caregiver necessities. Currently, due to the pandemic, every health system has to adopt telehealth programs. So, the leaders are trying to look beyond the pandemic to rework upon their telehealth programs for a longer period of time. These platforms are facilitated with unique integration to EHR i.e. back-end electronic health record systems. Based on various factors like, geographical location, care and real-time language translators, this platform will enhance the functionalities to meet the growing necessities of patients.
The digital health companies will go beyond the electronic health record (EHR) systems. For better digital patient engagement, the companies are striving to look for much improved tools and technologies. Some of the big tech firms, like Salesforce and Microsoft will possibly become the platforms for patient engagement and enterprise collaboration due to the growing need of consumerism. 
Enhancing the digital experience of consumers in terms of consumer finance and e-commerce. Since consumerism is significantly growing, along with adopting telehealth technology, the healthcare industry needs to look after all the aspects of consumer satisfaction. Therefore, sectors like consumer finance and e-commerce where the healthcare industry is unable to develop best digital experiences for consumers, shall be prioritized and provided with world class facilities and experiences. The healthcare leaders will focus on enhancing digital engagement, also accepting the challenge of providing seamless customer experience.
Low-contact experiences to be a standard and quality feature of healthcare experiences. The pandemic has given a rise of contactless and low-contact experiences to provide safety to the consumers at its best. Therefore, many of the health systems have started executing online features like registration and payments which helps in replacing the earlier in-person experiences. Without any concern, the healthcare professionals can use the geo-tracking, automatically "check-in" patients at the time of their arrival at a physical location and also assist them to their appointments. 
To know more, read about pandemic-driven digital transformation, digital readiness during pandemic, and how businesses are reimagining their operations in the post-Covid era.
Why opt for Drupal?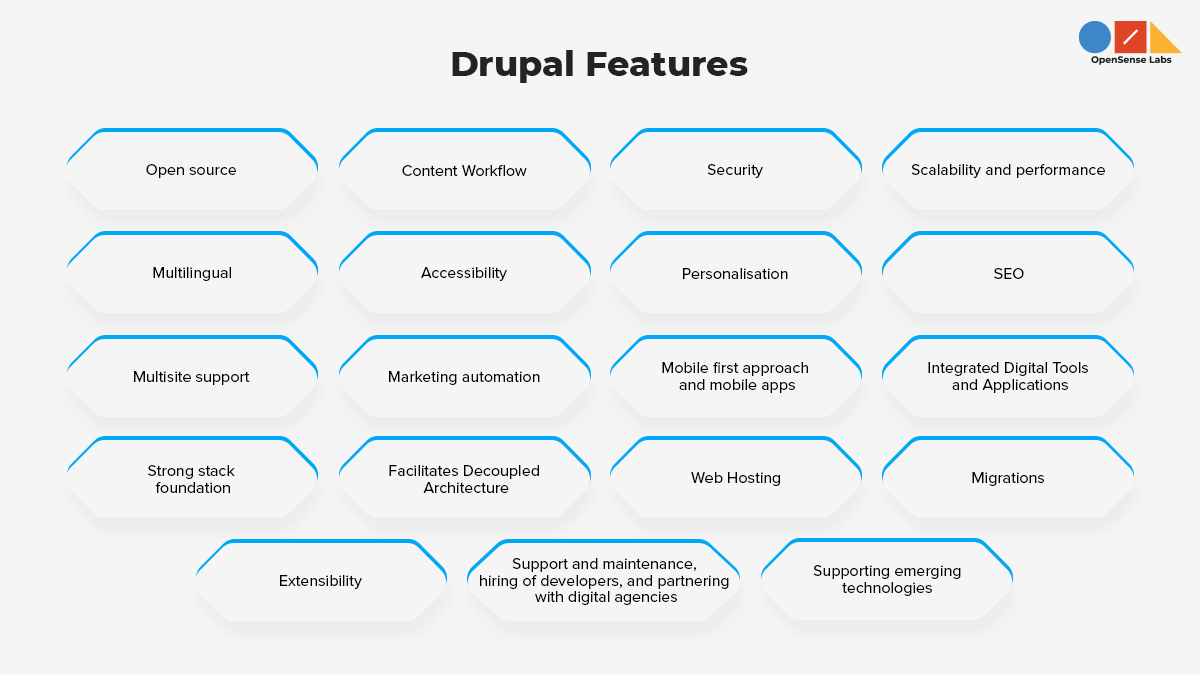 The healthcare industry is hugely supported by Drupal development resulting in its exclusive features and functionalities. Drupal features help in building the perfect digital experiences for the healthcare industry also maintaining all the safety measures required for creating websites and applications. 
Opensource
The Drupal project is totally open-source software. Without any concern, you can download, use, work and share it to anyone for free. It is purely based upon principles like innovation, collaboration and globalism. Under the GNU General Public License (GPL), it can be distributed and there are no licensing fees for Drupal.
The Drupal community is ever ready to support its users by answering their questions and concerns. So, if you have any question, somebody will certainly answer it, since it's a worldwide platform.
You can find more information about open-source here:
Content workflow
The in-built tools of Drupal helps in content creation, workflow and publishing, also allowing the content creators to work on it without any difficulties. The editorial workflows can be handled effectively by the provision of authentication and permission in this platform. With the provision of previews in Drupal, you get the opportunity to view the content on a device before approving and publishing it, create content with a WYSIWYG editor, and quickly track all revisions and changes to maintain the history of content changes if required. You can manage your roles and actions efficiently by observing all the stages of content i.e. creating, reviewing, and publishing. Drupal gives you access to a special feature where you can create a structured content, for example, describe content elements, tag content based upon any attributes, create convenient taxonomy for content so that it can be searched, used, reused if required in a manner that can improve customer satisfaction. 
You can create relevant content architecture using the Admin Interface or programmatically also do it. This platform gives you special mode tools and views, customizable menus that provide you a good user experience.
Read about how layout builder and paragraphs module enhance content workflow in Drupal.
Security
Drupal never fails to provide security to all kinds of web threats and vulnerabilities. It always prefers keeping robust security as a priority. There is a team of security experts that Drupal has which looks after all the security issues with their well-built coding standards, and strict review coding process. Drupal proves to be a stable and a secure open-source platform due to its wide professional service provider.
According to the 2020 edition of the Acunetix, Web Application Vulnerability Report, Drupal was found to be the most secure CMS in the open source CMS market.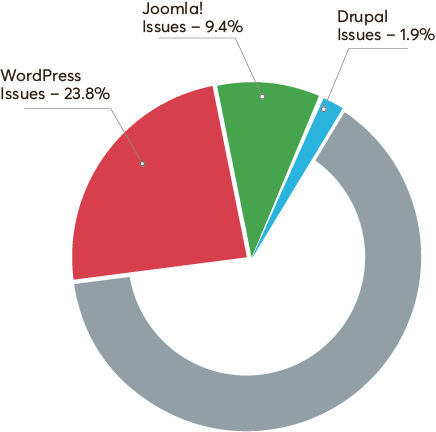 Scalability and performance
Drupal's in-built performance features when combined with a modern CDN provider performs exceptionally well under the pressure of supercharged databases, advanced caching and load balancing. The scalability feature of Drupal allows your website to perform well even on the busiest days. To know more, read about Drupal's performance optimisation offerings and how it scales with your needs to govern high web traffic.
Multilingual
The automated language translation in Drupal helps in reaching out to a diverse audience with the provision of localized content. Drupal can build complex multilingual web applications and customized sites in various languages. The core modules of Drupal help in complete translation of every part of a website, content types and their definite fields, users, menus, taxonomy, blocks, contact forms and comments. This further allows in acknowledging the suitable language as per the user's IP address, URL, browser settings, session and more. Read more about Drupal's multilingual capabilities here.
Accessibility
With Drupal you get a special feature of building websites that can be accessible by people with disabilities. Drupal ensures that all its features conform with the World Wide Web Consortium guidelines (W3C) guidelines: WCAG 2.0 and ATAG 2.0. This feature provides an equal opportunity for all regardless of any discrimination. 
Learn more about accessibility here:
Personalisation
Drupal users receive a special, personalized profile for every visitor like using geolocation, browser history, behavior taxonomies and device type. They also are given a customized experience that helps them in tracking and reporting with A/B and multivariate testing, improving ROI through target marketing and also segmenting visitors over devices by focusing on the important user identity for your business goals. 
Learn more about personalisation here:
SEO 
With Drupal, you get access to exclusive SEO tools that help you in improving your website's visibility. Here are the tools and modules.
Understanding the linking game through Linkit module; 
Understanding keyword game through Real-time SEO for Drupal;
Understanding the duplicacy predicament through Redirect module;
To know more, read this definitive guide to Drupal SEO in 2021.
Multisite support 
Drupal helps you in managing various websites over your organization, geographies, brands and campaigns on a single platform, enabling easy, fast website creation and deployment. Read this complete guide on Drupal Multisite to know more. 
Marketing automation
By utilizing tools and modules in recent versions, Drupal facilitates smooth integration with the automation platforms that can collect customer demographics and convert potential leads within the suitable time. Learn more about how marketing automation can be leveraged with Drupal here.
Mobile first approach and mobile apps
Drupal helps in creating responsive sites and building web applications that can deliver better user experience. It provides responsive design best practices and makes sure your users are benefited with the best content experience each time on every device. There are two ways of building mobile web applications which work with Drupal - integrated with Drupal at the theme layer, or a standalone mobile web app that communicates with Drupal using web services. Even though, both the approaches will work for building mobile web applications, it will be a way easier to begin with integrating the mobile web app into Drupal as a theme. To know more, read about mobile-first design approach and mobile apps like that of Flutter-powered delivered by Drupal.
Integrated Digital Tools and Applications
Drupal can smoothly integrate with a wide ecosystem of digital technology and other business applications to help you opt for the right set of tools today and tomorrow according to your preferences. 
Strong Stack Foundation
Drupal depends upon Linux, Apache, MySQL and PHP, the latest LAMP technology stack which meet the requirements of flexible, fast-moving agile companies and brands that help in building the next generation digital platforms. 
Facilitates Decoupled Architecture
Content flexibility is one of the features that Drupal provides to allow a smooth flow over sites, native apps, connected devices that can be displayed on third party websites and social networks. Since, many CMSes look for managing content in a back-end repository and move it to "front-end" templates which can provide a static experience. Drupal facilitates decoupling the back and front ends, wherever it's required. So, the content of Drupal remains as reusable chunks, which is free from presentation, and ready for easy delivery to sites and applications. Drupal's presentation i.e. RESTful API and neutral content help the front-end developers to build interactive websites and applications according to their preferences. There is availability of tools like Angular, Node, Ember and Backbone. With this platform you can obtain third-party content ((eg. syndicators and aggregators) and make it accessible to any app, website or channel. The content of Drupal can be comfortably consumed by other websites and applications with the support of Drupal's content-as-a-service capability. The front end developers of Drupal can easily design content such as separating back-end content from front-end presentation according to their conveniences. 
Learn more about decoupled Drupal here:
Web Hosting
You can choose the best hosting vendor that fulfills your needs, with Drupal. Additionally, you can change hosting vendors whenever you want, and also select to host the website internally. 
Migrations
Drupal upgrades can be said to be easy and convenient. The makers reveal that the upgrade from Drupal 8 to 9 was very simple. By referring to these four simple steps, you can build your site's functionality, and maintain proper security standards of Drupal 9 by using the Upgrade Status. With Drupal Module Upgrader and Upgrade Status, the developers can make the upgrades themselves. Moreover, you can also recognize  whether your modules and themes are capable enough for Drupal 8/9 and convert your custom code respectively.
Learn more about Drupal 9 upgrade here:
Extensibility
Drupal offers various themes and distributions to its users. Now, taking you through some of the significant themes offered by Drupal. The first theme we have is YG Medical - Healthcare | Bootstrap based Drupal 9 theme. Available for Drupal 8 and Drupal 9, the YG Medical is a complete modern bootstrap theme for Clinics and Hospitals. 
The second theme is Medical Zymphonies. It is not dependent on any other core theme and has a modern look and feel. The features of this theme include Medical related color combination, Doctor appointment form., Awesome slider, Quick contact details on top of the website, Font awesome icons, Drupal forum, HTML5, JavaScript, jQuery & PHP, Single column, two columns and full width layout, a total of 16 regions, Nivo slider, views, webform module styles, Minimal design and nice typography and Social media (Facebook, Twitter, Google+, LinkedIn, Pinterest, Vimeo). 
The third theme we have is Medicare Zymphonies. This theme is a perfect fit for medical companies and hospital websites, for small clinics, like pediatric, dental, gynecology or general therapist clinics, family doctors and ambulances. It also has all the necessary features needed especially for the medical websites. 
Next, the fourth theme is Ultra Zymphonies. This is a responsive multipurpose Drupal theme which is perfect for any business themes. Be it a medical doctor, freelancer, corporate team or a lawyer who is looking forward to a modern business website or a personal blog, Zymphonies theme can be the best choice.
The fifth theme is Decor Zymphonies. This theme is similar to the above theme. A complete responsive multipurpose theme that suits best for the business theme. It proves to be the perfect theme for anyone including a medical doctor, lawyer, creative, corporate team or freelancer who is proactively willing to build a modern business website or create a personal blog.  
Finally, we will end up with Clinic Zymphonies Theme. It is a Mobile-first Drupal 8 responsive theme. Along with being highly customizable, it also features a custom sideshow, responsive layout and multiple column layouts. 
Now, we will go through one of the Drupal distributions for healthcare i.e. Virtual care. It is a distribution that offers a Basic Drupal Healthcare site for better communication between Patient and Healthcare Professional which further facilitates the exclusive features for patients, healthcare professionals, editors and site-admins as well.
Support and maintenance, hiring of developers, and partnering with digital agencies
You will find various Drupal agencies that will provide you with quality services as per your requirements. Below are the top 5 Drupal agencies in the global Drupal marketplace.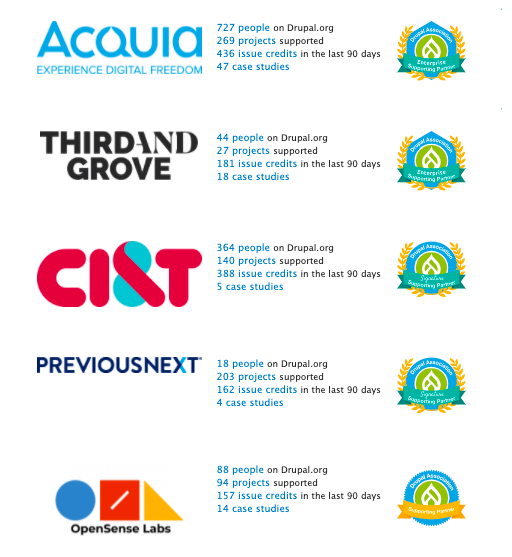 Supporting emerging technologies
Drupal uses the latest technologies such as artificial intelligence in the form of chatbots, virtual reality, IoT and Blockchain, cognitive search and digital voice assistants like Alexa on Drupal sites. Check out some of the Drupal-powered healthcare technologies here.
With the above mentioned features, Drupal healthcare websites can be built ensuring all the necessary security standards and requirements. 
Now, below you will get a glimpse of the drupal websites that were successfully built for the healthcare industry around the globe. 
Success Stories
You will get to witness some successful case studies around the world that depict Drupal's extreme efforts in reaching its users expectations. 
National Nurses United
National Nurses United(NNU) can be considered as the largest union and professional association of registered nurses in the United States. They wanted to architect, redesign and create their new website on Drupal 8. Their main requirements were to design, create and launch their website within a very tight frame. NNU wanted their website to be of light design, modern and also a content management system. Finally, the Drupal 8 website was successfully launched on time and also under the budget. The NNU team now has a modern and powerful content management system that enables their professional members to obtain required tools and information on time.
Great Ormond Street Hospital Children's Charity
Great Ormond Street Hospital Children's Charity is one of the UK's biggest charities, which is also an international centre of excellence in child health care. The website of the hospital provides significant information to healthcare professionals, parents and child patients. They rely upon their site to support campaigns for raising funds. The hospital's main aim is to deliver best clinical care and training, and in partnership with other organizations, pioneer new treatments and research for the well-being of children around the globe. GOSH's primary objective was to build a single harmonised platform that would be compiled from the migration of two large, business critical sites (30 content types and 6,000 nodes per site) and 10 sub-sites to Drupal from a proprietary software that is already outdated. The secondary objectives included prioritizing digital at the centre of all organizational activities, scalable architecture, removing complexity, platform for innovation, facility of accessibility, time-saving tools and improved search facility. Therefore, the results were as such that both the content and commerce could swiftly be intertwined, they were no more constrained by their content management system, in fact all the options were available and being capitalised, facility of suitable access privileges, and availability of flexible security boundaries were achieved with the help of Drupal's powerful Organic Groups module. Additionally, personalization could be achieved by guiding visitors quickly to microsites and site sections for their necessities. Every section could adopt message, content, imagery, tone and Solr Search for the suitable audience. Lastly, the stakeholders could recover control and regularly adapt content. 
Conclusion
Digital transformation in healthcare is a must as it provides comprehensive patient care services with much efficiency and effectiveness. Therefore, having the right technology partner is very essential as it enables in building the foundation required for digital capacities and enhances the healthcare and patient experience to a complete whole new level. And Drupal is the best technology partner to deliver such a seamless experience for both the patients and healthcare industry.
About Drupal Sun
Drupal Sun is an Evolving Web project. It allows you to:
Do full-text search on all the articles in Drupal Planet (thanks to Apache Solr)
Facet based on tags, author, or feed
Flip through articles quickly (with j/k or arrow keys) to find what you're interested in
View the entire article text inline, or in the context of the site where it was created
See the blog post at Evolving Web