Upgrade Your Drupal Skills
We trained 1,000+ Drupal Developers over the last decade.
See Advanced Courses
NAH, I know Enough
After Drupal 7 reaches the end-of-life, what's your plan?
Drupal 7 release date was 5th January 2011. It was basically launched to provide the best web content management experience, and is now close to its end of life (EOL). Well, what does Drupal end of life mean? End of life basically is the official date after which Drupal Community stops supporting a certain version of Drupal. Initially, Drupal 7 end of life was scheduled for November 2021. But due to the impact that COVID 19 pandemic had over the businesses and budgets, the Drupal community has decided to extend the end of life till 28 November, 2022. Now, here comes the question: are you still a part of Drupal 7? If yes, what are your future plans? Have you thought about the risks that would arise after it's EOL? If you haven't then it's a serious matter you should think about. This article will help you to decide on whether you would want to stick to Drupal 7 or migrate to it's later versions after the EOL.
When's Drupal 7 End of Life
It is completely up to you to opt for a migration or not but the truth is Drupal 7 is coming close to the end of life(EOL). I can understand that after hearing the fact that your website content management system is near to it's end of life, will not excite you. But you should never forget that with change comes new opportunities. We will talk about the new opportunities that the later versions of Drupal bring in a while but before that Drupal 7 and 8 end of life dates are nearing. Due to the COVID 19 situation, the earlier dates of Drupal 7 EOL was changed by the Drupal community from November 2021 to November 28, 2022. So, you still have some time to decide what's suitable for you and your sites since Drupal 7 end of life extended. On the contrary, Drupal 8 end of life is on November 2nd, 2021 and commercial extended security support is not planned for Drupal 8 since Drupal 8 to 9 upgrade is by far the easiest upgrade of the decade when compared to previous major upgrades. Therefore, looking into all the perspectives of Drupal 7 and it's later versions, you should be able to confidently make your decision and avail yourself of a seamless content management system experience. 
Are you still on Drupal 7 and thinking what to do next?
Is Drupal 7 your current CMS? Certainly, it can be since it was the most popular version of Drupal that ever released. Since its release, there are around 570,000 sites who are still using some version of Drupal 7. It also included more than 11,000 contributed modules, 200 distributions and 600 themes. Well, yes the number is huge. It almost served us for a decade but now it's time for us to upgrade to the later versions of Drupal 7 which comes with a lot of amazing features and benefits. 
If you are still on Drupal 7, don't panic, you will get the necessary community assistance since it won't leave you in distress immediately after the upgrades. But still you need to know exactly how long will Drupal 7 be supported? And also about Drupal 7 security updates. 
Since a huge number of sites are seen using Drupal 7, the community decided to extend the community support until November 2022 also keeping under consideration the COVID 19 situation. Therefore, after the release of Drupal 9, Drupal 7 will be supported for around 2.5 years. Also, the Drupal Security Team looks forward to following the Security Team processes for Drupal 7 core and contributed projects.
Towards the end of the community support, you will be given the facility of signing up with vendors providing support until 2025. Drupal encourages organizations who are interested in delivering commercial Drupal 7 Vendor Extended Support to their customers by motivating them to join the program and fill up the application form for the Drupal 7 Vendor Extended Support team.
How secure is it to stay on Drupal 7?
This section will now tell you whether staying on Drupal 7 will be a good decision for your organization or not. But how will you take that decision? Here is a solution. You will need to craft a business case as it will help in estimating the initial and ongoing costs for making the upgrade investment in comparison to the current state of things, also estimating the revenue and settings. With a business case, you get an opportunity to project the break-even point for your upgrade investment. Although talking about future security threats, you can't be sure of what exactly the future ongoing costs will be, since nobody can predict the occurrence of any security threats. It is essential to be aware of the risks that might come upon not upgrading from Drupal 7. Below are the risks that can be a threat to you and your organization. Take a look.
Security threats
Once Drupal 7 reaches the EOL, whenever securities arise in core or contributed modules, you won't get much support from anyone to resolve them. Site maintainers will have to spend a lot of time searching for security issues and solving them. In case, if there are a lot of contributed modules in your Drupal configuration, the risks might even get increased. 
Integration threats
One of the risks that is observed is that while maintaining the status quo, the key integration starts failing. For instance, your Drupal environment might be integrated with any other platform, and a main API on that platform gets deprecated, since the Drupal module which connects to it is no more maintained, you will need to update the module and even write a new custom module in order to keep the integration working.
Functionality threats
After the end of life, the Drupal community reduces the amount of activity on Drupal 7 core and modules. As a result, the free updates won't be available for you, and you will end up struggling to fix the bugs or hire any agency to resolve them on your behalf. And the problem in hiring someone new is that he/she won't be much familiar with your project just like one of your maintainers will be. So, it will therefore lead you to additional investments.
Looking for an upgrade?
So, have you finally made up your mind to go for an upgrade? I hope you did. Since Drupal 9 got released on June 3rd, 2020, you can directly upgrade from Drupal 7 to 9. This option can be very convenient as it can assure you that your upgraded site will have maximum expected life. On the other hand, you can first go for an upgrade to Drupal 8, and then finally to Drupal 9. The reasons for upgrading first to Drupal 8 can be of the fact that your site is in need of functionality also provided by modules which are available in Drupal 8 but still not in Drupal 9 release. So, if you upgrade to Drupal 8 first, it will eventually make the upgrade to Drupal 9 a lot easier. At the time of upgrading a Drupal 7 site to Drupal 8 or Drupal 9, there are three vital tools that are being used. Have a look below.
The migrate module suite is provided by Drupal core to implement data/content migrations from Drupal 7. This further gives you a good opportunity to build your site in Drupal 8 or Drupal 9 in the best possible way, and also enables you to import content to the right places. 
The Drupal 7 version of the Upgrade Status module gives you a clarity by summarizing the Drupal 8 or Drupal 9 accessibility of the modules that are presently in use. 
The Drupal Module Upgrader can be termed as a command-line script which helps in scanning the source of a Drupal 7 module, identifies any code that needs updating to Drupal 8 or 9, points off to any suitable API change notices, and wherever possible puts an attempt to convert automatically, the Drupal 7 code to the Drupal 8 and 9 version. There has been an update in the Drupal Module Upgrader for not to use APIs which are not recommended in the generated code, that means if you're going for an upgrade to Drupal 8 first, then your final upgrade to Drupal 9 will be very seamless. 
Learn more about Drupal 9 upgrade approaches here:
If not, what is stopping you?
Do you have any concerns about upgrading to the Drupal 8 and 9 version? Well there may be things that bother you. So, I will now discuss the exact reasons why the different sites delay in making this move.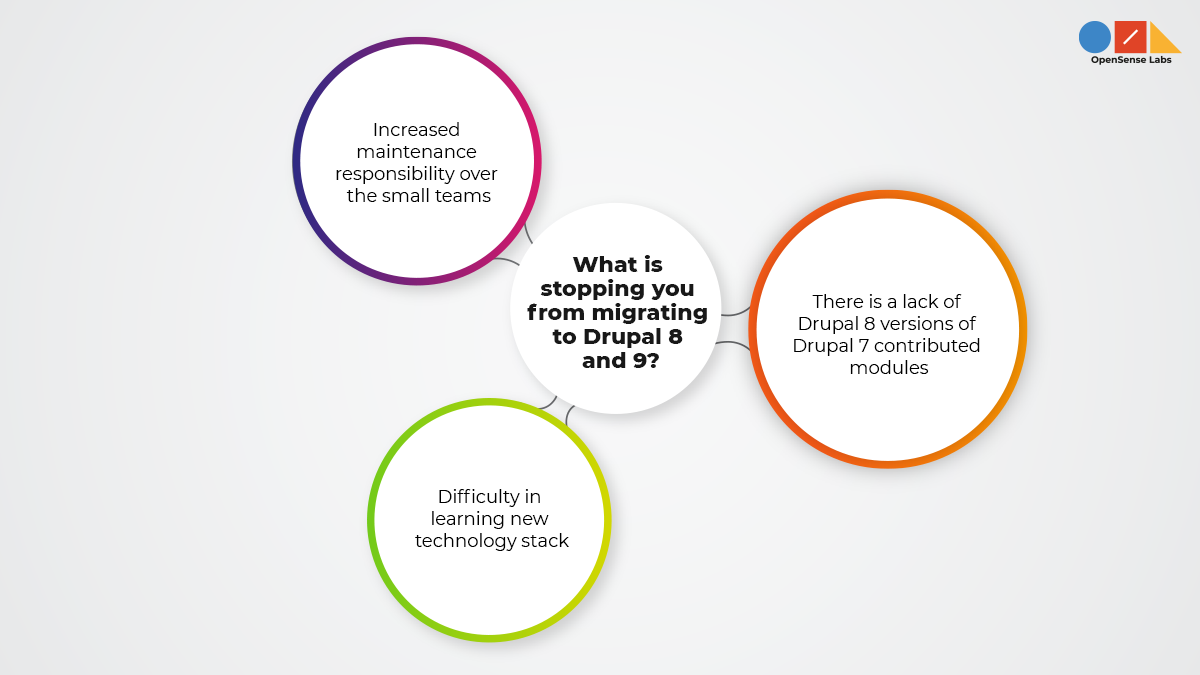 There is a lack of Drupal 8 versions of Drupal 7 contributed modules
One of the major complaints that was made in the early Drupal 8 release cycle about Drupal 8 was that many Drupal 7 contributed modules no longer worked in Drupal 8. It took time for some contributed modules to be updated to Drupal 8. Also many of the Drupal 7 contributed  modules were no longer required in Drupal 8, as the functionality they delivered is a part of Drupal 8 core now. 
But you don't need to be worried about Drupal contributed modules anymore. I will tell you why it is so. If you check the Drupal 8 Contrib Porting Tracker, you can see the status of the well known Drupal 7 modules and identify if they have got a Drupal 8 stable release or not? You will find that the missing modules are now available, or maybe you don't even require some contributed modules as that particular functionality is managed now in some other way. 
Increased maintenance responsibility over the small teams
After the introduction of Drupal 8 and Drupal 9, the new paradigm in terms of Drupal development became more frequent and mainly consisted of smaller releases. This shows a big trend in software development, in which the iterative development signifies that frameworks make more frequent releases, and accordingly those releases are not supported anymore. Therefore, this gives a transparency that you will have to keep your site updated with the latest releases. But supposedly, if you are a part of a small team that is managing a big Drupal site, you might not have the expertise to maintain the updates. 
This concern can be taken care of with the help of some tools which will enable you to keep your sites updated. There is one module called Automatic Updates modules that can be beneficial for the small sites. This module is still in a work-in-progress, and isn't yet able to support composer based site installs or contributed module updates. By using Drush and Composer, you can yourself manage the updates. 
Difficulty in learning new technology stack
The last complaint that discourages Drupal 7 from upgrading to Drupal 8 or 9 is that it is difficult to try new things. Because sometimes people refuse to learn and use new tools, the long-time Drupal developers face a lot of difficulties in learning new paradigms. Developers do not have much interest in acquiring knowledge upon a new stack, and might not want to develop in new versions of Drupal anymore. 
This challenge can be taken by the developers to find new career paths by learning different stacks and embracing change. It is essentially important for developers to upgrade to Drupal 8 or 9 since the EOL for Drupal 7 is approaching.
Look at the benefits of Drupal 8 and 9
In this section you will witness all the benefits of Drupal 8 and Drupal 9 that will help you take the right move towards upgrading from your current familiarised version of Drupal 7.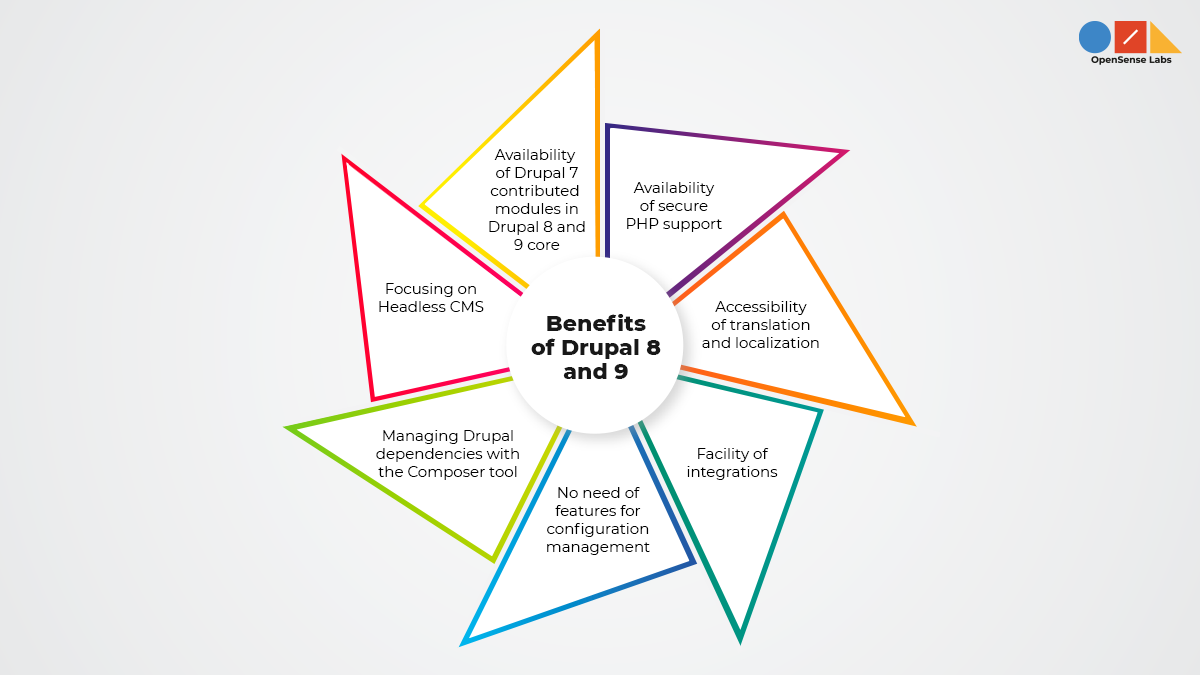 Availability of Drupal 7 contributed modules in Drupal 8 and 9 core
One of the most significant advantages of Drupal 8 and 9 over Drupal 7 is that many of the things that necessitates contributed modules in Drupal 7 are now built into core. It includes:
To talk about Drupal modules in Drupal 9, only one third of the top 50 modules were ready after around 1.5 years with Drupal 8 but in regards to Drupal 9, simply, within 10 months after the release of Drupal 9, 90% of the top 50 modules were ready for Drupal 9 users.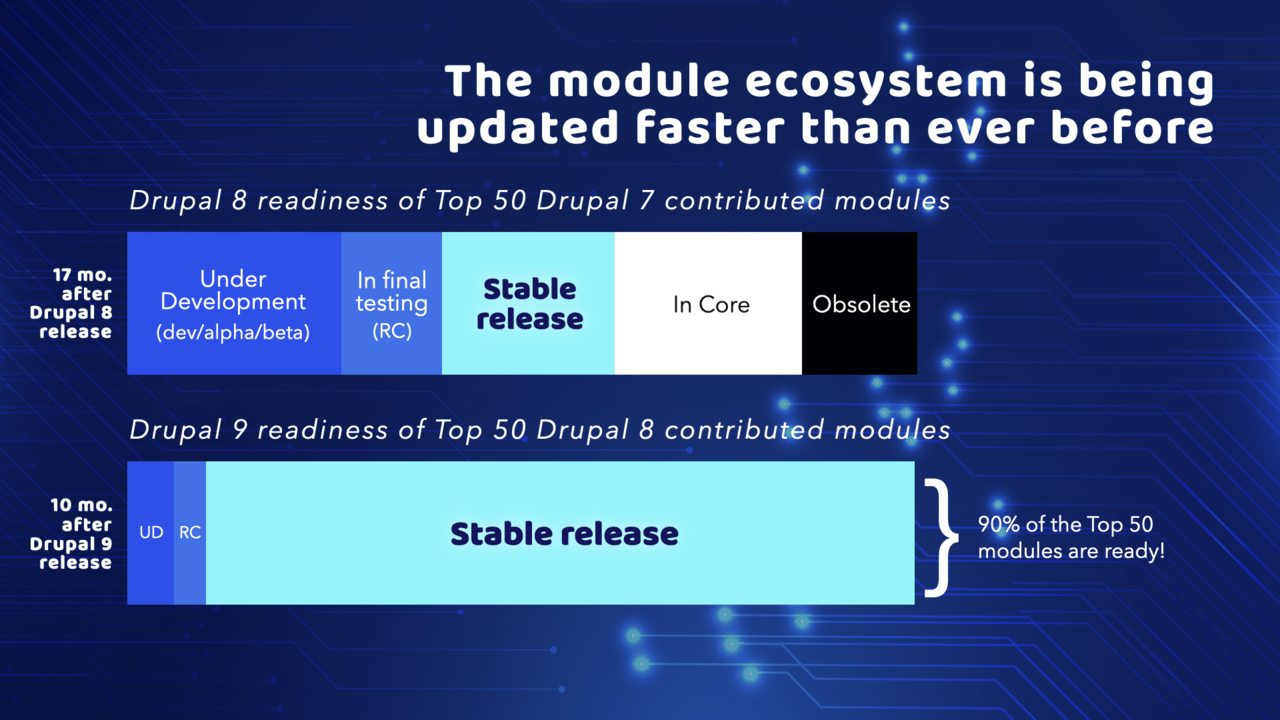 Managing Drupal dependencies with the Composer tool
Drupal 8 and 9 broadly use third party libraries such as Symfony for significant functionality, rather than depending on custom Drupal-specific code for almost everything. Therefore, this gives rise to the need of managing Drupla's dependencies on those libraries. This is well handled by a tool named Composer which is an amazing dependency manager. 
No need of features for configuration management
Many sites in Drupal 7 deploy configuration by using the Features module which always gets a mixed feedback depending on the different perceptions of people. But mostly, developers reveal that Drupal 8 and 9's Configuration Management system, that helps database configuration to be exported to YML files, is way more easier than the Drupal 7 Features system. 
Availability of secure PHP support
Drupal 7 sites sometimes run on deprecated versions of PHP like 5.3. It is very essential for the Drupal 7 sites to move to PHP 7 but could be yet running on old, insecure and outdated versions of PHP. Currently, Drupal 7 works with PHP 7.3 but it has problems with PHP 7.4. With the passing time, since PHP continues to grow and deprecate older versions, you might realize that you won't be able to run your Drupal 7 site on a secure version of PHP. Since Drupal 8 runs on PHP 7.0+ and Drupal 9 calls for a minimum of PHP 7.3, so as a result both are able to deliver the much needed compatibility along with secure versions of PHP. More on the significance of updating to the latest version of PHP here.
Accessibility of translation and localization
With Drupal 8, services like translation and localization can be well handled. Any language from the authoring side, and also the interface can be customized to numerous languages. Additionally, it can support business processes in terms of language translation and localization. For instance, facilitating integration with external translation service providers. More on Drupal's multilingual capabilities here.
Facility of integrations
Drupal can be considered as a great foundation for both web content and digital experience management, since it allows integrations with your most preferred technologies. In fact, Drupal 8 has huge capacity to integrate with your present marketing technologies, also availing the authority and flexibility to select whichever technologies you prefer to use when integrating email marketing software or marketing automation. 
Focusing on Headless CMS
Drupal 9 prioritizes on Headless CMS to improve the user experience with the strong front-end of the website which provides important features like API-First approaching, create once and publish everywhere, easier resourcing and front-end freedom.
So, now from the above discussion it is clear that you really need an upgrade from your current CMS, Drupal 7. Well it might surprise you that it just took a month to go from 0 to 60,000 sites on Drupal 9 in comparison to 7 months taken to reach 60,000 sites on Drupal 7 and 3 months in regards to Drupal 8.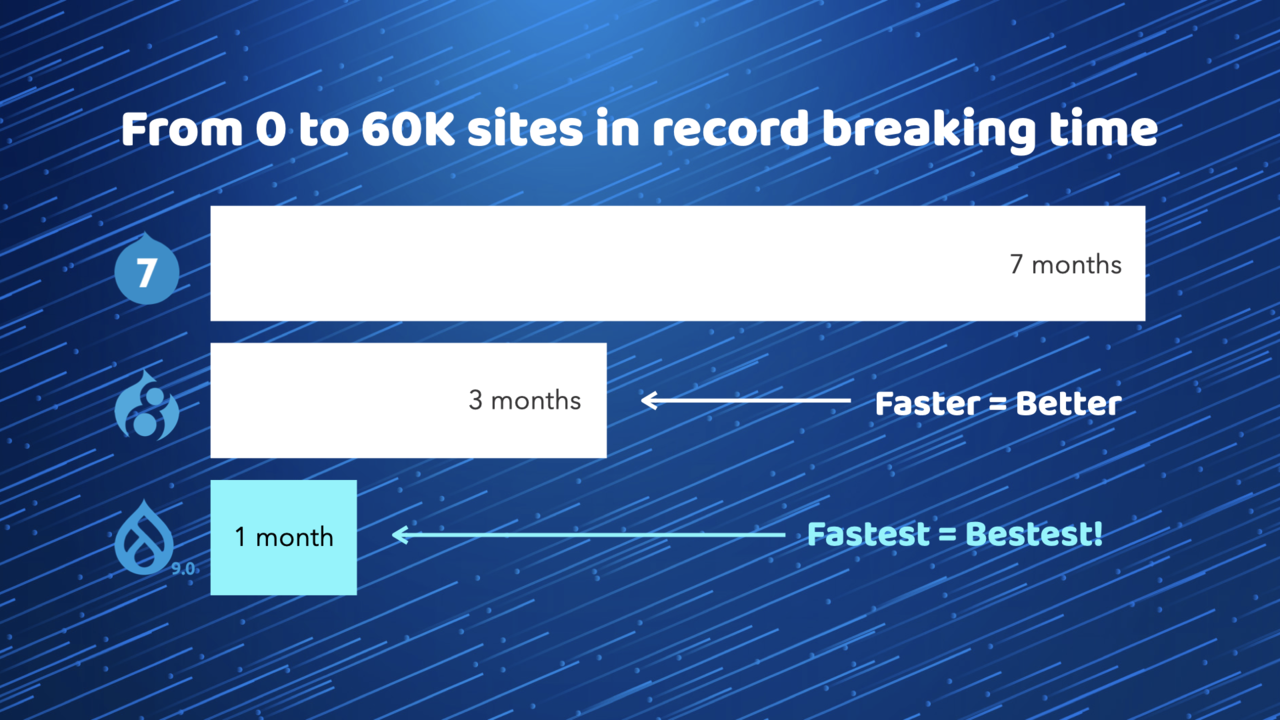 Learn more about Drupal 9 here:
Conclusion
There is a saying, "Sometimes the ending can be beautiful". It goes well along with the end of life (EOL) for Drupal 7 too. Your journey with Drupal just keeps on going better with the passage of time. The latest Drupal upgrades of Drupal 8 and 9 gives you the opportunity to run your site smoothly and securely, also enhancing the overall Drupal features and functionality.
You may be thinking, "how long will Drupal 9 be supported?". Drupal 9 end of life is directly proportional to Drupal's heavy usage of Symfony code. When Symfony 4 reaches its end of life in November 2023, Drupal 9 too will be termed end of life. So, in a nutshell, plenty of time left to reap the merits of Drupal 9 for your current Drupal 7 or 8 website as well your future projects! 
About Drupal Sun
Drupal Sun is an Evolving Web project. It allows you to:
Do full-text search on all the articles in Drupal Planet (thanks to Apache Solr)
Facet based on tags, author, or feed
Flip through articles quickly (with j/k or arrow keys) to find what you're interested in
View the entire article text inline, or in the context of the site where it was created
See the blog post at Evolving Web