Upgrade Your Drupal Skills
We trained 1,000+ Drupal Developers over the last decade.
See Advanced Courses
NAH, I know Enough
precore.net - a platform for artists and design students
Since its relaunch in 2015, the Drupal 7 powered precore.net has been gaining popularity among artists and design students to become their go-to platform. Until today, design students have uploaded over 700 portfolios providing guidance to enrolling candidates. These portfolios are linked to over 500 art faculties of hundreds of universities.
Before enrolling in a course, a candidate can research their local university and study other students' portfolios or enroll in their local design course to prepare for the entry tests - all of it on precore.net.
On top of that, students provide and collect support on the precore.net forum which boasts over 20000 users who have written nearly 250000 posts. This may be the biggest and most beautiful forum built on top of Drupal core.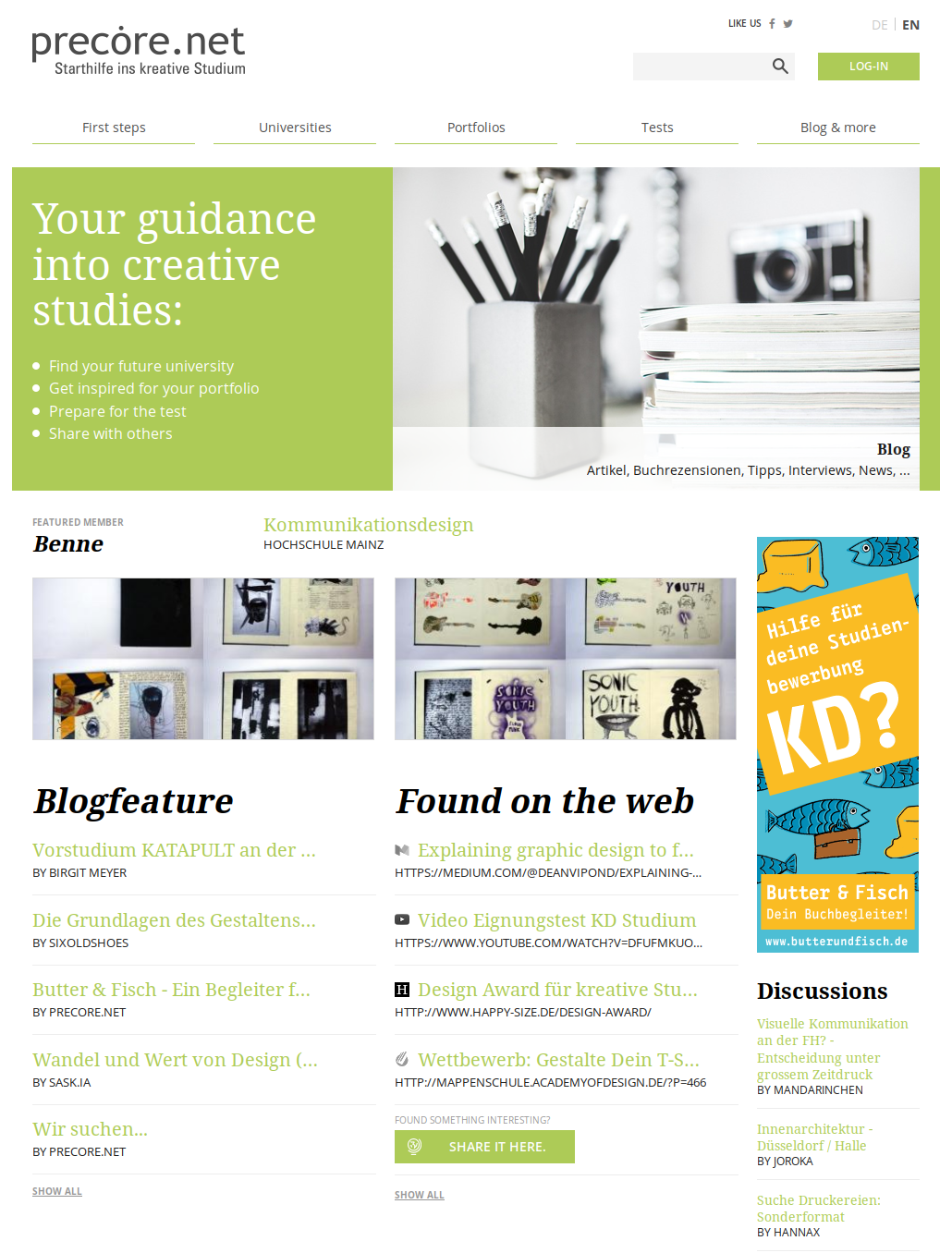 The most powerful feature however may be the ability for guests to create most of the site's content without having to go through any type of registration process. Visitors can go ahead and correct their school's information just by clicking 'edit'. Likewise, anyone can write a blog post - no account or personal information needed. We think this technology has massively contributed to the quantity and quality of content on precore.net.
While the numbers of design students, universities and art schools registering with the platform has been growing steadily, the visionaries behind the project, Ingo Rauth and Wolfgang Zeh from projektgestalten, recently decided to take the platform to the next level by bringing it to jobseekers and providers as well. Consequently gbyte has implemented the event functionality and the new job board.
This is not going to be the last improvement though, apparently artists have lots of creative ideas and we look forward to implementing them. We feel that this project is a great showcase of Drupal's possibilities and if you would like to learn more about the project or its implementation, make sure to leave a comment below or contact us via the contact form.
Check out other technology-centric posts about the project as well as more screenshots on the project page.
About Drupal Sun
Drupal Sun is an Evolving Web project. It allows you to:
Do full-text search on all the articles in Drupal Planet (thanks to Apache Solr)
Facet based on tags, author, or feed
Flip through articles quickly (with j/k or arrow keys) to find what you're interested in
View the entire article text inline, or in the context of the site where it was created
See the blog post at Evolving Web