Upgrade Your Drupal Skills
We trained 1,000+ Drupal Developers over the last decade.
See Advanced Courses
NAH, I know Enough
2018 Drupal Association at-large election winner announced
The staff and board of the Drupal Association would like to congratulate our newest board member:
Thank you, Suzanne, for stepping forward to serve the Drupal community. On behalf of the community I also want to thank all the candidates who put themselves out there in service of Drupal and nominated themselves. We are grateful that our community has so many brave and generous people willing to contribute this way.
Suzanne's election to the board represents the seventh year of elections to a community-at-large seat on the Drupal Association Board.
This year, in my new position as Community Liaison, I wanted the elections to happen using the same processes as last year to observe how everything worked internally and to form proposals for how we can continue to improve the process in following years.
Our next steps will be to reach out to the candidates for their evaluation of the elections experience.
We also want to hear from the voters. Please tell us about your experience with the elections process in the comments below. If you did not vote, we especially want to hear from you, through a special one-question survey. Your feedback is important to us so that we can make the 2019 elections process even better.
About the Elections Methodology: Instant Run-off Voting(IRV)
Elections for the Community-at-large positions on the Drupal Association Board are conducted through Instant Run-off Voting. This means that voters can rank candidates according to their preference. When tabulating ballots, the voters' top-ranked choices are considered first. If no candidate has more than 50% of the vote, the candidate with the lowest votes is eliminated. Then the ballots are tabulated again, with all the ballots that had the eliminated candidate as their first rank now recalculated with their second rank choices. This process is repeated until only two candidates remain and a clear winner can be determined. This voting method helps to ensure that the candidate who is most preferred by the most number of voters is ultimately elected. You can learn more about IRV (also known as Alternative Vote) in this video.
Voting Results
There were 9 candidates in contention for the single vacancy among the two community-at-large seats on the Board. 967 voters cast their ballots out of a pool of 74268 eligible voters (1.3%). Voters ranked an average of 3.7 candidates on their ballots.
The bar charts below show the vote counts for each candidate in each round.
Yellow — Votes carried over from the previous round.
Green — Votes received in this round.
Red — Votes transferred away in this round.
A candidate's votes in a round is the sum of the yellow and green bars.
Since the green and red bars represent votes being transferred, the sum of the
green and red bars is the same.
The exhausted bar represents votes where the voter did not indicate a next
preference and thus there were no candidates to transfer the vote to.
Round 1
(next)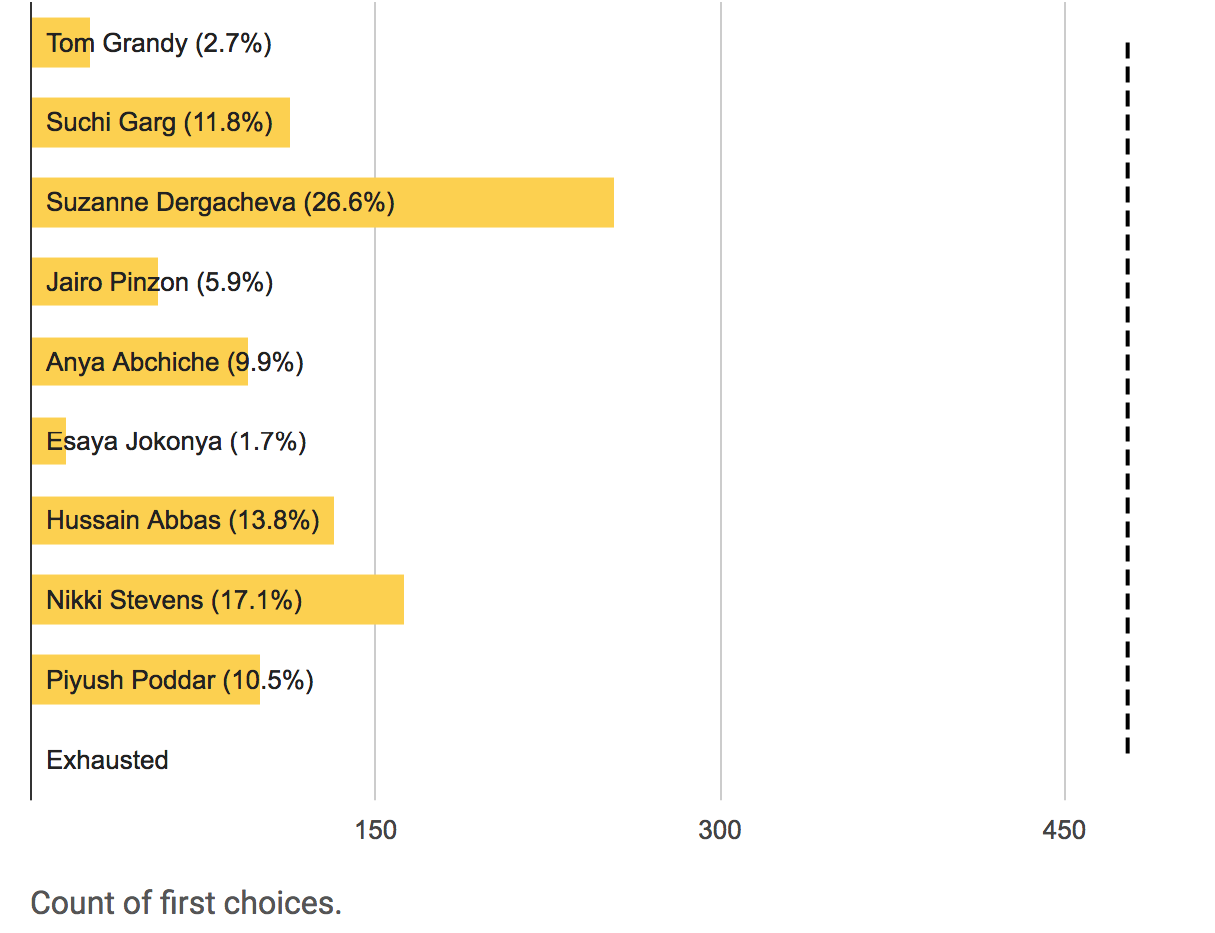 Count of first choices.
Round 2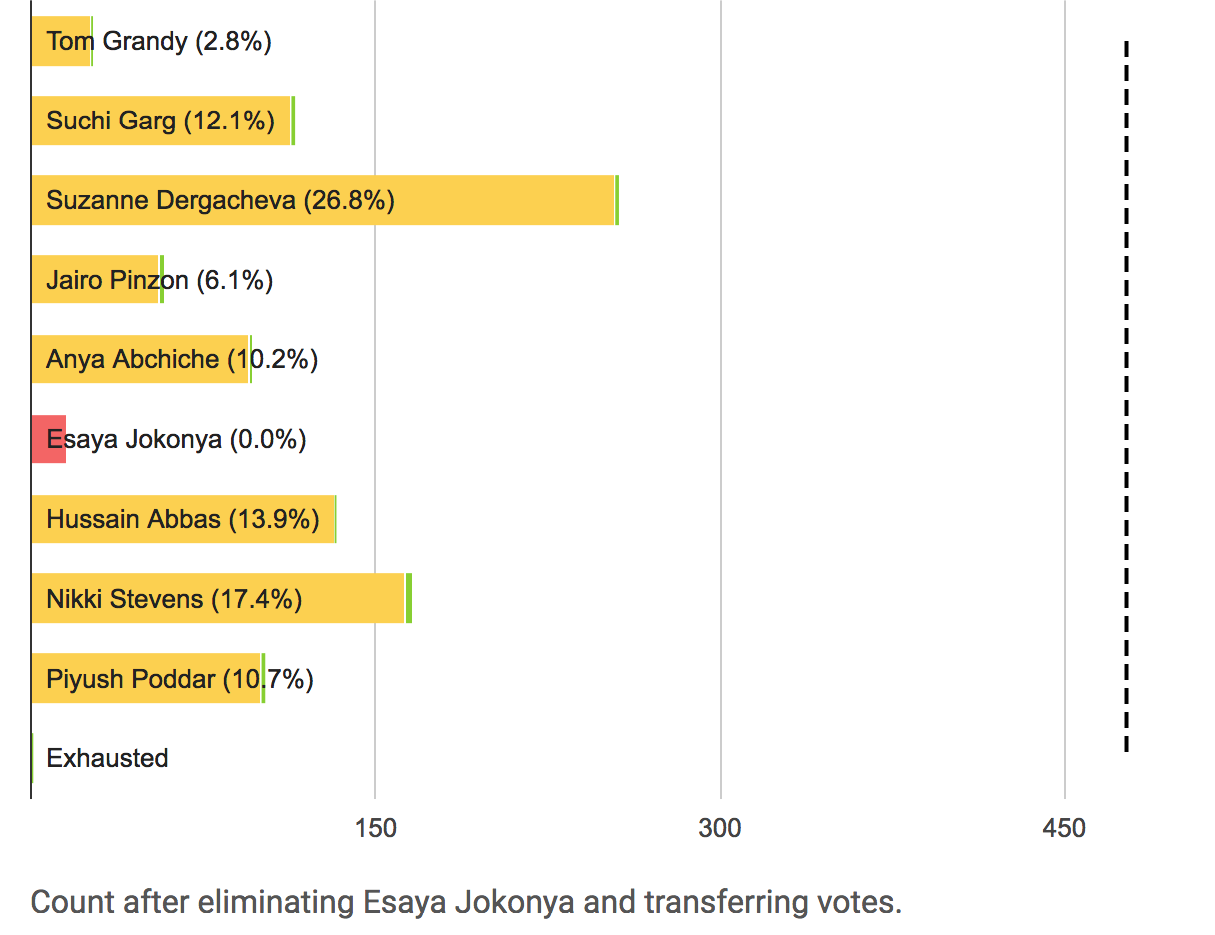 Count after eliminating Esaya Jokonya and transferring votes.
Round 3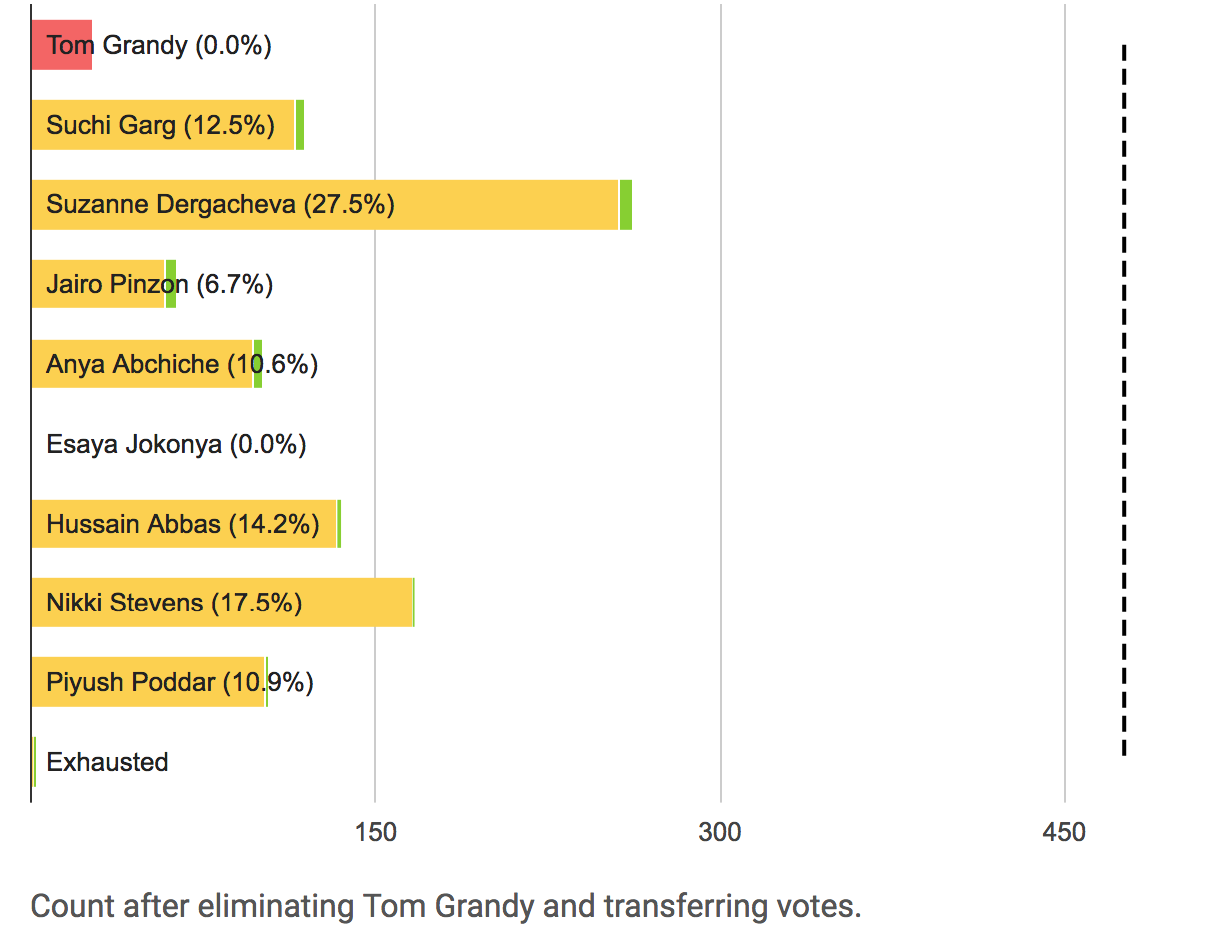 Count after eliminating Tom Grandy and transferring votes.
Round 4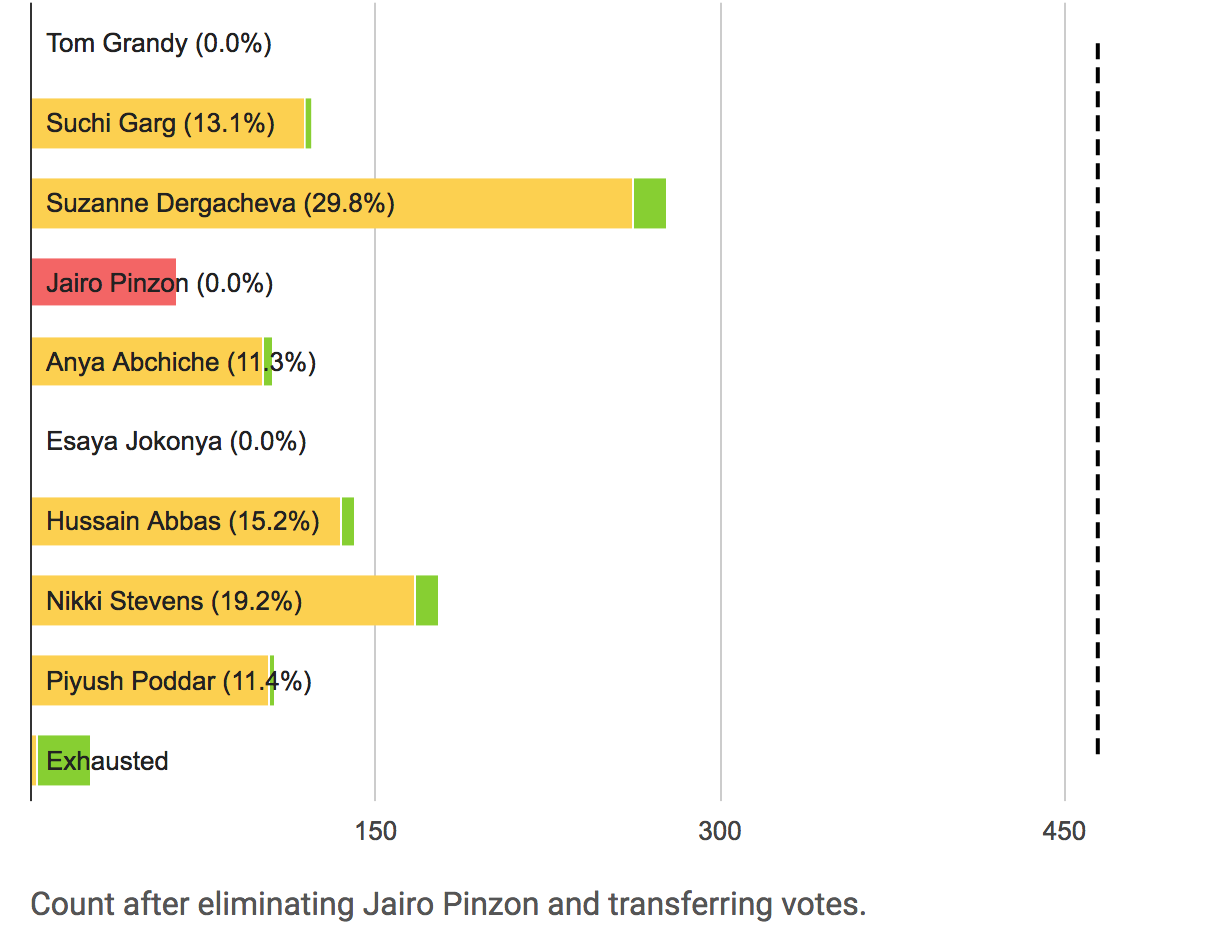 Count after eliminating Jairo Pinzon and transferring votes.
Round 5
Count after eliminating Anya Abchiche and transferring votes.
Round 6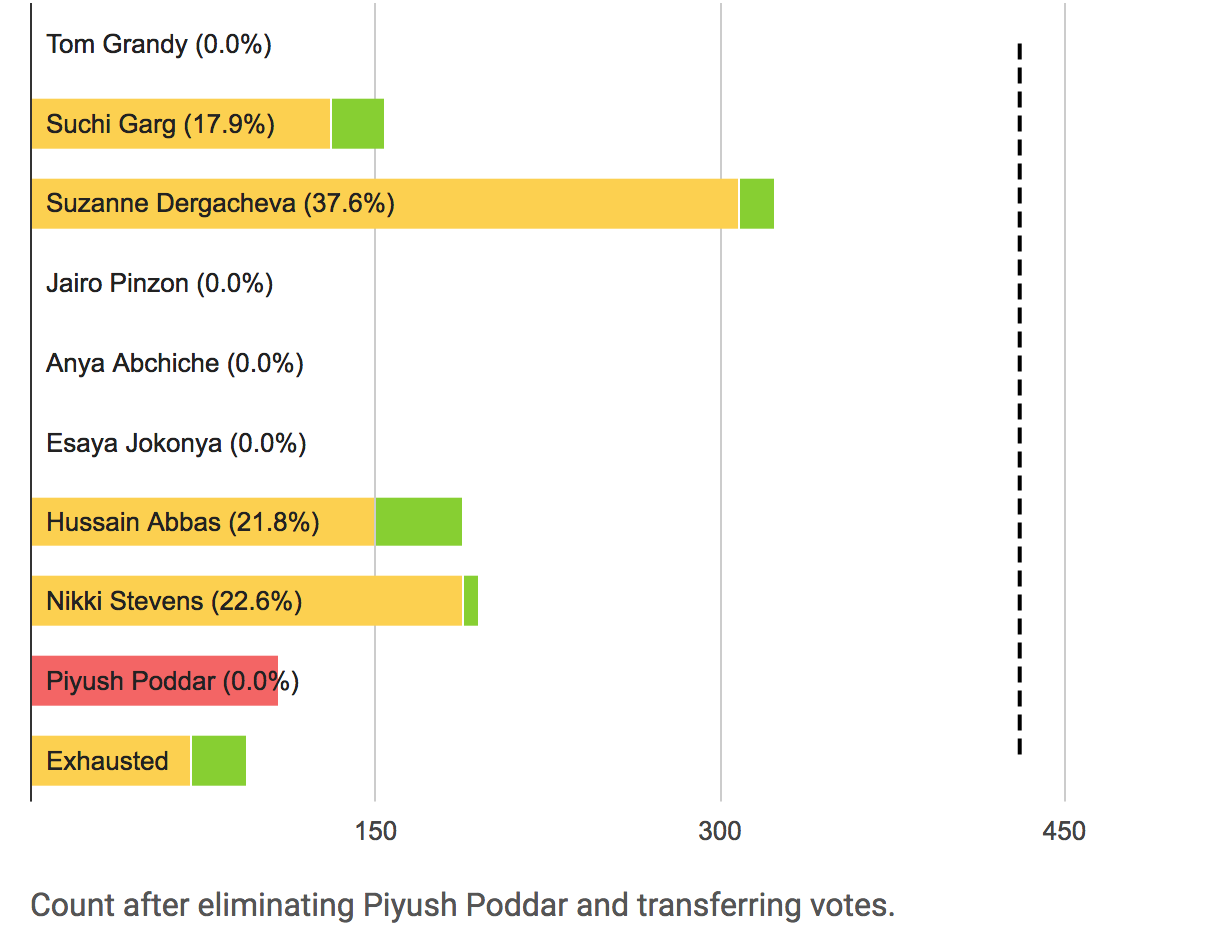 Count after eliminating Piyush Poddar and transferring votes.
Round 7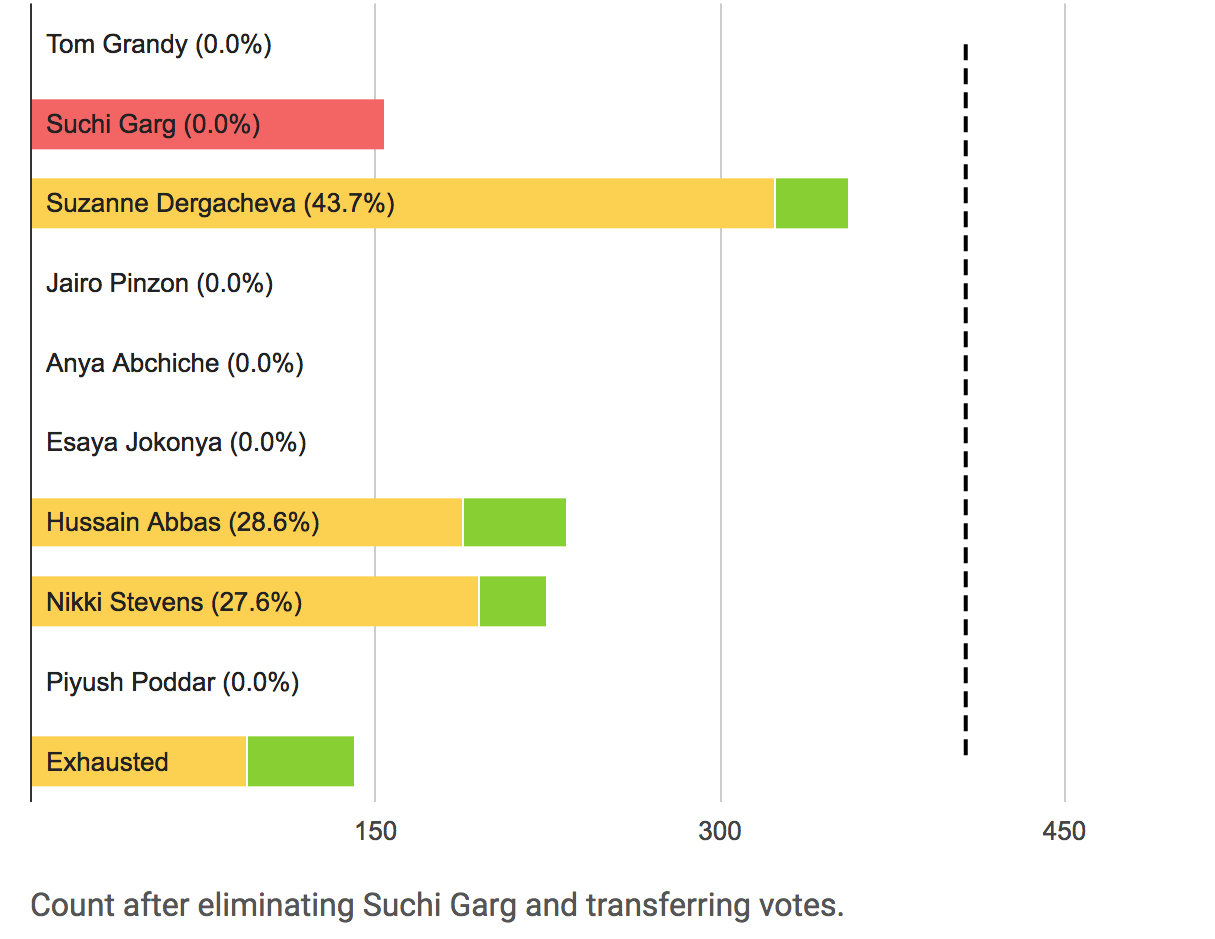 Count after eliminating Suchi Garg and transferring votes.
Round 8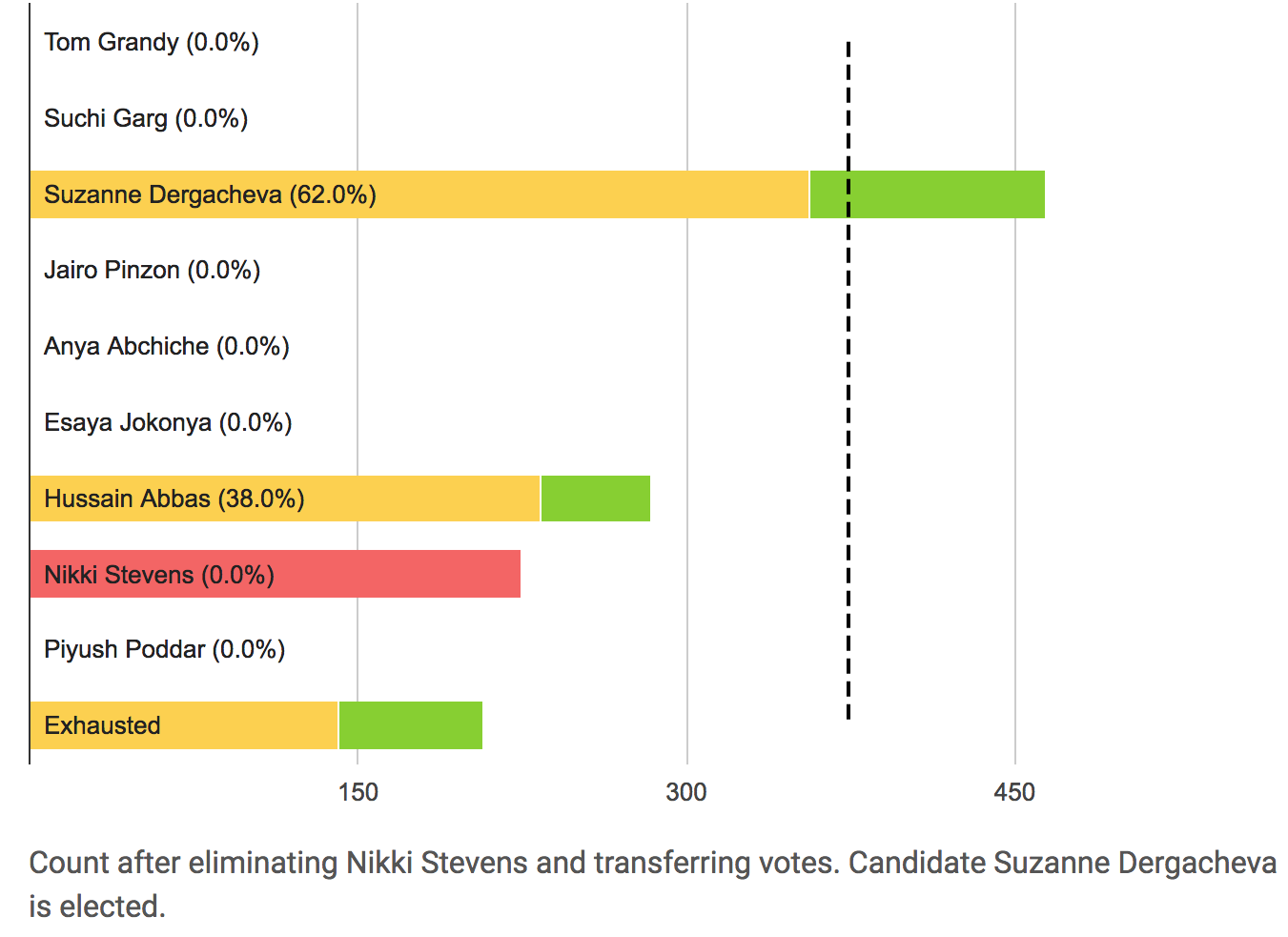 Count after eliminating Nikki Stevens and transferring votes.
Final round between Suzanne Dergacheva and Hussain Abbas.
Winners
Winner is Suzanne Dergacheva.
Footnote
One candidate, who wishes to remain anonymous, withdrew after voting closed. It did not alter the results.
About Drupal Sun
Drupal Sun is an Evolving Web project. It allows you to:
Do full-text search on all the articles in Drupal Planet (thanks to Apache Solr)
Facet based on tags, author, or feed
Flip through articles quickly (with j/k or arrow keys) to find what you're interested in
View the entire article text inline, or in the context of the site where it was created
See the blog post at Evolving Web