Upgrade Your Drupal Skills
We trained 1,000+ Drupal Developers over the last decade.
See Advanced Courses
NAH, I know Enough
Annual update of the DrupalCon Code of Conduct - Call for Proposals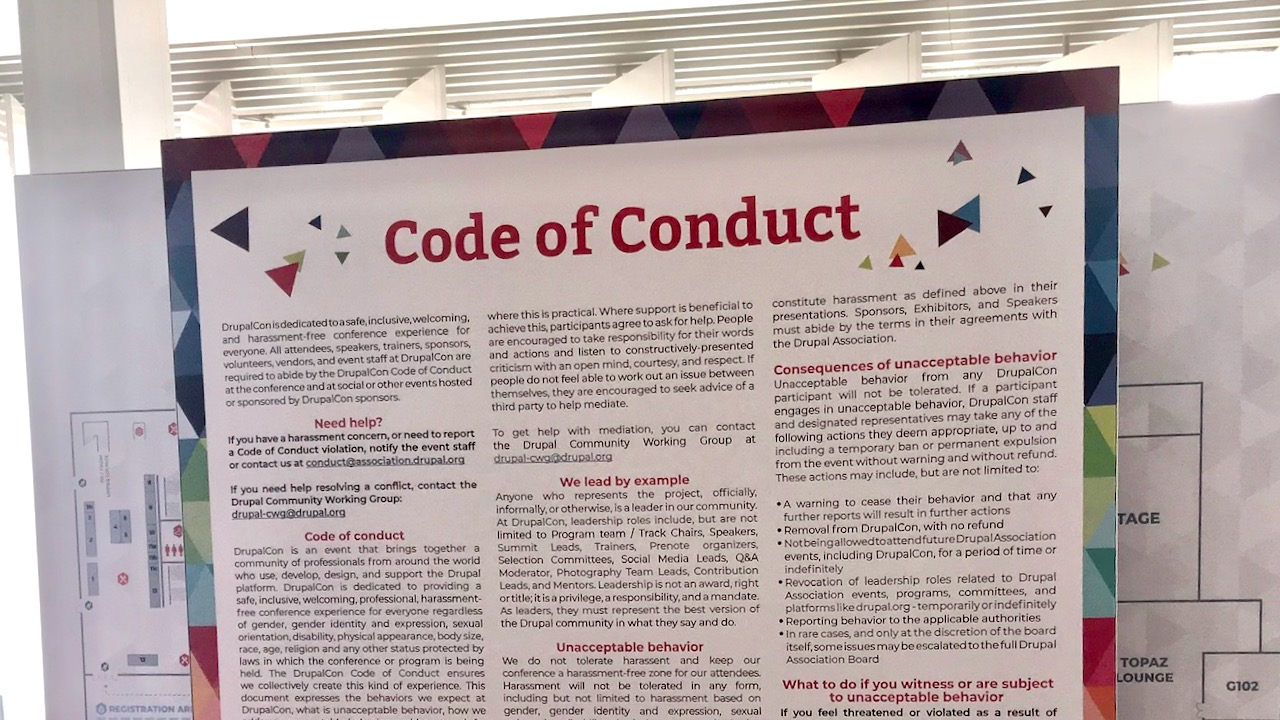 Over the last two years, we have managed to make some significant improvements to the DrupalCon Code of Conduct (CoC) so that it:
Is more clear what is and is not acceptable behavior
Details ways to raise issues through to the CoC Team for action
Lists exactly who on the CoC Team handles issues
Requires leaders — such as speakers, sponsors, etc. — to be held to the highest standards of all
Explains the consequences of unacceptable behavior.
Thank you to everyone who has been involved, both staff and community members, for their work.
We have also taken the opportunity to train members of Drupal Association staff in CoC management through the course provided by Sage Sharp at OtterTech, organised by the Drupal Community Working Group. If you organise events, we highly recommend attending this online course in 2020.
No Code of Conduct can ever be considered "final", however, and the Drupal Association have a process of making a release of a new DrupalCon Code of Conduct in the first quarter of each year, including any approved updates collected during they previous year.
It is that time again to call upon the Drupal Community to propose any refinements they see beneficial, by creating issues in the project issue queue. Anyone with a Drupal.org user account can create an issue and you do not need technical expertise to do so.
You will notice that I have already raised one issue, related to adding caste as a protected characteristic alongside others such as gender and race.
I look forward to reviewing your proposed refinements and continuing to build and maintain a world class Code of Conduct for our world class tech conference.
About Drupal Sun
Drupal Sun is an Evolving Web project. It allows you to:
Do full-text search on all the articles in Drupal Planet (thanks to Apache Solr)
Facet based on tags, author, or feed
Flip through articles quickly (with j/k or arrow keys) to find what you're interested in
View the entire article text inline, or in the context of the site where it was created
See the blog post at Evolving Web