Upgrade Your Drupal Skills
We trained 1,000+ Drupal Developers over the last decade.
See Advanced Courses
NAH, I know Enough
Drupal 2020: Year in review
2020 has ended. (Finally!) So, is it time to rejoice? Is it time to be cheerful and optimistic?  Or, do we have to be realistic and concerned about the coming months?  We have this proclivity to celebrate and be mirthful when the New Year begins. But the fact is that Covid-19 hasn't left yet and has actually left an indelible mark. We keep hearing about the occurrence of new Covid strains and how it is becoming more fatal than ever as days go by. Anyway, the good news is, the coronavirus vaccine is already here and multiple countries are fast-tracking the approval processes.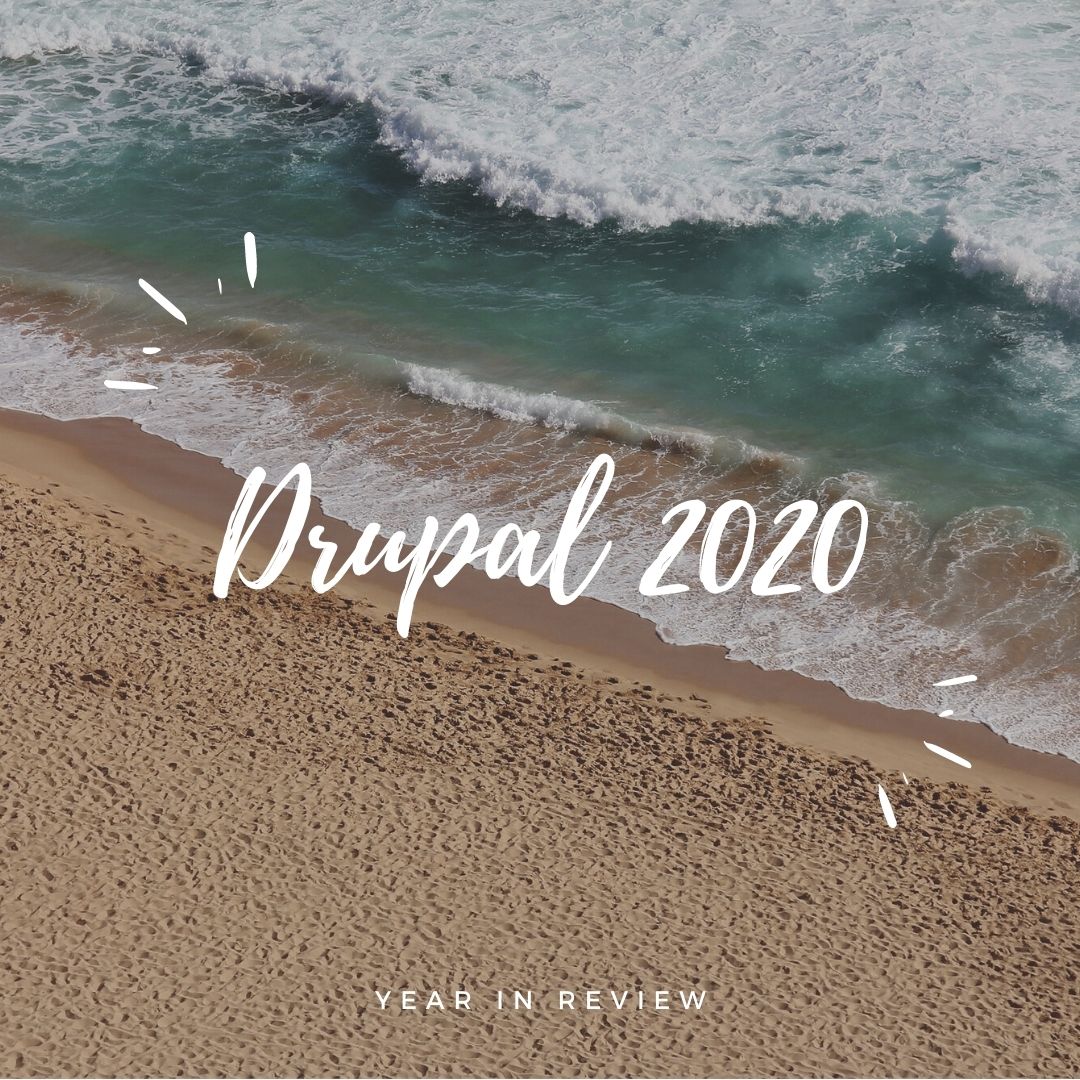 With our strong resolve to tackle it, we have found ways to fight the gloom. 2021 has only just begun and will bring with it new challenges like every year does. No matter how difficult it gets, we will dodge everything that comes our way this year too and come out on top together. The Drupal fraternity, too, has risen to the top by uniting and becoming a force to reckon with. The Covid-19 pandemic has only made the Drupal Community to come even closer and work together. The power of the open source community was discernible as the Drupal project, which did get affected by the pandemic, witnessed an awful lot of growth in 2020. As the year has gone by, it's time to look back, analyse, see what worked and what not and look forward to 2021 with hope.
19 years old: Almost two decades and still counting!
Drupal celebrated nineteen years of existence since it was first released on 15th January 2001. Well, it all began in 2000 when Dries Buytaert decided to put an internal site, used by a small group of people for socialising, online.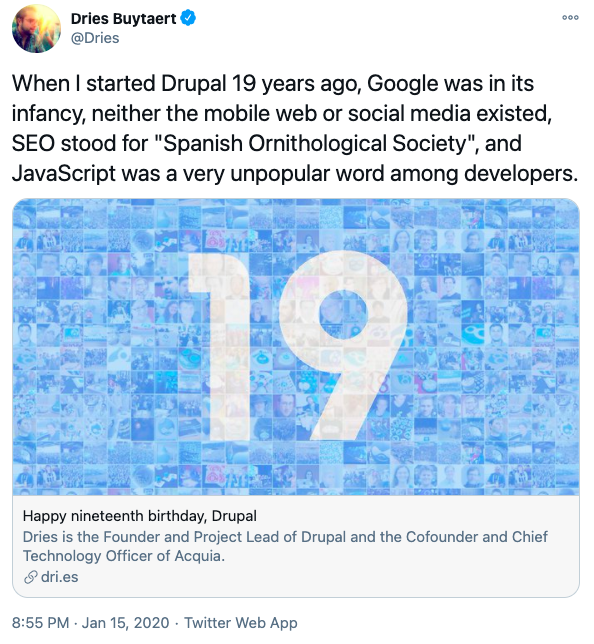 So, what began as a hobby project is now a global project with hundreds and thousands of users, active contributors and a strong ecosystem. 15th January 2021 will mark the completion of two decades since Drupal came into being. With Drupal Community's continued efforts to innovate, reinvent and evolve, Drupal has thrived and will continue to do so for many years to come.
#DrupalCares: Weathered the 'Covid-19' headwinds
With the Drupal Community celebrating 19 years of Drupal, a new viral disease from Wuhan was rapidly becoming the international cause for concern. Therefore, it will be incomplete without the mention of the coronavirus pandemic and its impact on the Drupal world. Without a doubt, these are unprecedented times and no one saw it coming. But, Open source, with a reputation for being recession-proof, got itself back on track with the support of millions of supporters. Drupal was no different.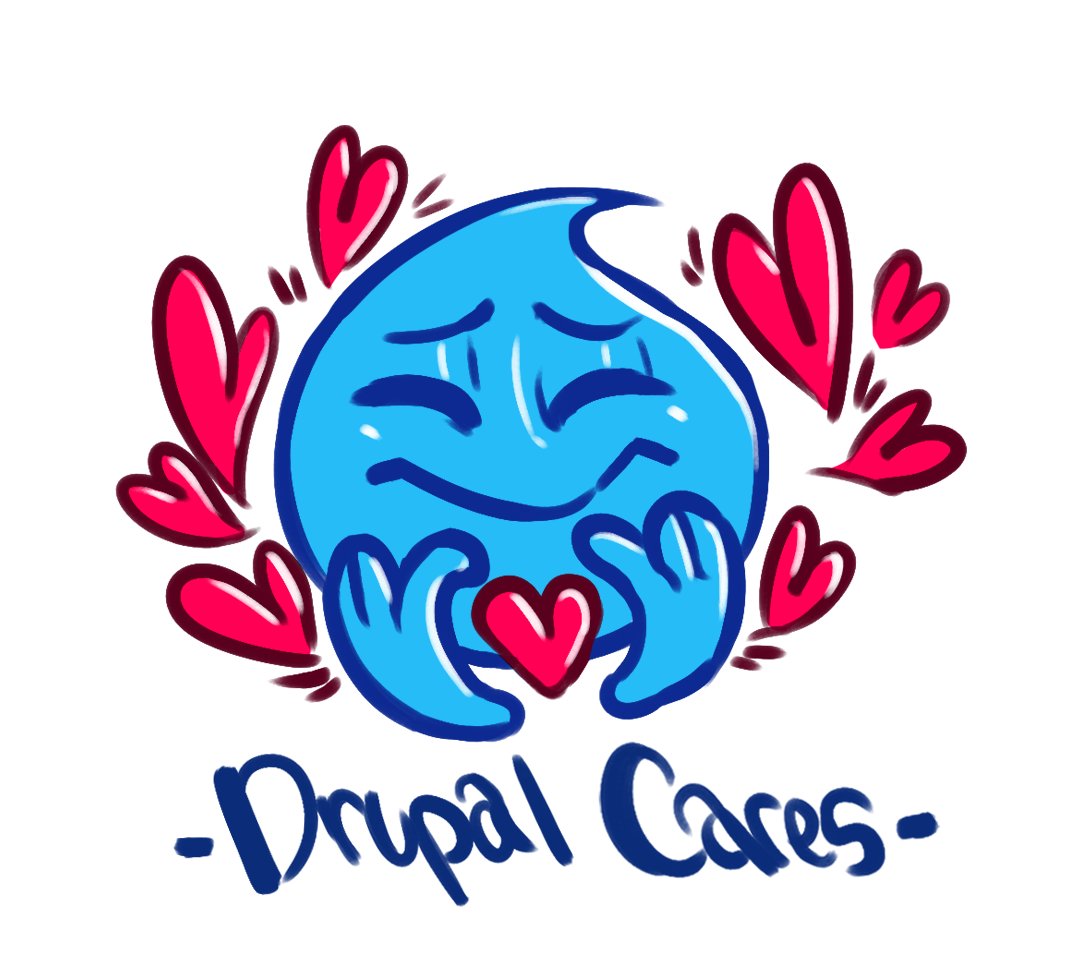 Drupal Association, which was formed as an open source non-profit to help grow and sustain the Drupal Community, was hit financially. But the massive response to #DrupalCares fundraising campaign only showed the power of the open source community and the open source model that make projects like Drupal the best possible investment in these uncertain times. Over $500,000 was raised in just about 30 days surpassing the expectations initially set. (The plan was to raise such a large amount in 60 days.) Hundreds of businesses and organisations along with thousands of individual donors and members donated to reach the goal in record time.

DrupalCon: The year of virtual events
Ever since the first gathering of Drupal contributors way back in 2005, where just about 50 people made an appearance, DrupalCon has become the global event that is highly anticipated every year. While it acts as the ideal platform for the Drupalists from around the globe to meet at one place and share intuitive ideas, DrupalCon Minneapolis 2020 was very unlikely to happen with every other nation closing their borders and putting their respective countries under lockdown to try and curb the ever-multiplying infection rate.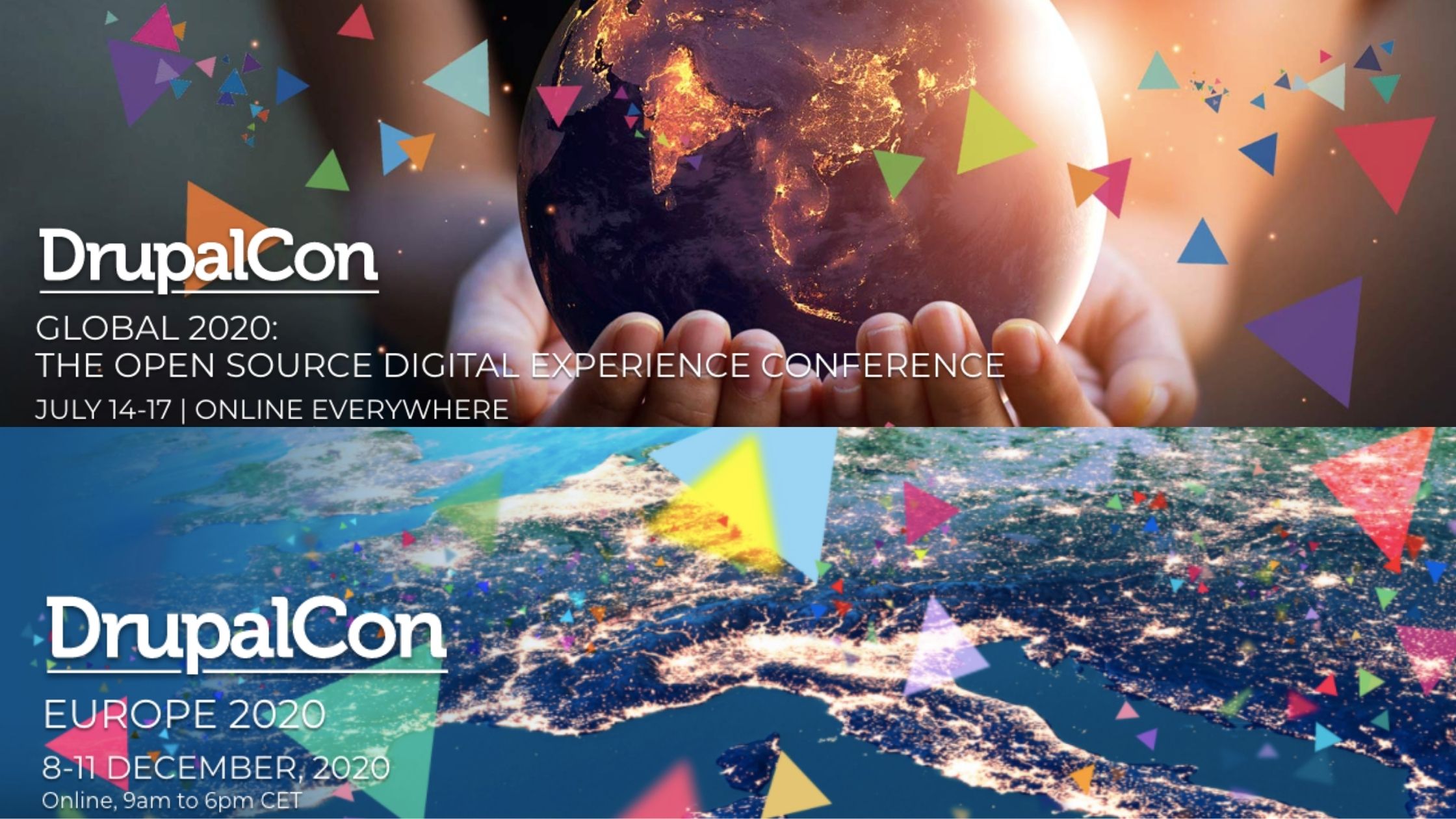 Eventually, virtual events started kicking off everywhere. For example, the likes of Cannes, Sundance, Sarajevo, Berlin, Rotterdam, Toronto, Tribeca, Locarno, Mumbai among others joined hands for the first time to screen one-of-its-kind, free, global, virtual film festival called We Are One. And, Drupal Community, too, had its share of virtual outings in its intinerary of Drupal 2020 international conferences as it had its first ever virtual DrupalCon Global 2020. Going by its success, DrupalCon Europe 2020 followed months later. Unlike 2019, where large gatherings and in-person meetings were the norms, 2020 became the year of everything virtual. Check out Drupal 2019: Year in review to know more.
Drupal 9: The most ambitious release ever!

In spite of the pandemic, the roadmap of Drupal 9 release was right on the money because of the continued efforts from the Drupal Community. From the beta test process for Drupal 9 to the release of the first beta version, everything went as per plan. Eventually, the Drupal 9 was released on 3 June, 2020. It took birth with much more usability, accessibility, inclusivity, flexibility and scalability than previous versions. After all, it was in the works for almost 5 years!
And, the release of Drupal 9 was not shorn of any fanfare either. While Drupal 8's launch saw hundreds of release parties happening across six continents, celebrations in the time of Covid-19 was a different game altogether. For Drupal 9, the community created CelebrateDrupal.org where virtual events can be posted for people to join, photos can be uploaded of Drupal 9-resembling food items, or just simply selfies and videos could be added.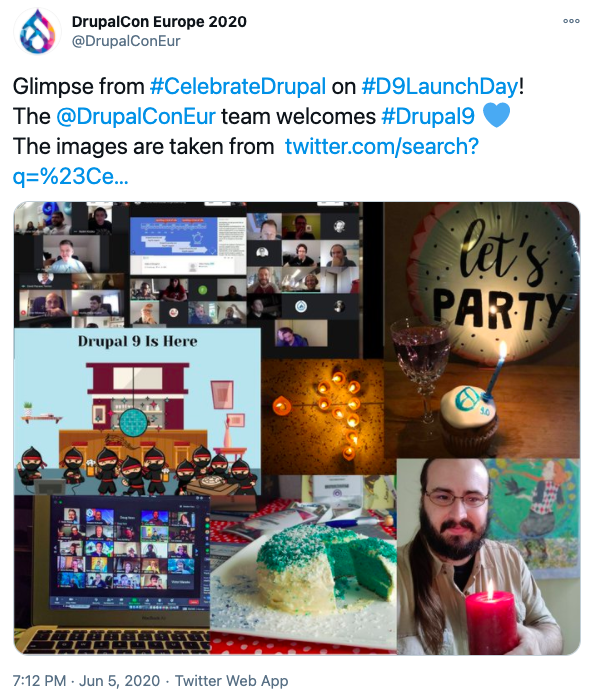 The rebranding of Drupal had to happen along with this release. So, it did. The new brand represented the fluidity and modularity of Drupal and more importantly the Drupal Community's value of coming together to build a greater whole.

Drupal 9 is a lot easier to be leveraged by marketers and offers a streamlined way to maintain and upgrade for developers. With intuitive solutions for empowering business users, state-of-the-art new features for reaching new digital channels and further enhancing content management processes, and offering easy upgrades for avoiding the need to replatform, Drupal 9 is just what web professionals need in this day and age of ever-evolving digital landscape.
While Drupal 8's end-of-life date has been fixed for November 2021, Drupal 7's has been moved to November 2022 in light of the impact of pandemic. It was simply because it felt like the right thing to do and it aligned with Drupal's values and principles that calls for building software that is safe and secure for everyone to use. This goes to show the Drupal Community's never ending commitment to continue to care for a software almost a decade after its release. Read this ultimate guide to Drupal 9, burning questions about Drupal 9 and the key modules to start Drupal 9 project to know more.
While Drupal 9.1 was released on 2 December 2020 with new experimental Olivero frontend theme and several additions to the Claro administration theme, the plan for Drupal 10 release is already under development. Drupal 10 is being targeted to be released around June 2022.
DrupalCon Global 2020 had plenty of insights to share vis à vis Drupal 10 like Drupal 10 readiness initiative, enabling Media Library, Layout Builder and Claro by default, the completion of Olivero frontend theme, offering automated updates, and adding official Drupal JavaScript components to Drupal Core.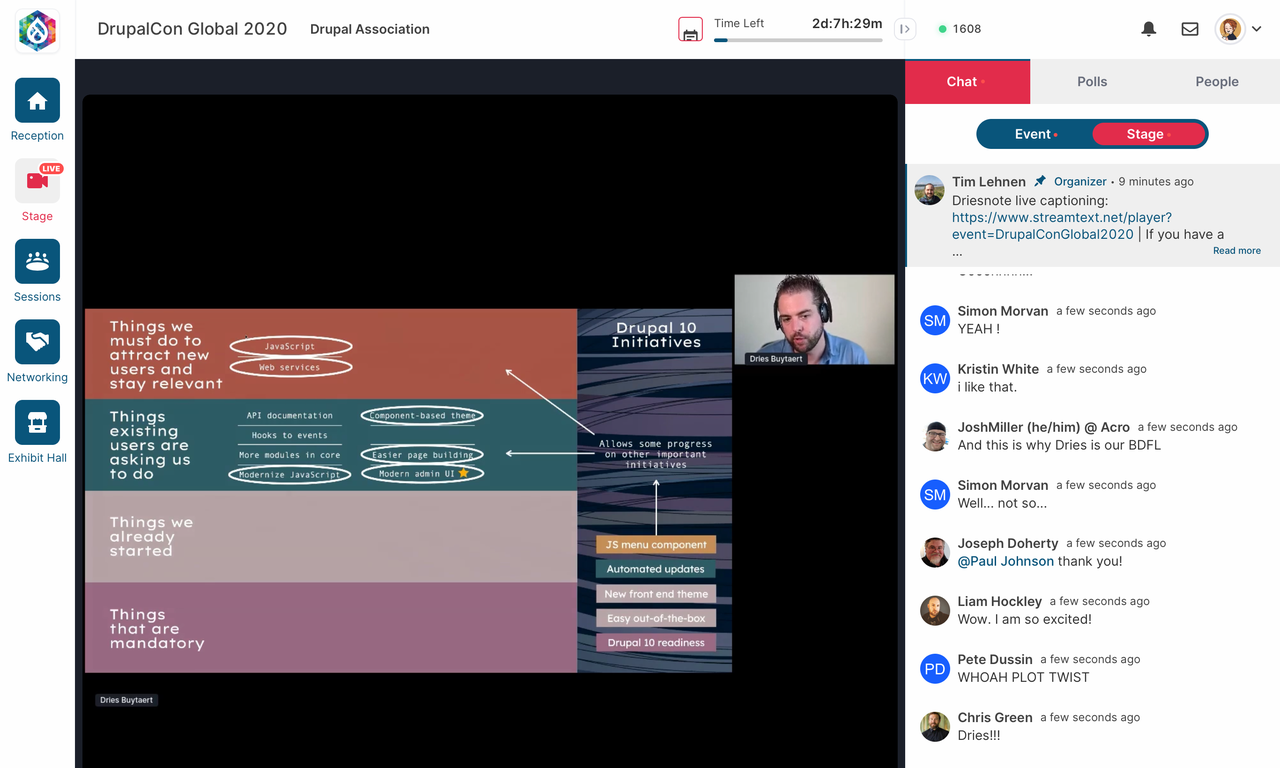 Drupal businesses continued to grow despite pandemic
Drupal Business Survey 2020 had interesting data points to showcase. Drupal agencies have considerably done a great business without getting adversely affected by the pandemic. Financially, Drupal businesses were well placed and thrived with many asserting that results exceeded the pre-covid prognosis.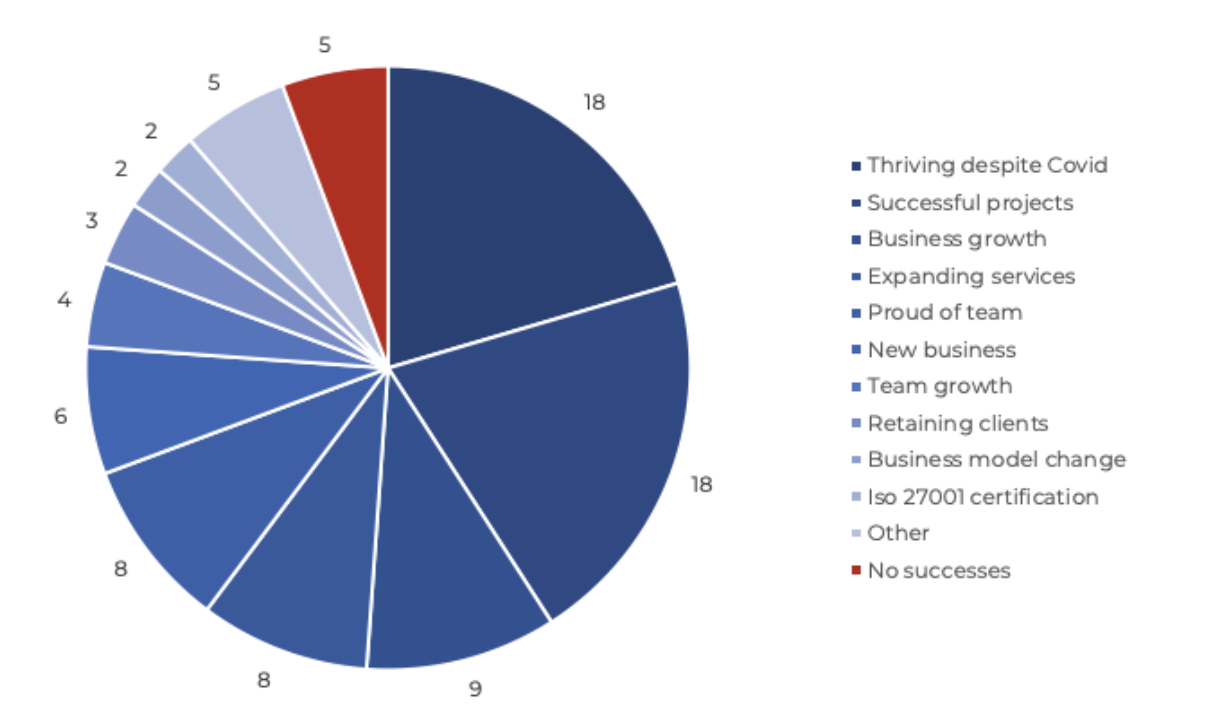 The survey also delineated that almost half of the Drupal companies who participated are confident that their business and on-going situation will further improve in 2021 while 20% of the companies aren't optimistic about the coming months. As far as the industry segments are concerned, Education continues to be a sector with most Drupal projects followed by Charities & Non-Profit and Government and Public Administration.
Growth in terms of Drupal project pipeline, deal size and win rate

There has been a steady growth in the adoption of Drupal 9 ever since its launch. Drupal Business Survey 2020 also indicated that the Drupal project deal size grew more than the project pipeline or win rates that, in turn, shows Drupal's growth  to the enterprise market.

When the survey sought to look for answers as to why Drupal is chosen for web development projects, it was observed that clients, who worked with Drupal before, most often than not, decided to stick to it (this constituted 60% of the answers). This proved that they considered Drupal as a viable option for solving their business problems. Also, the recommendations from Drupal agencies, Drupal being an open source software, its amazing flexibility and the robust security that it provides made the clients want to go with Drupal.
But, the survey also revealed some of the downsides the Drupal Community would want to give a look at and take some actions to improve further. Drupal development being time consuming and thus being expensive was one of the issues it pointed out. Moreover, Drupal being intricate and potential clients not knowing much about it also came into picture.
Increase in Drupal contributions was observed
From Drupal Global Contribution Weekend (where people more or less close to Drupal and its community participate) to the Google Summer of Code (where students developers across the world get an exposure to open source software development including Drupal), contribution-focused events are given its due importance by the open source communities like that of Drupal. Because contribution is at the core of Drupal project and it thrives because of that.

Drupal.org's contribution data for 2019-2020 shows that there is a 20% increase in the number of contributions to Drupal project as compared to the previous period mainly due to Drupal 9 release. Although contributed modules witnessed the majority of credits, there was an increase in the contribution credits across all project types.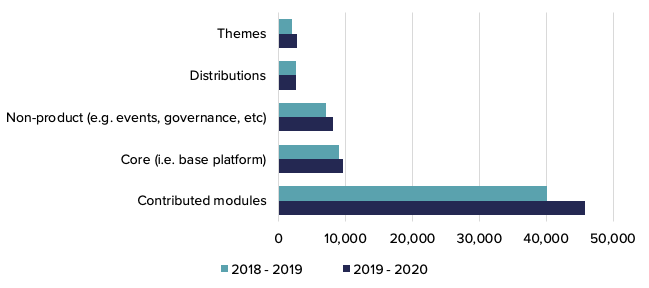 Even though there was a decline in individual contributors, organisational contributors increased. Moreover, 20% of the contribution credits are coming from the top 30 contributors (the top 0.4%). It was noticed that two-thirds of all contributions were sponsored. But, volunteer contributions continue to remain a pillar of success to Drupal. Also, it was seen that currently Drupal's maintenance and innovation is largely dependent on traditional Drupal businesses and larger, multi-platform agencies are barely contributing to Drupal. Read about perks of being open source contributor and different ways to contribute to Drupal to know more.
The continued support for diversity, inclusion and equity
The US was convulsed by the nationwide protests over the death of George Floyd, an African-American man, in police custody. This incident of racially-driven police brutality once again sparked violent protests and much-needed discussions.
The Drupal Association released a statement strongly "condemning racism, racist behaviour and all abuses of power." It reiterated its support for diversity, inclusivity and equity across all facets. Drupal thrives because of contributions from diverse contributors and it's pivotal to its health and success. Drupal's values and principles state that treating each other with dignity and respect is of utmost importance.
While the Drupal Association values diversity, it understands there are still plenty of things to do to create meaningful change within the Drupal Community too. The Drupal.org's contribution data for 2019-2020 showed interesting data on gender and geographical diversity. Only 10-11% of contributions were coming from people who did not identify them as men.

And, while Europe and North America continued to be the biggest contributors, Asia, South America and Africa remain big opportunities for Drupal. To know more, read about the relevance of the trio of Diversity, inclusion and Drupal.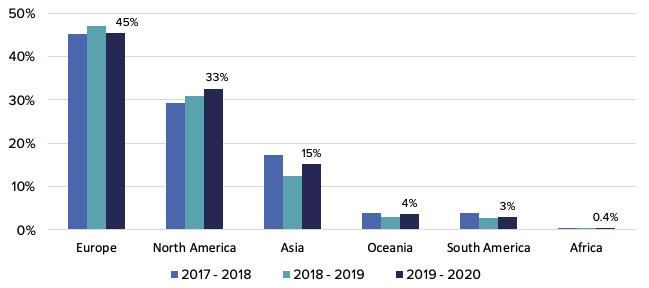 Conclusion
2020 proved to be a tough yet exciting year for Drupal. It continued to grow and weathered all the storms that came its way. It made new progress and identified where it can improve in the coming years.
2021 has begun but the Covid-19 hasn't yet gone. It's going to be a while before we can expect absolute normalcy to return. But until then, we shall keep moving forward, continue contributing to Drupal and grow with it.
Happy New Year to all the Drupalists!
About Drupal Sun
Drupal Sun is an Evolving Web project. It allows you to:
Do full-text search on all the articles in Drupal Planet (thanks to Apache Solr)
Facet based on tags, author, or feed
Flip through articles quickly (with j/k or arrow keys) to find what you're interested in
View the entire article text inline, or in the context of the site where it was created
See the blog post at Evolving Web